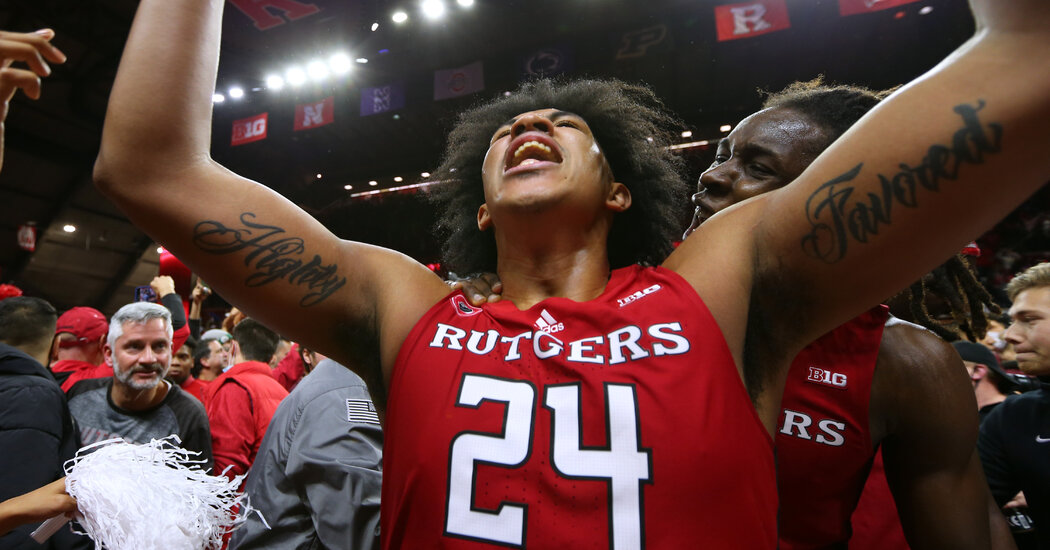 Purdue's No. 1-ranked men's team and the indomitable Connecticut women, ranked third, both played unranked opponents on Thursday night. The results might have seemed predictable.
The results were anything but.
Purdue was an 11½-point favorite for its trip to Rutgers, which entered with an uninspiring 4-4 record and a loss to Lafayette on its résumé. But after a 30-point individual effort — and a shot from nearly half-court at the buzzer — by Ron Harper Jr., Rutgers had a stunning 70-68 win.
UConn, meanwhile, carried a mind-boggling streak of 239 straight wins against unranked opponents into its visit to Georgia Tech (6-2) — a streak that dated to 2012. But playing without its injured star Paige Bueckers, UConn lost handily, 57-44.
So, what happened?
Purdue and Rutgers stayed fairly close throughout, in part because Purdue did not shoot well: 41 percent from the floor and 27 percent on 3-pointers. The other key factor was forward Harper Jr., the son of the N.B.A. great: He finished with a career-high 30 points, on 10-for-15 shooting, and 10 rebounds.
Still, Purdue seemed to lock up the game with a layup that gave it the lead with four seconds left. Without a timeout, Rutgers inbounded the ball quickly and Harper dribbled up court. Just after he crossed midcourt, he slipped free of his defender and chucked up a shot. It went in, and Rutgers won, 70-68. Harper's teammates chased him into the backcourt, where they were swallowed by fans who stormed the court.
It was the program's first win over a No. 1 team.
Harper is a senior who has improved every year at Rutgers. Last spring, he helped the team make its first N.C.A.A. tournament in 30 years.
He said he felt the winning shot would go in when it left his hand.
"It looked so good, it felt good," he said. "And I hit a half-court shot today at shootaround."
Purdue, where Glenn Robinson, Rick Mount and Joe Barry Carroll played, had never before been ranked No. 1. The Boilermakers are almost certain to lose that ranking when the new Associated Press poll is released on Monday.
UConn was in a more precarious position heading into its game at Georgia Tech. It was playing its first game without Bueckers, who injured her leg in the final minute of a 19-point win over Notre Dame on Sunday. The national player of the year as a freshman, Bueckers was averaging 21 points and led the Huskies in assists and steals as well. Her injury, a knee fracture, will keep her out six to eight weeks, and without her UConn struggled for points, energy and answers.
UConn understandably has leaned heavily on Bueckers, to the point that Coach Geno Auriemma had said he was reluctant to take her out of games, even games like the one against Notre Dame that were already sewn up. Now UConn seems to be in a pickle without her.
After three close quarters on Thursday night, UConn appeared to just run out of gas. Georgia Tech outscored the Huskies, 18-5, in the fourth quarter, when UConn shot 2 for 10 from the field. Guard Christyn Williams was UConn's top scorer, but she had only 13 points, and was 1 for 8 on 3-pointers.
UConn's point total was its lowest-scoring game since a 48-42 loss to Rutgers on Feb. 27, 2006. It had not lost to an unranked opponent since falling to St. John's in February 2012.
"We're disorganized as a group right now, from the coaching on down," UConn Coach Geno Auriemma said after the loss. "There is no sense of a plan of how we're going to execute, how we're going to get a bucket, who's going to get it for us."
More stunning, though, might have been Auriemma's suggestion that he may not have a solution.
"I don't think it's going to get fixed, I really don't," he said. "I've been doing this a long, long time. Coaches are supposed to be optimistic. I'm too old to be an optimist. I'm a realist. I truly believe what I see. I don't try to make up what I'm seeing and pretend it's something else. I know what I see."
"I've usually been pretty good over the years at making players better," he added. "We get really good players coming out of high school, but they get better and better and better every year. And right now, that's not happening."