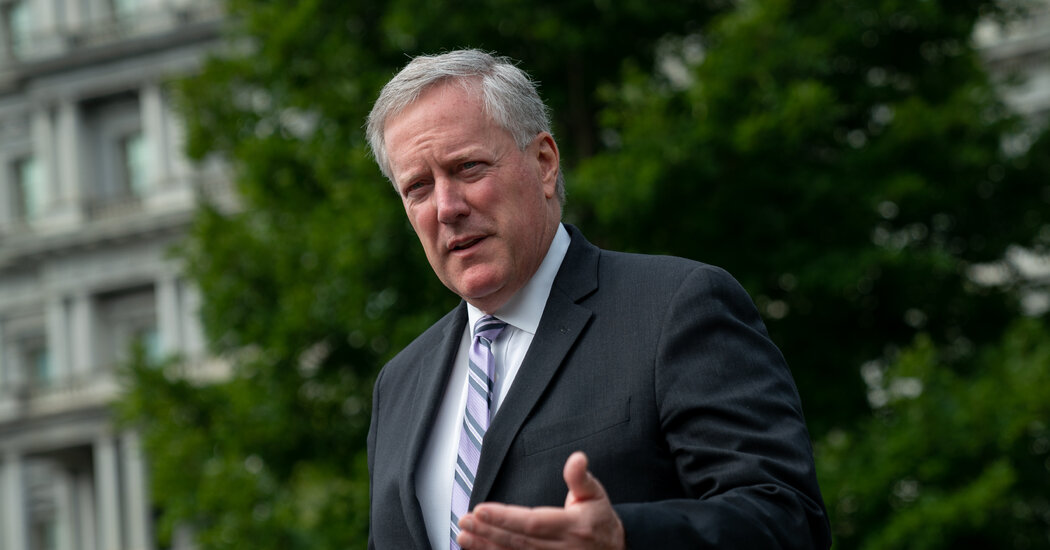 WASHINGTON — Mark Meadows, a White House chief of staff under President Donald J. Trump, on Tuesday informed the committee scrutinizing the Jan. 6 attack on the Capitol that he was no longer willing to sit for an interview with its investigators, reversing a deal he reached with the panel just last week to attend a deposition.
The leaders of the committee immediately threatened to charge Mr. Meadows with contempt of Congress if he did not appear on Wednesday. They argued that he had no grounds for refusing to speak with the panel as he promotes a book he wrote on the very topic about which they wanted to question him.
"If indeed Mr. Meadows refuses to appear, the select committee will be left no choice but to advance contempt proceedings and recommend that the body in which Mr. Meadows once served refer him for criminal prosecution," Representatives Bennie Thompson, Democrat of Mississippi, and Liz Cheney, Republican of Wyoming, the chairman and vice chairwoman of the committee, said in a joint statement.
The showdown with Mr. Meadows, a former congressman from North Carolina, came as the committee sent a flurry of subpoenas to telecommunications companies seeking the data of dozens of individuals, including Mr. Meadows. The subpoenas, which follow records preservation demands sent to 35 technology and social media companies in August, do not seek the content of any communications but simply the dates and times of when the calls and messages took place, according to a committee aide.
Mr. Meadows's lawyer, George J. Terwilliger III, said the material sought by the committee included "intensely personal communications" with no relevance to any legitimate investigation.
He accused the committee of taking a "pugnacious approach" to its subpoenas.
The panel is clashing with Mr. Meadows as it pursues contempt-of-Congress charges against two other witnesses.
The House voted in October to recommend that another of Mr. Trump's associates, Stephen K. Bannon, be charged criminally for stonewalling the inquiry. A federal grand jury subsequently indicted him on two counts that could carry a total of up to two years behind bars. A judge on Tuesday set a July 18 trial date for Mr. Bannon, meaning that the select committee will most likely have to wait the better part of a year, if not longer, for a resolution of his case and any potential cooperation from him.
Understand the U.S. Capitol Riot
On Jan. 6, 2021, a pro-Trump mob stormed the Capitol.
The committee has also recommended a contempt-of-Congress charge against Jeffrey Clark, a former Justice Department lawyer who participated in Mr. Trump's efforts to invalidate the 2020 election results, for refusing to cooperate with its inquiry. The panel is waiting to complete that referral until Mr. Clark sits for another deposition on Dec. 16. Mr. Clark has said he will invoke his Fifth Amendment right against self-incrimination.
Another potential witness, John Eastman, a lawyer who wrote a memo that some in both parties liken to a blueprint for a coup, has also indicated that he plans to invoke the Fifth Amendment in response to the committee's subpoena.
Mr. Meadows's reversal was the second in two weeks as he had previously reached an agreement with the committee to provide documents and appear voluntarily for a deposition, after initially refusing to comply.
"We now must decline the opportunity to appear voluntarily for a deposition," Mr. Terwilliger wrote to the committee on Tuesday.
Instead, he proposed that Mr. Meadows answer questions in writing through what he called an "orderly process" that would create a "clear record of questions and related assertions of privilege."
In the letter, obtained by The New York Times, Mr. Terwilliger made a litany of complaints against the select committee, saying that it did not appear to respect Mr. Trump's assertion of executive privilege and had issued a wide-ranging subpoena for Mr. Meadows's communications that would include personal conversations.
"We agreed to provide thousands of pages of responsive documents and Mr. Meadows was willing to appear voluntarily, not under compulsion of the select committee's subpoena to him, for a deposition to answer questions about non-privileged matters," Mr. Terwilliger wrote. "Now actions by the select committee have made such an appearance untenable."
Representative Jamie Raskin, Democrat of Maryland and a member of the committee, called Mr. Meadows's demands "imperious and highhanded."
"I can't imagine we will accept it," Mr. Raskin said, adding that he was speaking only for himself and not the full committee. "Our witnesses do not dictate the terms of our investigation."
The committee has now interviewed more than 275 witnesses and is receiving cooperation from some members of former Vice President Mike Pence's inner circle, including Marc Short, his former chief of staff, according to a person familiar with the investigation who was not authorized to discuss it.
Understand the Claim of Executive Privilege in the Jan. 6. Inquiry
---
Card 1 of 8
A key issue yet untested. Donald Trump's power as former president to keep information from his White House secret has become a central issue in the House's investigation of the Jan. 6 Capitol riot. Amid an attempt by Mr. Trump to keep personal records secret and the indictment of Stephen K. Bannon for contempt of Congress, here's a breakdown of executive privilege:
Mr. Short has received a subpoena from the committee and agreed to an interview, but he is clearing any cooperation with Mr. Trump's team, submitting documents for its review before turning them over to the committee, said a person with knowledge of his actions who was not authorized to discuss them.
The back-and-forth between Mr. Meadows and the committee came as the panel received a memo accusing military commanders of lying to Congress, part of a dispute over who is to blame for the slow deployment of the National Guard to the Capitol on Jan. 6, as a violent throng besieged the complex.
In a 36-page memo submitted to the committee, Col. Earl G. Matthews, who was a principal deputy general counsel for the Army during the attack, accused Gen. Charles Flynn and Lt. Gen. Walter Piatt of being "absolute and unmitigated liars" in their testimony before Congress in June.
General Flynn, who commands the U.S. Army Pacific, and General Piatt, the director of the Army staff, were involved in a phone call with police leaders during the riot in which Army officials worried aloud about the "optics" of sending in the Guard, according to those involved.
General Flynn told the committee he had not participated in the call but merely overheard portions of it when he entered the room while it was in progress. He said that he had not heard any discussion of political considerations with regard to sending in the Guard.
"I did not use the word 'optics,' nor did I hear the word used during the call on Jan. 6, 2021," he said.
But Mr. Matthews, who was the top lawyer to Maj. Gen. William Walker, then the commanding general of the D.C. National Guard and now the House sergeant-at-arms, called those comments by General Flynn "outright perjury" and said he "unmistakably heard him say that optics of a National Guard presence on Capitol Hill was an issue for him."
In his memo, obtained by The Times, Mr. Matthews also took issue with a report from the Defense Department's inspector general that concluded that the generals acted reasonably and appropriately on Jan. 6, stating the response was "reasonable in light of the circumstances that existed on that day." An Army spokesman has defended the men.
Also on Tuesday, the Senate's Rules Committee continued to dig into the shortcomings of the Capitol Police force, which was overrun on Jan. 6 and has been plagued with staffing and morale problems since.
Michael A. Bolton, the Capitol Police's inspector general, testified that about 200 officers had left the force since the violence of Jan. 6.
"They are down significantly," Mr. Bolton said.
Maggie Haberman contributed reporting.