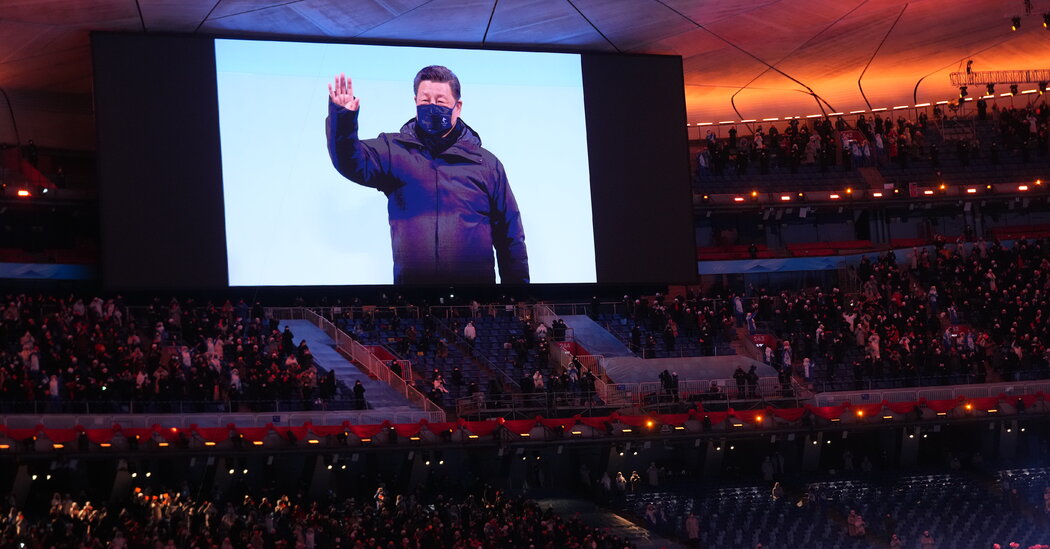 BEIJING — China's leader, Xi Jinping, opened an Olympic Games on Friday intended to celebrate his country's increasingly assured global status while standing defiantly with his Russian counterpart, Vladimir V. Putin, in an increasingly ideological contest with the United States and its allies.
While President Biden and other democratic leaders shunned the opening ceremony over China's human rights abuses, Mr. Xi drew his own bloc of supportive guests. Mr. Putin, another strongman leader bristling against the United States' demands, appeared with him earlier in a calculated display of solidarity while Moscow's tensions with Ukraine could tip into war.
The meeting with Mr. Putin, with the opening ceremony, amounted to a choreographed display of China's shifting place in the world — wanting to win over countries wary of its growing power, but increasingly impatient, and disdainful, of Western censure.
It also underscored China and Russia's determination to present a united front against the West, broadly, and the United States in particular — exactly the result that President Richard M. Nixon and his national security adviser, Henry A. Kissinger, were trying to avoid with their opening to China in 1971.
In a joint statement after the two leaders met, they said their friendship had "no limits," and China sided with Russia on one of its critical security demands: an end to NATO expansion to the east and closer to Russia's borders.
The two leaders called for the United States to abandon plans to deploy intermediate range missiles in Europe and Asia and denounced what they see as American interference in their internal affairs by fomenting "color revolutions" calling for greater democracy.
"Russia and China stand against attempts by external forces to undermine security and stability in their common adjacent regions," they said in the 5,300-word statement, which illustrated the widening rift between democracies and autocracies.
In a message directly aimed at the United States, the two leaders vowed "to counter interference by outside forces in the internal affairs of sovereign countries under any pretext, oppose color revolutions and will increase cooperation in the aforementioned areas."
The statement made no mention of mutual support in Russia's tensions over Ukraine and China's with Taiwan, signaling the limits of the growing partnership.
Understand Russia's Relationship With the West
The tension between the regions is growing and Russian President Vladimir Putin is increasingly willing to take geopolitical risks and assert his demands.
"This statement reflects the nature of the relationship with China," said Alexander Gabuev, a senior fellow at the Carnegie Moscow Center. "It's increasingly deep, increasingly directed at the U.S., but it's not an alliance where both sides support each other on everything."
After the hard-nosed geopolitics of his talks with Mr. Putin, Mr. Xi presided over the Winter Games' opening spectacular in the "Bird's Nest" National Stadium. The ceremony, lasting more than two hours on a clear, frigid night, was filled with images of China as a friendly, open host, despite the imposition of the most stringent health restrictions ever in a major sporting event.
The night began with a display of folksy charm watched by spectators carefully screened against Covid — a distant cry from the passionate crowd that filled the stadium for the grandiose, four-hour Summer Olympics ceremony there in 2008. The highlight for many that time was the appearance of 2,008 tightly coordinated drummers chanting Confucius: "Friends have come from afar, and how happy we are."
This time, a thousand performers jumped and twisted to China's version of square dancing, a boisterous dance style popular among middle-aged people who gather in parks across China. Zhang Yimou, the director of the opening ceremony, as well as the 2008 opening, has said that this time he wanted to highlight China's "ordinary humanity."
The president of the International Olympic Committee, Thomas Bach, used his remarks at the opening ceremony to make a plea to keep politics out of international sports, a position that has drawn increasing criticism from detractors of the committee and of China.
Politics, in fact, have been an undercurrent of these Games from the beginning.
Mr. Xi has seized on the occasion to present China as an anchor of stability in a crisis-ridden world. Being able to hold the Games on schedule, in the face of Covid, is enough proof of China's dependability, he has suggested.
Nearly 14 years after the 2008 Games, a very different China — much wealthier, more powerful, but also more feared — put on a show designed to reassure, as well as dazzle, its global audience. China, the message was, did not feel the same swaggering anxiety as it once did to prove that it had arrived.
"China is no longer seeking entry into the international community. It is an embedded senior member," Rana Mitter, a professor of Chinese history and politics at Oxford University, said of the contrast between 2008 and today.
"There is also a much stronger message saying, 'We're no longer supplicants seeking to enter the room. We are defining the rules of what happens in the room'," he said.
Mr. Xi and other Chinese leaders have portrayed the Games as a celebration of sport, accusing the United States of politicizing the event by leading a "diplomatic boycott" by Western leaders and senior officials.
Mr. Putin reiterated the accusation in remarks on the eve of his visit. Chinese state news media has even claimed, without evidence, that the United States was plotting to disrupt the festivities with orchestrated protests by athletes or other participants.
In their meeting on Friday — the 38th between the two as leaders — Mr. Putin told his counterpart that the Chinese-Russian relationship had "taken on a truly unprecedented character."
"It is an example of a dignified relationship that helps each of us develop while supporting each other's development," Mr. Putin said at the start of talks that also covered trade and security issues.
Even so, the limits of China's support for Russia were on display. The leaders' statement did not specifically mention Ukraine, where China has economic and geopolitical interests of its own.
Mr. Putin was among 22 world leaders who attended the opening ceremony, a gathering that blunted at least somewhat the "diplomatic boycott" that Mr. Biden and other democratic leaders had announced.
Among those in attendance were the leaders of the five Central Asian nations that were once part of the Soviet Union, as well as Egypt, Saudi Arabia, Qatar and United Arab Emirates. Most, though not all, are autocratic nations, underscoring the growing divides in the world based less on political ideology than on modes of governance and tolerance for basic political freedoms.
China's record of rights abuses made the country's choice as a host for these Games even more controversial than Beijing was for the Summer Olympics in 2008. Beijing became the first city given the chance to hold both the summer and winter editions of the premier sporting event in 2015 — only after Norway, Sweden and other European countries dropped out, citing costs or lack of public support for hosting the Olympics.
Mr. Xi's wide suppression of dissent, crushing of democratic opposition in Hong Kong and detention of hundreds of thousands of members of the Uyghur ethnic minority in Xinjiang region have fueled calls for boycotts by countries and corporate sponsors.
China's economy, however, is now more than three times larger than it was in 2008, meaning corporations and even countries have dared not risk losing access to the market.
Mr. Xi, who was vice president in 2008, has since taking power in 2012 presided over a vigorous restoration of Communist Party power that he clearly hopes the Olympics will validate.
"If you look back at that time, 2008, they were still willing to show the world that they speak the same language, that they were part of some idea," Ai Weiwei, the Chinese artist who helped design the Bird's Nest stadium, said in an interview from Portugal. He left China in 2015 after his outspoken criticisms of the government. The open, airy design of the stadium was at odds with the direction China has taken, he said.
"But by now," he said, "the Chinese Communist Party is in a very different position. The whole tone has changed."
Holding the games could help put Mr. Xi in a flattering glow before a Communist Party congress late this year that will be crucial to extending his era in power. Mr. Xi appears increasingly assured of winning another five-year term as party leader at that congress, confirming his status as China's most powerful leader since Mao Zedong and Deng Xiaoping.
"This is in fact a celebration of a decade of Xi Jinping's era in power. It's a celebration of his power," Geremie R. Barmé, a fellow at the Asia Society's Center on U.S.-China Relation, said of the Games' opening ceremony. "It's like a National Day celebration, but done in the guise of an international event."
During the ceremony, thousands of athletes representing 90 countries and territories marched around the stadium. So far, none have openly criticized the Chinese government, something officials have warned could be punished.
"If any athletes, upon their departure from China and return to their home countries, choose to say anything about China, though, that could turn the narrative back toward the tensions," said Heather Dichter, an associate professor of sports history at De Montfort University in Britain.
"But," she added, "it is likely that for the two weeks of the Games themselves, the focus will be on the athletes and the many challenges they have had to overcome."
Anton Troianovski contributed reporting from Moscow, and David E. Sanger from Washington.