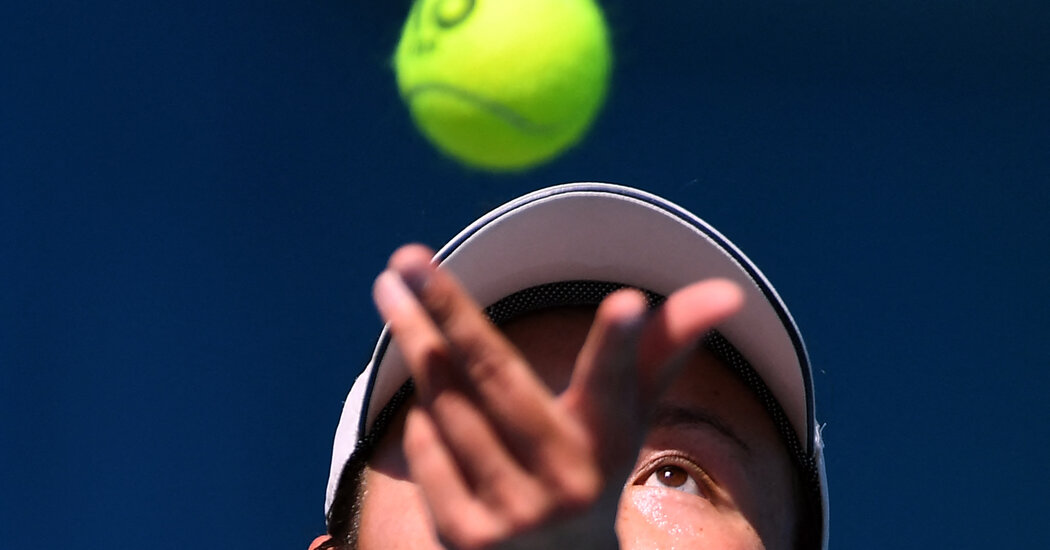 The International Olympic Committee said Thursday that it had held a second call with the Chinese tennis player Peng Shuai, trying anew to deflect criticism of its light-touch approach to China only months before the 2022 Winter Games in Beijing.
"We share the same concern as many other people and organizations about the well-being and safety of Peng Shuai," the I.O.C. statement said. "This is why, just yesterday, an I.O.C. team held another video call with her. We have offered her wide-ranging support, will stay in regular touch with her, and have already agreed on a personal meeting in January."
As with an earlier call with Peng on Nov. 21, the I.O.C. did not release video or a transcript of the call, nor did it say how Wednesday's call was arranged or specify who took part. The previous call included the I.O.C.'s president, Thomas Bach, but also an I.O.C. member from China.
Peng, 35, disappeared from public view more than a month ago after she accused Zhang Gaoli, a former vice premier of China, of sexual assault. Her disappearance, China's efforts to censor any mention of her allegations and its sometimes clumsy efforts to suggest she had retracted her claims have only intensified concerns about her safety with tennis officials, fellow athletes and human rights groups.
The I.O.C. statement, like its earlier statements on Peng, made no mention of her sexual assault claims, referring only to "the difficult situation she is in."
The latest video call, which the I.O.C. said took place on Wednesday, came on the same day the WTA Tour, the women's professional tennis tour, announced it would suspend all of its events in China, including Hong Kong, until the Chinese government took several measures. It called for the government to stop censoring Peng, a Grand Slam doubles champion and three-time Olympian; to allow her to speak and travel freely; and to "investigate the allegation of sexual assault in a full, fair and transparent manner."
The tennis tour's announcement prompted China's Ministry of Foreign Affairs to reiterate that China was "opposed to the politicization of sports." An editorial in Global Times, a popular tabloid controlled by the ruling Communist Party, linked the decision to "forces in the West" who were leading calls for a boycott of the Beijing Games. The newspaper accused tennis officials of "betraying the Olympic spirit."
Olympic officials have been on the defensive for weeks for their relative silence on Peng's disappearance and her claims of sexual assault, which critics of both the organization and of China have derided as an attempt to avoid even the appearance of criticizing a powerful partner.
The I.O.C. has countered that its effort to aid Peng has been a campaign of "quiet diplomacy," a phrase it repeated in Thursday's statement.
"There are different ways to achieve her well-being and safety," the I.O.C. said. "We have taken a very human and person-centered approach to her situation. Since she is a three-time Olympian, the I.O.C. is addressing these concerns directly with Chinese sports organizations. We are using 'quiet diplomacy' which, given the circumstances and based on the experience of governments and other organizations, is indicated to be the most promising way to proceed effectively in such humanitarian matters."
Women's tennis has taken a far more confrontational approach. Its announcement Wednesday that it was suspending all its events in China came after weeks of demands by the tour, its top players and its chief executive, Steve Simon, for reassurances about Peng's safety and an investigation into her claims.
The decision to pull events out of China and Hong Kong could cost the tour hundreds of millions of dollars, but it made the WTA Tour the only major sports organization to push back against China's increasingly authoritarian government. WTA Tour officials said they made the decision after they were unable to speak directly with Peng after she accused Zhang Gaoli, a former vice premier of China, in social media posts that were quickly deleted.
Though the men's No. 1 tennis player, Novak Djokovic, expressed support on Wednesday night for the WTA Tour's decision, the ATP Tour, the men's professional tennis tour, made clear Thursday that it had no plans to withdraw from China.
Understand the Disappearance of Peng Shuai
---
Card 1 of 5
Where is Peng Shuai? The Chinese tennis star disappeared from public view for weeks after she accused a top Chinese leader of sexual assault. Recent videos that appear to show Ms. Peng have done little to resolve concerns for her safety.
"We know that sport can have a positive influence on society and generally believe that having a global presence gives us the best chance of creating opportunity and making an impact," the ATP chairman, Andrea Gaudenzi, said.
Simon and the WTA Tour continued to take a much harder line.
"While we now know where Peng is, I have serious doubts that she is free, safe and not subject to censorship, coercion and intimidation," Simon said in his statement on Wednesday. Simon confirmed that the tour had still not been able to speak directly with Peng.
In an interview with CNN on Wednesday night, Simon dismissed the reassurances about Peng's safety from the I.O.C. and its longest-serving member, Richard W. Pound, who said this week that it was the "unanimous opinion" of top Olympic officials that Peng was "fine."
"Mr. Pound and those that were involved with it can certainly have their opinions," Simon said, before adding: "Does it change my position that what we are seeing is orchestrated? No."
For the I.O.C.'s many critics, the guarded, cautious language in its statements about Peng — viewed more as an attempt to explain away its silence rather than ensure her safety — is merely the latest proof that Olympic officials will not take any action that might upset China's government ahead of the Winter Games. That approach has alarmed human rights officials.
"The I.O.C. has vaulted itself from silence about Beijing's abysmal human rights record to active collaboration with Chinese authorities in undermining freedom of speech and disregarding alleged sexual assault," said Yaqiu Wang, a senior China researcher at Human Rights Watch. "The I.O.C. appears to prize its relationship with a major human rights violator over the rights and safety of Olympic athletes."
Christopher Clarey contributed reporting.