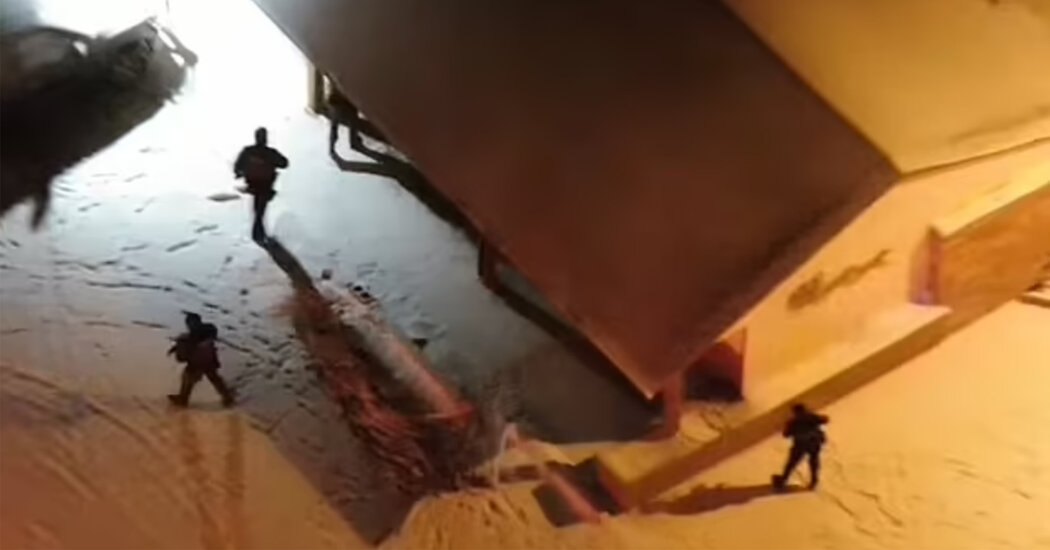 An armed man broke into the Colorado ranch of the former Democratic presidential candidate Michael R. Bloomberg and kidnapped a housekeeper, asking her for the whereabouts of Mr. Bloomberg's two adult daughters, the authorities said in court documents filed this week.
The man, Joseph Beecher, 48, faces state and federal charges including kidnapping after he was accused of ramming his pickup truck through the main gate of the Westlands Ranch in Rio Blanco County on Wednesday. Mr. Bloomberg and his family were not present at the ranch at the time, officials said.
But Mr. Beecher told the female housekeeper that he had hoped to "make an international scene" with Mr. Bloomberg, who was the mayor of New York City from 2002 to 2013, or with his daughters, before kidnapping the worker at gunpoint, according to court filings.
She was forced to drive Mr. Beecher in a pickup truck about 230 miles east, to the Denver area, and later to a town near the southern border of Wyoming, before the authorities tracked them both to a motel there early Thursday, officials said. The woman, identified as a supervising housekeeper at the ranch, was found unharmed.
Mr. Beecher was arrested, the authorities said, and an AR-15-style rifle and several magazines were located inside the room. He was taken to a jail in Cheyenne, Wyo., where he was held without bail. As of Saturday morning, it was unclear if he had a lawyer.
The Sheriff's Office in Rio Blanco County, in northwestern Colorado, said in a statement on Thursday that Mr. Beecher had no apparent connection to the Bloombergs.
But according to court documents, he had initially asked about the former mayor's two daughters — Emma, 42, and Georgina, 39 — by name. He later told the housekeeper that he had also traveled to a nearby airport in the summer to search for Mr. Bloomberg, the filings say.
Ty Trippet, a spokesman for Mr. Bloomberg, said in a statement that the former mayor was "deeply grateful" to the authorities for "ensuring that no lives were lost and that the victim has been rescued and safely returned to her family."
Mr. Beecher was also identified as the suspect in a burglary in Craig, Colo., a small town about 70 miles from Mr. Bloomberg's ranch, where officials said he had been given a place to stay in exchange for doing repair work. The day before the authorities said he kidnapped the employee, he was told that he would be terminated from his role and was required to move out, according to court documents.
Later, Mr. Beecher had an argument with his landlord, who eventually found that two rifles and ammunition had been stolen from his personal living area, according to court documents.
The authorities said they believed that soon afterward, Mr. Beecher drove to the 4,600-acre ranch in Rio Blanco County, which Mr. Bloomberg purchased in 2020 for nearly $45 million.
The employee — whose full name was initially released by the Sheriff's Office but who was later referred to only by her initials in state and federal court documents — told the authorities that she was working in an upstairs bedroom at the ranch when Mr. Beecher appeared behind her. He had a large gun "pointed at her face," the federal complaint says, and, using an expletive, he threatened to shoot her "face off" if she did not drive him around.
While driving, Mr. Beecher forced the woman to make several stops, including to withdraw several hundred dollars from an A.T.M., according to the court filings. He often made "threatening statements," including warning her that he would shoot passers-by at a gas station if she tried to get help, the documents say.
Mr. Beecher also made the woman sleep in the same bed as him with her head on his chest and her arm around his waist, orders she told the authorities she followed out of fear that he might harm her, according to the documents.
The two were found after investigators said they used an app on the woman's phone — which was left behind at the ranch — to track her iPad to the Wyoming motel. Officials said she had been directed to book their room under fake names.