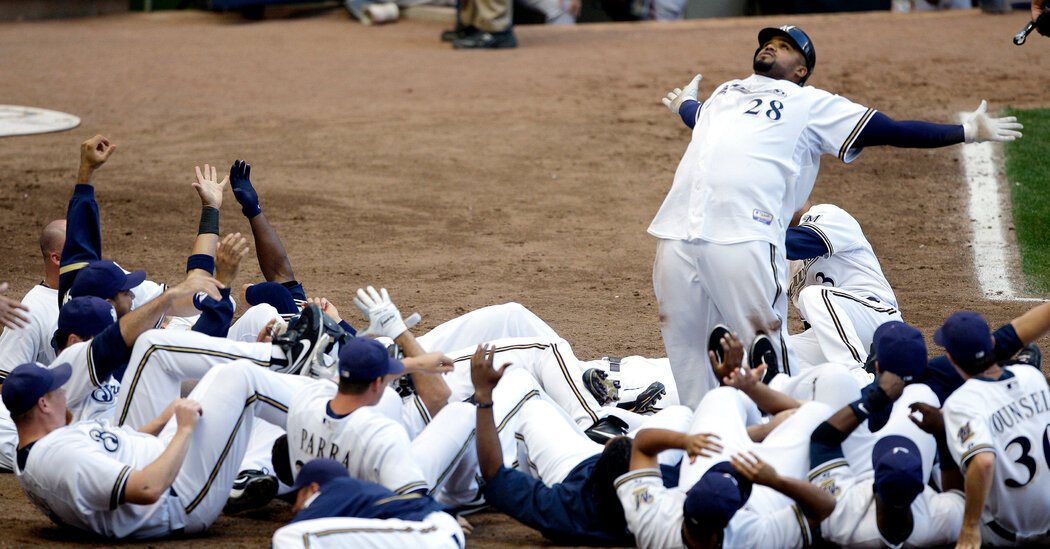 The Baseball Hall of Fame unveiled the new writers' ballot on Monday, and complicated only begins to describe it. This is the final appearance for Barry Bonds, Roger Clemens and Curt Schilling, and the first for David Ortiz and Alex Rodriguez. Each has a long history of boldface headlines, for reasons on and off the field.
Eleven others are making their debut on the ballot, and it's a decorated group: three Most Valuable Player Award winners (Ryan Howard, Justin Morneau, Jimmy Rollins), two Cy Young Award winners (Tim Lincecum, Jake Peavy), two All-Star M.V.P.s (Carl Crawford, Prince Fielder), two closers with 300 saves (Joe Nathan, Jonathan Papelbon) and two others with multiple All-Star appearances and a World Series championship (A.J. Pierzynski, Mark Teixeira).
With apologies to Ortiz and Rodriguez — there's no lack of written words about either guy — here's our annual salute to the other newcomers up for election to Cooperstown.
Sometime in the spring of 1999, the Seattle Mariners worked out a kid from Houston who had a scholarship to play quarterback at Nebraska. He also played center field and the draft was coming up. "What's his name?" I asked an onlooker, who told me it was Carl Crawford.
Zipping around the Kingdome turf and lashing liners from the batting cage, he looked pretty good to me. It was easy to imagine Crawford joining or succeeding Ken Griffey Jr. in Seattle, but the Mariners didn't see it that way. They drafted two other players in the first round, spending more than $3 million on their bonuses. Neither reached the majors.
Crawford was the first pick of the second round, when the Tampa Bay Devil Rays, then a fairly aggressive second-year franchise, snagged him for $1.245 million. Crawford would wind up with more wins above replacement (39.1) than anyone in his draft except Albert Pujols. He led the American League in triples and stolen bases four times each, and hit the first World Series home run in Rays history.
Years later, I asked Crawford about that workout. He said he hadn't performed very well; he was tired from a long flight. He ended up hitting .342 in his career against Seattle, his best average against any A.L. team — and in 2018, two years after his last game, the Mariners traded for his distant cousin, J.P. Crawford. He is now their everyday shortstop.
Prince Fielder
In 2016, when his career ended because of two spinal fusion surgeries, Fielder was only 32. At a news conference in Arlington, Texas, he wore a neck brace as he sat beside his two sons: "I've been in a big league clubhouse since I was their age," he said.
Fielder was born in 1984 (that is why he wore No. 84 for the Rangers), and his father, Cecil, reached the majors the next year. Prince was 14 in Cecil's last season, spent mostly with the Angels in 1998. I covered that team and remember Prince taking batting practice, launching bombs over the right field scoreboard in Anaheim. He would retreat to the dugout and sit there alone for a while, gazing at the field. He knew he would play there for real someday. Everybody did.
In 2007, Prince, just 23 at the time, became the youngest player to hit 50 home runs in the season when he did it for Milwaukee. He would finish with 319 homers, the same as Cecil. Sadly, they were estranged for many years. But by the time Prince joined the Rangers, in 2015, the fissure had apparently healed. "It's pretty cool," he told USA Today then. "Real cool."
Ryan Howard
In 2004, Howard played 29 games for the Scranton/Wilkes-Barre Red Barons. That same year, the pilot was shot for the American version of "The Office," a sitcom about a paper company in Scranton, Pa. As a nod to the local baseball team, a character was named Ryan Howard.
M.L.B. Hot Stove and Off-Season Updates
The player and the show continued on similar trajectories. The Philadelphia Phillies promoted Howard to the majors. NBC picked up "The Office" for its prime-time lineup. For a while, Howard was the game's premier slugger, the major leagues' leader in homers (262) and runs batted in (796) from 2006 through 2011. "The Office" became a powerhouse of its own in those years, one of the funniest shows on television and a future streaming sensation.
But in 2011, Howard tore his Achilles' tendon while grounding out to end a playoff series, and Steve Carell left "The Office." The player and the show were never the same, but they did come together for an episode in 2013, when Howard made a pitch to Jim and Darryl's new sports marketing company for a film based on his nickname.
"Half biopic, half superhero movie," Howard says. "A mild-mannered professional baseball player, Ryan Howard, hits a home run into outer space. Ball comes back with stardust on it, which transfers him into: 'The Big Piece.'"
Tim Lincecum
Next time you step over a puddle of slush, think of Tim Lincecum — or, more specifically, this description of him by Roger Angell for The New Yorker in 2010: "Wait for that mound-eating stride of his: he's a January commuter arching over six feet of slush. No, no — look at the tilt, the twist and torque, the flying arms, the balance lost and regained, the skinny bod, the high-school hair: he's an X Games skateboarder headed for the Olympics. Nobody has ever pitched like this before."
A pitcher's stride typically measures about 80 or 85 percent of his height. Lincecum, who is 5 feet 11 inches, had a seven and a half foot stride. He would twist his back to the plate, thrust his glove to the sky and then whirl his body toward the hitter, his pitches exploding with startling power.
In his four-year run as an All-Star, from 2008 through 2011 with the Giants, Lincecum led the majors in strikeouts (977) while winning two Cy Young Awards and the first of three championship rings. He was never elite after that, but starred in relief in the 2012 World Series and threw no-hitters in each of the next two seasons.
That gave Lincecum multiple Cy Youngs, multiple World Series titles and multiple no-hitters. Only one other pitcher in baseball history can make that claim: Sandy Koufax.
Justin Morneau
When Derek Jeter got as close as he ever would to a Most Valuable Player Award, in 2006, he was runner-up to Morneau, the first baseman for the Minnesota Twins. When Josh Hamilton staged the most breathtaking home-run derby round ever, at Yankee Stadium in 2008, he was also runner-up to Morneau.
Two years later, Morneau was hitting .345 in early July when he slid into second base to break up a double play in Toronto. His helmet collided with the right knee of the Blue Jays' John McDonald, and Morneau pulled himself from the game. It was his second concussion — he'd been hit in the head by a pitch in 2005 — but not his last; a diving play at first base ended his 2011 season in August.
"If anything good comes of it, it's the fact that if parents see us big guys, professional athletes, missing good chunks of time, they're going to take it seriously and not rush their high school kids back out there to play a football game," Morneau told me in 2012, two years before he won a batting title for Colorado. He added later: "If parents can realize that and get past the fact that it's not a sore hamstring, it's not a sore elbow or something you can grind out and play through, there's something to be said for that."
Joe Nathan
Not every baseball stadium has a name as charmless as, say, Guaranteed Rate Field or LoanDepot Park. Consider the Long Island home of the Stony Brook Seawolves: Joe Nathan Field.
Nathan was pitching for the Twins in 2011, on his way to 377 career saves, when his alma mater opened the ballpark with help from his $500,000 donation. The next year, the Seawolves marched to their first College World Series in Omaha.
When Nathan played for Stony Brook, in the mid-1990s, the program was Division III and he was a shortstop. Drafted by the Giants in 1995, he batted .232 and was told to become a pitcher. Instead, Nathan returned to Stony Brook to earn his business management degree.
"I went in with my buddy to see what stockbrokers do," he told the Minneapolis Star Tribune in 2004. "I did it for like a week. I couldn't do that. They are on the phone for like eight, 10 hours a day. And that's not me."
Suddenly, the mound seemed more appealing. Nathan asked the Giants if he could return in 1997, and two years later he was in the majors. He stayed for 16 seasons.
Jonathan Papelbon
The Red Sox brought in Dave Henderson to throw the ceremonial first pitch before Game 3 of their 2009 division series with the Angels. Henderson, of course, had homered in Anaheim when the Red Sox were down to their last strike in the 1986 playoffs, sparking a famous comeback. "That was bad luck," the Angels' Torii Hunter said later, and was it ever.
Papelbon had thrown 26 ⅔ scoreless innings in his postseason career when he stood on the mound at Fenway later that afternoon, needing one strike to extend the series. He never got it. In a ghastly sequence — single, walk, double, intentional walk, single — the Angels stormed back off Papelbon and won the series. He never pitched in the postseason again.
But he'll always have the ultimate closer's highlight: striking out a batter to win the World Series. Papelbon did it in 2007 in Colorado, blowing a fastball past the Rockies' Seth Smith. That must have been extra sweet for Papelbon, because he went to Mississippi State and Smith went to Ole Miss.
He didn't exactly preserve the final ball for posterity, though: that off-season, he said that his French bulldog, Boss, ate it. Maybe.
"If you believe it, you believe it; if you don't, you don't," Papelbon later told reporters, cryptically. "What can I say?"
Jake Peavy
More than 60,000 fans jammed into Qualcomm Stadium for a noon game under the San Diego sunshine on June 22, 2002. It was the biggest crowd in the majors that season, and the Yankees were in town. Jake Peavy, who had just turned 21, was making his major league debut on national television. It did not start well.
Alfonso Soriano led off with a double, and with one out, Jason Giambi doubled him home. Then Peavy held the Yankees hitless until the seventh inning. "It was the thrill of my life when I walked off the field and got a standing ovation," he said.
There would be many more thrills to come. Peavy lost that first game for the Padres, 1-0, but quickly established himself as a star; five years later he won the National League Cy Young Award, leading the league in wins (19), earned run average (2.54) and strikeouts (240) for the pitching triple crown.
Peavy never got another Cy Young vote but endured for nine more seasons, always making a strong first impression. Traded at the deadline three times in six years, he went 3-0 for the White Sox in 2009, 4-1 for the Red Sox in 2013 and 6-4 for the Giants in 2014. He ended those last two seasons with a World Series parade — and even bought a Boston Duck Boat for $75,000.
A.J. Pierzynski
When he was 38 years old, with Atlanta in 2015, Pierzynski did something nobody else that age has ever done — he caught 100 games and batted .300.
"Never had any arm problems at all," he said the next spring training, before his last season in the majors. "Never had back problems, never had leg problems. I'm 39 years old now. I go to my kids' school, and they're like, 'How do you squat?' I don't even think about it. It doesn't hurt. It's my job. It's what I do."
Pierzynski did that job 1,936 times, logging more games behind the plate than Johnny Bench, Yogi Berra, Mike Piazza and Ted Simmons. He never won a Gold Glove, but he was a career .280 hitter with decent pop who helped the 2005 Chicago White Sox win a title. He was brash and outspoken, so some folks missed what he was all about.
"People focus on a lot of things about Pierzynski," Simmons said, before Pierzynski's last season. "Nobody focuses on the fact that he's a pretty smart guy. That's what impresses me most about him, because out here, there's no place to hide. If you're faking it, it's just a matter of time — and not very long — before you get smoked out as an impostor."
Not surprisingly, Pierzynski now pairs that deep knowledge of the game with refreshing candor as one of baseball's better color analysts for Fox Sports.
Jimmy Rollins
The Phillies brought Rollins to the majors for good in 2001, and as soon as he got there, he led the N.L. in stolen bases with 46. He couldn't wait to do it, it seemed, which made sense: Rollins is a native of Oakland who idolized Rickey Henderson.
"I used to steal bases with him in my living room," Rollins said. "I'd slide into the couch and everything."
Rollins would finish with 470 stolen bases, a total Henderson reached when he was 25 years old. But the game has changed a lot since the prime of Henderson, who had a record 1,406 steals, and Rollins's total ranks fifth in the 2000s, trailing only Juan Pierre, Jose Reyes, Ichiro Suzuki and Carl Crawford.
"These slide steps, these defensive shifts, guys not wanting to 'give away outs' — they're stopping the running game," Rollins said before the 2016 season, his last in the majors. "They figure if you're not safe 80 percent of the time, it's not worth the gamble. And it didn't used to be that way."
Rollins was much more than a speedster. He was an all-around offensive force who set the franchise record for hits — and as an oracle, he was Philadelphia's Joe Namath. Before the 2007 season, Rollins proclaimed that the Phillies, who had missed the playoffs for 13 consecutive years, were the team to beat in the N.L. East. They went on to win the next five division titles and a championship in 2008.
Mark Teixeira
There are 39 switch-hitters in major league history who had 8,000 plate appearances. Only three have a better on-base plus slugging percentage than Teixeira's .869 — Mickey Mantle, Chipper Jones and Roger Connor, who played in the 1800s. Of those three, only Jones likely saw much of the pitch that changed the game for switch-hitters.
"The cutter," Teixeira said in 2016, when I asked him to name the biggest change in pitching since his debut in 2003. "As a switch-hitter, the cutter has changed the game for me more than any other pitch, because when you have to cover both sides of the plate, it makes your job a lot harder.
"When guys would throw four-seamers in, you kind of know if it's a ball or a strike and you can decide if you want to swing at it. If it's a two-seamer, it's going to come back over the plate, as a switch-hitter. So I'm always seeing the ball kind of going away from me. Sliders are down and in, so hey, lay off the ball down.
"But you can't tell that a cutter's going to be a cutter — and then it moves a foot in on your hands. I truly believe — because I've seen the best changeups, the best sliders, the best four-seamers, I've seen the best of all pitches — that a good cutter equalizes everything else."
Teixeira said something else in that conversation that has always stuck with me. When a tall pitcher throws a curveball, he said, it seems to be dropped from the top of a ladder. That makes it especially difficult to connect, compared to another kind of pitch.
"Now, give me a 100-mile-an-hour fastball, straight, in the zone, I'll hit it every time," Teixeira added, matter-of-factly. "I may not get a hit, but I'm going to hit it."
I'm sure I just nodded politely as he said it. But inside I was thinking: big league hitters, man. They're just a little different from the rest of us.