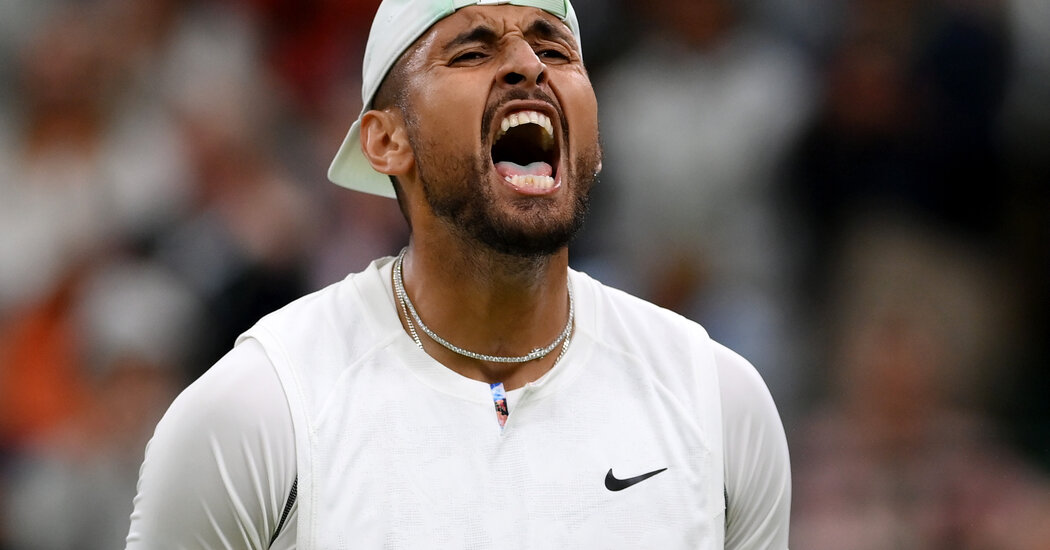 WIMBLEDON, England — All white is the dress code at Wimbledon, the oldest and most traditional of the four Grand Slam tennis tournaments. So when Nick Kyrgios wears a black hat for his on-court interview, he is sending a message.
And that's what he did Saturday night on the No. 1 Court, after his emotional, fireworks-filled, 6-7 (2), 6-4, 6-3, 7-6 (7) win over Stefanos Tsitsipas of Greece, the No. 4 seed.
As Wimbledon heads into its second week, the women's tournament is wide open and there is potential for a men's final of Novak Djokovic and Rafael Nadal, which looks more inevitable each day. And then there is Kyrgios, a dangerous and disruptive force who has so much pure talent, but is so temperamental and combustible, and so drawn to, and disgusted by, his chosen profession that the sport can neither control him nor ignore him.
He plays when he feels like it, then disappears for months, only to return to wreak havoc and provide headline-grabbing theater.
"Everywhere I go I'm seeing full stadiums," he said after his battle with Tsitsipas. "The media loves to write that I am bad for the sport but clearly not."
Kyrgios is an immensely talented Australian who has an ambivalent relationship with the rigors and requirements of professional tennis. He relishes his role as the game's great outlaw, unafraid to jaw with, spit toward or berate judges and umpires.
He badgers the young workers on the court for not keeping the changeover chairs stocked with fresh towels and bananas. He smashes rackets. One ricocheted off the ground and very nearly crashed into the face of a ball boy at a tournament in California this year. His boorish displays regularly garner tens of thousands of dollars in fines.
Then he will return to the court and fire one of the most dangerous serves in the game. He puts on the sort of magical shotmaking clinic — shots between the legs, curling forehands, underhanded aces — that other players can only dream about.
He is the ticking time bomb who packs stadiums and has hordes of young fans. He is at once the sport's worst nightmare and its meal ticket: hard to watch but also hard not to.
When he loses, it's always someone else's fault. When he wins, it's because he has overcome all manner of forces against him — tournament directors, the news media, the tennis establishment, fans who have hurled racial slurs at him.
"Unscripted. Unfiltered. Unmissable," is how the @Wimbledon Twitter feed put it Saturday night as Kyrgios, in all of his brilliance and brattiness, overpowered and outfinessed Tsitsipas over three hours.
All evening, Kyrgios went after the chair umpire as well as the tournament referees and supervisors for not defaulting Tsitsipas after he angrily sent a ball into the crowd, coming dangerously close to directly hitting a fan on the fly. Kyrgios claimed the umpire surely would have sent him off had he done the same thing. (He may not be wrong on that one.)
The nearly endless complaints and interruptions rattled Tsitsipas. He struggled to maintain his composure, complaining to the chair umpire that only one person on the court was interested in playing tennis, while the other was turning the match into a circus. Then he took matters into his own hands, and started trying to peg Kyrgios with his shots. The crowd of more than 10,000 grew louder with each confrontation.
It became only more intense after Kyrgios finished off Tsitsipas in the tiebreaker with three unreturnable shots — a signature half-volley into the open court; a ripped, backhand winner; and a drop shot from the baseline that died on the turf just beyond Tsitsipas's reach.
The drama was cresting as the Tsitsipas and Kyrgios news conferences descended into a name-calling, insult-filled debate over decorum and who had more friends in the locker room.
Tsitsipas, certain that Kyrgios had intentionally made a mess of the match — and probably steamed that Kyrgios had beaten him twice in a month's time — said his fellow players needed to come together and set down rules that would rein in Kyrgios.
"It's constant bullying, that's what he does," Tsitsipas said of Kyrgios. "He bullies the opponents. He was probably a bully at school himself. I don't like bullies. I don't like people that put other people down. He has some good traits in his character, as well. But when he — he also has a very evil side to him, which if it's exposed, it can really do a lot of harm and bad to the people around him."
Tsitsipas said he regretted swatting the ball into the crowd, but was less remorseful about another that he smacked across the net and into the scoreboard, earning a point penalty.
"I was aiming for the body of my opponent, but I missed by a lot, by a lot," he said. Then, he added, "When I feel like other people disrespect me and don't respect what I'm doing from the other side of the court, it's absolute normal from my side to act and do something about it."
Kyrgios was watching all of this on a television nearby. Minutes later, he sat down behind the microphone, wearing that black cap and a T-shirt featuring Dennis Rodman, the onetime N.B.A. rebel, and a big grin. Once more, Tsitsipas had created a situation where Kyrgios could get the better of him, even allowing him the rare chance to take the high road and claim to be a kind of innocent.
"He was the one hitting balls at me," he said of Tsitsipas. "He was the one that hit a spectator. He was the one that smacked it out of the stadium."
He called Tsitsipas "soft" for letting Kyrgios's conversations with tournament officials get to him.
"We're not cut from the same cloth," he said of Tsitsipas. "I go up against guys who are true competitors. If he's affected by that today, then that's what's holding him back, because someone can just do that and that's going to throw him off his game like that. I just think it's soft."
Tsitsipas's mother is a former pro and his father is a tennis coach who reared his sons on the tennis court from an early age. Kyrgios is of Greek and Malay descent, and his father painted houses for a living.
"I'm good in the locker room," Kyrgios, now rolling, went on. "I've got many friends, just to let you know. I'm actually one of the most liked. I'm set. He's not liked."
Then, one last dagger.
He said that he did not take the court to make a friend, to compliment his opponents on their play, and that he had no idea what he had done to make Tsitsipas so upset that he barely shook his hand at the end of the match.
Every time he has lost, Kyrgios said, even when he has been thrown out of matches, he has looked his opponent in the eye and told him he was the better man.
"He wasn't man enough to do that today," he said.
The victory put Kyrgios into the round of 16, where he will play Brandon Nakashima of the United States on Monday, and two wins from a possible semifinal showdown on Centre Court with Nadal, assuming the 22-time Grand Slam event champion can keep winning as well. It would be the ultimate hero-villain confrontation, a perfect setting for all manner of potential Kyrgios explosions and boorishness, but also, as that Twitter feed put it, unmissable theater.
Nadal is known to be one of the game's true gentlemen, a keeper of the unspoken codes between players. He has marveled at Kyrgios's talent and questioned the baggage he brings to the court and the ordeals he often creates with umpires, especially when his chances of winning begin to slip away.
On Saturday night, after winning his own match and hearing about the Kyrgios-Tsitsipas fracas, Nadal turned philosophical when asked when a player crossed the line, and whether Kyrgios goes too far. It is, he said, a matter of conscience.
"I think everyone has to go to bed with being calm with the things that you have done," Nadal said. "And if you can't sleep with calm and being satisfied with yourself, it's because you did things that probably were not ethical."
How does Kyrgios sleep? Only he knows.