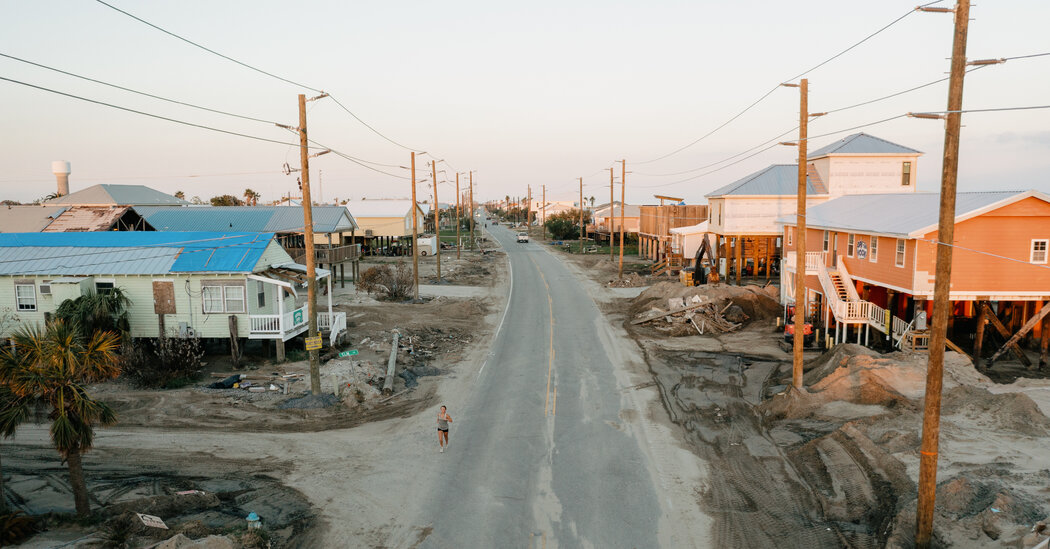 We asked some of our photographers to choose their favorite sports images that they made this year and tell us why they liked them. Take a look.
I got an email from an editor at The New York Times about a skateboarding project and immediately thought of Naiomi Glasses, whose skateboarding videos on TikTok have gone viral. Glasses, 24, wears her traditional Navajo skirt, turquoise jewelry and hair bun as she sails across the sandstone on a board and four wheels.
I met her at a gas station in Rock Point, Ariz., and we went up a mountain. I found a spot and followed her with my camera as she skateboarded effortlessly until the sun went down. This is one of my favorite photographs because it shows the beauty of skateboarding and the Navajo Nation.
Photographing Home
Ku Stevens ran to honor his ancestors, including his great-grandfather, who had escaped an Indigenous boarding school. He also ran to become a champion. Last month, Ku won the Nevada state title for the fastest high school distance runner.
The day after, Ku and his father, Delmar Stevens, offered tobacco to the four directions and the creator. I wanted to frame the moment from inside the family's sweat lodge, so I ran inside and waited. When Ku and Delmar stepped into the frame, I waited for Delmar to raise his hand to offer tobacco to the west direction. I knew that was the moment I was aiming for. This is one of my favorite photographs because it shows the unconditional love between father and son and their love for their culture. It is about acknowledging the past, moving forward, embracing change and keeping traditions alive.
After Ku and his family stepped into the sweat lodge, I sat outside and listened as they sang a traditional Navajo song. I am Navajo, from the Navajo Nation reservation; I was 879 miles away from home, but I felt close to home.
Todd Heisler
Skate Park Lessons
Compelling sports photography captures the spirit of competition, and some of the best moments are found on the periphery. This image, from our piece about the efforts to build skate parks across Montana, speaks to the resilience it takes to survive on a skateboard.
It reminds me of learning to ride a skateboard as a kid. The pain and the sweat. The sense of freedom. The mix of individuality and camaraderie. While the sport has grown in popularity — it made its Olympic debut in Tokyo this year — it is still defined as much by the kids at the skate park as it is by the pros.
I was 27 weeks pregnant when I photographed Cody Simpson, the Australian pop star who dreams of being an Olympian, during his swimming practice in January. The golden-hour light was coming in perfectly, and I had to keep reminding myself to watch my balance so that I wouldn't follow the light to the point that my gear and I ended up in the pool.
I remember Ruthie kicking as I lay next to the edge of the pool. I was so excited that I would be able to tell her about these moments together one day. That, plus the light and the subject combined in a magical way.
Gabriella Angotti-Jones
Under the Bright Lights
When I was growing up in Southern California, almost everyone I knew played competitive sports from a young age. The amount of money and time families spend on sports to try to get their children into the best colleges is incredible.
When I got to St. John Bosco High School's stadium in early October, I wanted to examine the blurred lines between amateur and professional sports here, while referencing the photographer Robert Clark's classic work for the original "Friday Night Lights" book. I used three cameras, both digital and film, but the film photos turned out to be the closest to what I had in mind.
Our society puts lots of pressure on teenagers and young adults to perform, to achieve, to be "successful." I hope we continue to report stories that examine this bargain.
Chang W. Lee
Capturing a Legend From Above
Photographers at gymnastics events often position a remote-controlled camera on a catwalk pointing down at the balance beam or the uneven bars. It's a safe bet for great pictures.
But on the last day of the U.S. Olympic gymnastics trials in June, held in St. Louis, I climbed to the other side of the arena to put my remote camera above the vault, hoping I could capture Simone Biles performing one of her signature moves, the Yurchenko double pike. It's a move so dangerous that no other women attempt it in competition.
You don't see many bird's-eye pictures of the vault because they're hard to pull off: The action happens quickly and you only have one shot at the perfect moment. (There are plenty of chances to photograph a gymnast on the uneven bars or balance beam.) But I figured it would be worth the effort if Biles pulled off the move.
Biles can fly so high that it's hard to focus the camera ahead of time on where you think she will be. To prepare for overhead photos, I usually ask someone on the floor to raise a monopod high in the air holding a piece of cardboard with an X on it, so I can focus on the X. But Biles can fly higher than anyone can lift the cardboard, so this shot came down to guesswork.
When it was Biles's turn on the vault, she decided not to perform the Yurchenko double pike, opting for a less strenuous vault to protect her ankles ahead of the Olympics. But when I finally got to see the picture, even though it wasn't the famous move I was hoping for, I was happy with it. I had never seen a remote picture of the vault from a catwalk, and it looked great.
In August, Carli Lloyd, 39, announced her retirement, ending her brilliant soccer career. I spent much of October going to her final games and retirement party, where I saw firsthand the influence that one person can have on the game. Fans who were too young to remember her hat trick in the 2015 World Cup final against Japan were chanting her name and hoping for autographs from one of the greatest of all time.
Rooting for the success of women's sports in this country can be a daunting task, but when soccer can produce players like Lloyd, the possibilities are endless for the beautiful game.
A Little Joy
After more than a year without much to celebrate, it was a pleasure being with these fans in New York City as Italy won the European soccer championship. England started the final strong with an early goal, but Italy leveled the score in the 67th minute and the game remained tied until a tense penalty shootout.
With one final save by goalkeeper Gianluigi Donnarumma, the street erupted in celebration. Flares were lit and champagne popped to the sounds of techno "Bella Ciao" remixes.
James Hill
Golden Upset
At the Tokyo Olympics, the finest athletes in the world competed in stadiums that were empty except for fellow athletes, officials and volunteers. Most Japanese fans hoping to cheer on their favorite stars had to do so in front of a television.
This was a particular disappointment for fans of softball and baseball, both wildly popular in Japan, which were returning to the Olympic schedule for the first time since 2008.
In the gold medal softball match, second-ranked Japan and the top-ranked United States, the two powerhouses of the sport, faced off once again in an Olympic final. The Japanese team prevailed, just as it had in 2008. Even with the stands almost empty, the sweetness of victory on home soil was clearly etched on the players' faces.
I arrived at South Cameron High School in southwest Louisiana at first light, a few days before Hurricane Ida would sweep through the state. Cameron Parish had already been devastated by Hurricane Laura a year earlier, and the high school gym had been leveled, leaving athletes nowhere to practice.
The matter-of-fact nature of the athletes being asked to pack up the sports equipment before a storm was a reality check. There was some urgency to store the equipment because school was being let out early that day to leave a few days for families to evacuate. But mostly, this felt like a normal activity for the coach and the students, as if the effects of climate change have simply become part of their routine.
Resilience to Keep Running
It was a long day walking around Grand Isle, La., under the blazing sun. We met up with Londyn Resweber, 14, at her family's house on the eastern side of the island. Fortunately for them, the eastern side hadn't been damaged as severely as the western side by Hurricane Ida.
It was amazing to see Londyn's determination to continue to train for the state cross-country championships, especially since none of her teammates have returned to Grand Isle after evacuating. We rode in a golf cart with her mother, who was pacing her as she ran through the sand-filled, windswept landscape.
Londyn went on to place 25th, after coming in fifth last year. I think it's fair to say that a hurricane leveling your town is a perfectly acceptable reason for not finishing as high as you would hope. But what stuck with me was everyone's determination to not let these regular disasters distract Londyn from her goals.