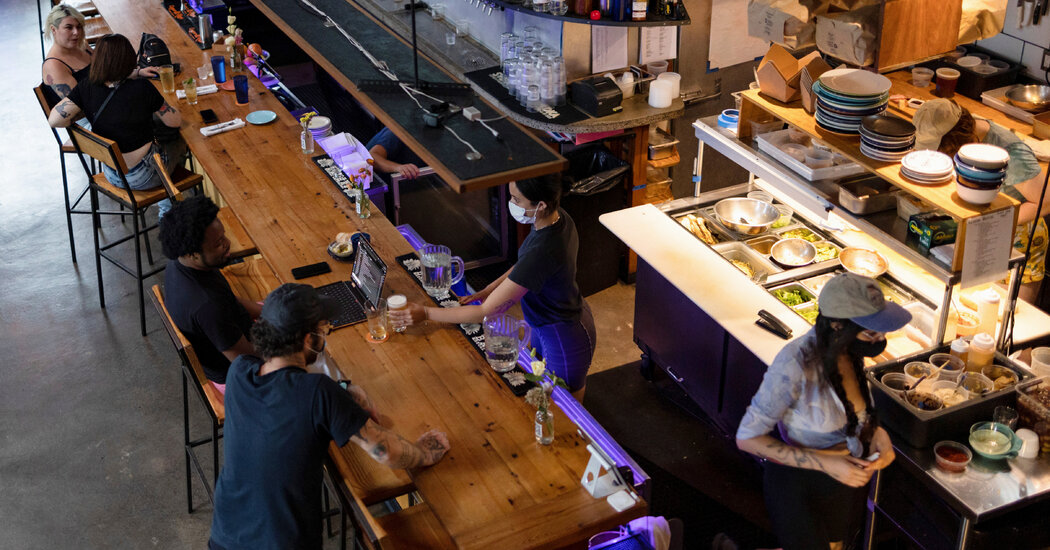 Customers and workers at bars and restaurants in Philadelphia, where new cases of coronavirus infections are rising rapidly, will have to be fully vaccinated starting next month, city officials announced on Monday.
"I don't want to close restaurants or other types of businesses that serve food," Cheryl Bettigole, Philadelphia's health commissioner, said in a video news conference. "They've been through too much, and they're an important part of the life of our city."
"Since we can't make people wear masks when they're eating," Dr. Bettigole added, "we need to increase the vaccination rate of people in those situations."
Philadelphia's mandate comes after New York City, San Francisco and New Orleans put similar regulations into effect.
New Covid cases and hospitalizations have been rising in Philadelphia in recent weeks. The average number of new cases reported each day reached 702 on Sunday, compared with 291 on Dec. 1, according to a New York Times database. The city decided to act before the onset of a predicted "winter wave," when Dr. Bettigole said she expects colder weather and holiday gatherings to fuel even more infections.
Jim Kenney, Philadelphia's mayor, said on Monday that "with winter just around the corner, we must do more to protect our residents."
The first phase of the mandate takes effect Jan. 3. At first, establishments that sell food or drinks for consumption on the premises must require proof of either full vaccination or a negative test administered in the last 24 hours. Starting on Jan. 17, however, negative tests will no longer be accepted, Dr. Bettigole said.
The two weeks before the second, tighter requirement should help give people who are not yet vaccinated time to get either the single-shot Johnson & Johnson vaccine or the two required doses of the Moderna or Pfizer-BioNTech vaccines, she said.
The mandate will apply to bars, restaurants, sports venues that serve food, bowling alleys, movie theaters, casinos where food and drinks are allowed on the gambling floor, catering halls and cafes within larger establishments, officials said.
It will not apply to schools, day care facilities, convenience stores, grocery stores, hospitals, soup kitchens and other places that serve "vulnerable populations," she said.
People with "proof of valid religious or medical exemptions" and young children who are not yet eligible for vaccination will be exempt, according to the Health Department's website.
Workers at affected establishments, and children between 5 and 11, will have to receive at least one dose of vaccine by Jan. 3 and be fully vaccinated by Feb. 3, Dr. Bettigole said.
About 71 percent of Philadelphia's more than 1.5 million residents and 76 percent of the city's adults have been fully vaccinated, city officials announced on Monday.