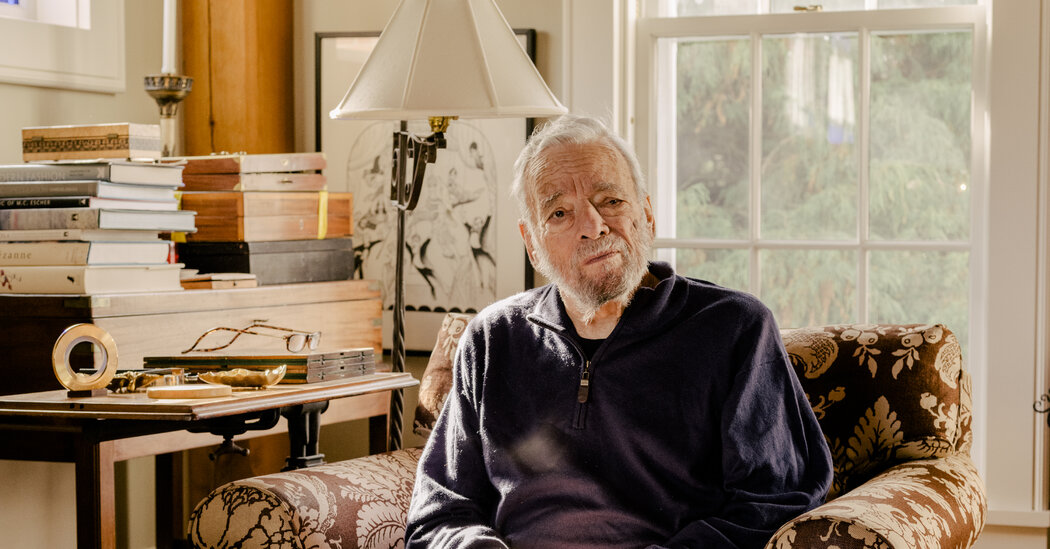 ROXBURY, Conn. — Stephen Sondheim stood by the gleaming piano in his study, surrounded by posters of international productions of his many famous musicals, and smiled as he inquired whether a visitor might be interested in hearing songs from a show he had been working on for years, but hadn't finished yet.
"And now would you like to hear the score?" he asked. Of course, the answer was yes. "You got some time?" he asked, before laughing, loudly, with a sense of mischief: "It's from a show called 'Fat Chance'!"
That was Sunday afternoon, five days ago, when Mr. Sondheim, 91, had welcomed me to his longtime country house for a 90-minute interview with him and the theater director Marianne Elliott about a revival of "Company" that is now in previews on Broadway. It would turn out to be his final major interview.
There was little indication that Mr. Sondheim, one of the greatest songwriters in the history of musical theater, was unwell. He was engaged and lucid, with strong opinions and playfully pugnacious, as with the tease about his long-gestating, unfinished final musical. At one moment he complained that his memory wasn't as strong as it had been, but he was also telling anecdotes from a half-century earlier with ease.
He was having a little trouble getting around — using a cane, seeking assistance to get in and out of chairs, and in obvious pain when walking — which he attributed to an injury. Asked about the state of his health, he answered by knocking on a wood table and saying, "Outside of my sprained ankle, OK."
He was busy right until the end. On Nov. 14 he attended the opening of an Off Broadway revival of his musical "Assassins," directed by John Doyle at Classic Stage Company. The next night he went to the first post-shutdown preview for the Broadway revival of "Company" — a reimagined production, opening Dec. 9, in which the protagonist, who has traditionally been played by a man, is now played by a woman. And just this week, two days before he died, he did a doubleheader, seeing a Wednesday matinee of "Is This a Room" and an evening performance of "Dana H.," two short documentary plays on Broadway.
"I can't wait," he said as he anticipated seeing those shows. "I can smell both of those and how much I'm going to love them."
He was not inclined to make any grand pronouncements on the state of Broadway. "I don't take overviews — I never have taken overviews," he said. "Whither Broadway? I don't answer the question. Who knows. I don't really care. That's the future. Whatever happens will happen."
One thing he was hoping would happen: one more musical. For years he had been collaborating with the playwright David Ives and the director Joe Mantello on a new musical, most recently titled "Square One," adapted from two movies directed by Luis Buñuel.
"The first act is based on 'The Discreet Charm of the Bourgeoisie,' and the second act is based on 'The Exterminating Angel,' " he explained during the interview. "I don't know if I should give the so-called plot away, but the first act is a group of people trying to find a place to have dinner, and they run into all kinds of strange and surreal things, and in the second act, they find a place to have dinner, but they can't get out."
Asked if he had any sense when it might be finished, Mr. Sondheim said, "No."
Why did he hope to keep working when he could just bask in appreciation?
"What else am I going to do?" he asked. "I'm too old now to do a lot of traveling, I'm sorry to say. What else would I do with my time but write?"
And did he write daily in his final weeks? "No, I'm a procrastinator," he said. "I need a collaborator who pushes me, who gets impatient."
When it was pointed out that he had been a procrastinator throughout his career, and that it had seemed to work for him, he said, "Yes, I have. Yeah, I think forever. Not when I was a hungry teenager — when I wanted so much to have a show done, I don't think I was a procrastinator then. But once I had a show done, I think part of me got lazy."
But with his shows running on Broadway and off, and a major film adaptation of "West Side Story" about to be released, Mr. Sondheim was clearly feeling good about the current reception of his work.
He confirmed his longstanding lack of interest in movie musicals, saying, "Growing up, I was a huge fan of movies, and the only genre that I wasn't a fan of was musicals — I loved the songs, but not the musicals."
But he was obviously delighted about the Steven Spielberg-directed film adaptation of "West Side Story," a musical for which Mr. Sondheim wrote the lyrics, that is scheduled to be released next month. "I think it's just great," he said. He added, "The great thing about it is people who think they know the musical are going to have surprises."
He was looking forward to even more in the months to come: a new production of "Into the Woods," for which Mr. Sondheim wrote the music and lyrics, is scheduled to be staged by the Encores! program at New York City Center next May. Also, Mr. Sondheim revealed, New York Theater Workshop is hoping to stage an Off Broadway revival of "Merrily We Roll Along," for which he wrote the music and lyrics, directed by Maria Friedman, who has previously directed well received productions in London and Boston.
Asked which of his shows he'd most like to see revived next, he appeared stumped. "What would I like to see again that I haven't seen in a while? I'd have to think about it, because an awful lot of the shows I've been a writer of have been done in the last few years." He added, "I've been lucky. I've had good revivals of the shows that I like."