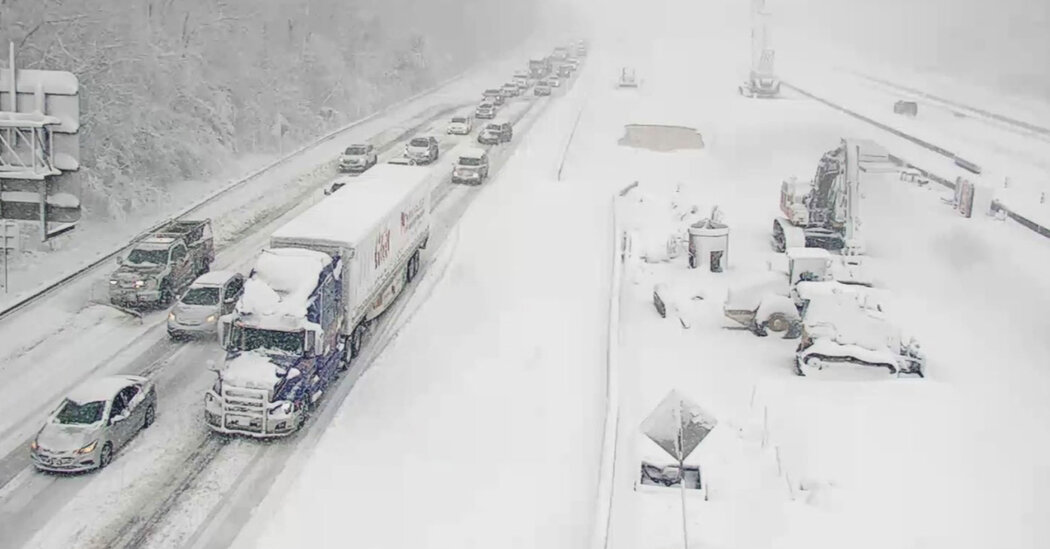 The Virginia State Police said they had not received any reports of injuries or deaths related to the storm, but the authorities around the Mid-Atlantic said it had caused at least five deaths.
Winter Storms in the United States
From the East Coast to the Western U.S., a barrage of winter storms has wreaked havoc across the country.
Officials said the storm began on Monday with rain, which would have washed away road salts, and quickly overwhelmed efforts to keep the highway clear. Rain turned to sleet and then snow, which fell at a rate of two inches an hour for four to five hours, according to Marcie Parker, a Virginia Department of Transportation engineer.
"That was entirely too much for us to keep up with," she told reporters on Tuesday.
Cars and trucks slowed, and then stopped, on their way up and down hills. At least one tractor-trailer slid sideways across the highway. In some places, Ms. Parker said, four inches of ice froze underneath vehicles.
Corinne Geller, a spokeswoman for the Virginia State Police, said the authorities had responded to more than 1,000 traffic crashes and more than 1,000 disabled or stuck vehicles statewide. "We don't believe that accounts for the vehicles on the 95 stretch," she said.
The snowstorm trapped truckers, students, families and every stripe of commuter, including Tim Kaine, the junior U.S. senator from Virginia and a former Democratic nominee for vice president. His ordeal began at about 1 p.m. on Monday, as his normal two-hour commute to the Capitol was disrupted by the gathering accidents and snow.
"I'm extremely tired," Mr. Kaine said in a phone interview on Tuesday afternoon as he arrived in Washington, having spent more than 20 hours stuck in his vehicle. "I had to sleep in my car last night on an ice-packed interstate with a ton of other cars."
He said he left his car on for 30 minutes at a time to charge his phone, make calls and warm up, then turned it off to save gas and to sleep for 20 minutes or so, only to be wakened by the cold. When he wasn't napping, Mr. Kaine said, he passed the time by sipping Dr Pepper, listening to SiriusXM radio and eating small wedges of an orange that another stranded driver had given him.