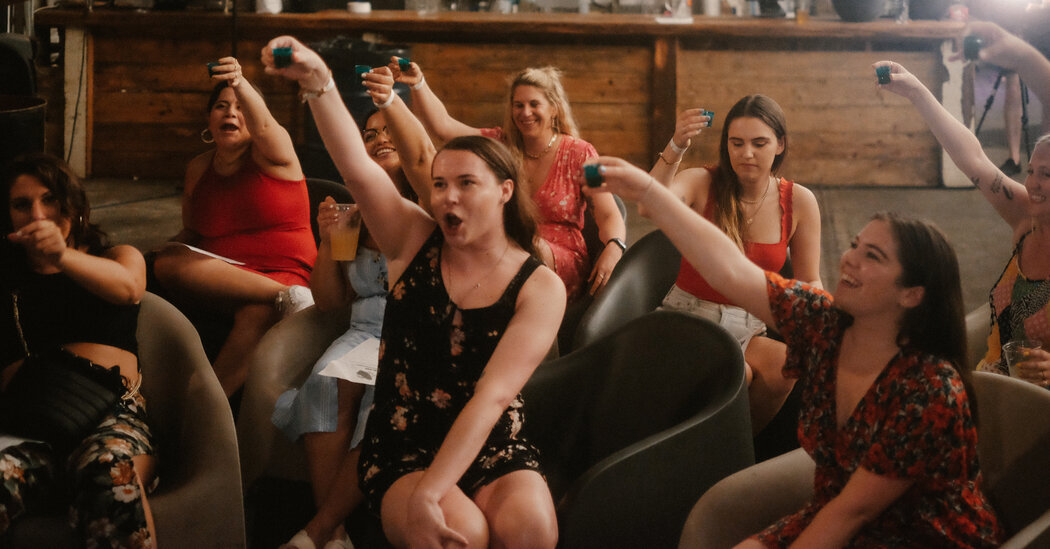 Jessica Callaghan, 30, was scrolling through Instagram when an advertisement offered her a boyfriend. "There is no substitute for true love!" it read. "Find it today with Elan! 'The Bushwick Bachelor!'"
Ms. Callaghan, who works in public relations, had spent nearly a decade swiping around for dates and relationships on Tinder and Hinge, but she had never seen a potential love interest promote himself with a sponsored post on Instagram.
However, she thought the bearded and bespectacled man, Elan Ashendorf, 30, a self-proclaimed fan of bike rides and Lego bricks, was cute. He was a native of Staten Island, as is Ms. Callaghan, and lived in the Bushwick neighborhood of Brooklyn, not far from her apartment in Williamsburg.
The catch? If Ms. Callaghan wanted a date with this handsome stranger, she'd have to compete for him on camera.
She put aside her shyness and signed on as one of 10 contestants on "The Bushwick Bachelor," a new self-funded, ultra-local YouTube series. The show was created by a group of childhood friends who wanted to help their buddy find a girlfriend.
"The Bushwick Bachelor" in question is Elan Ashendorf, 30, a software engineer who sincerely likes Pabst Blue Ribbon and is a fan of Google Sheets (a subject he discusses on the first group date).
The series, which will release its second episode on May 13, chronicles Mr. Ashendorf's semi-serious quest for a special someone. It plays with the familiar tropes of the "Bachelor" franchise, though its visual language of pop-up graphics and zany cuts more closely resembles dating game shows from the early 2000s.
The series arrives as the "Bachelor" franchise enters its 20th year. Popular spinoffs like "The Bachelorette" and even niche shows like the music-industry-focused "The Bachelor Presents: Listen to Your Heart" established something of the modern dating show template, with elaborately staged dates and copious drama and roses.
Ms. Callaghan said her reaction to the ABC series had always been: "I can't believe people are doing that," adding "then I did it myself."
Mr. Ashendorf, whose romantic history has been dotted by what he called "situationships," or more casual hookups than steady girlfriends, had been talking to friends about how he was ready to be in a committed relationship. His parents had started to tell him: "'Find literally anyone and be happy with them.'"
About a year and a half ago, Ashley Lagzial, a friend from middle school, was at his apartment, discussing the latest episode of "The Bachelor."
"I was swiping through Tinder, or Hinge, and someone was like 'You should go on The Bachelor!'" he said.
He took it as a joke, but Ms. Lagzial, 30, and Gabby McGowan, 31, another friend from middle school, committed to making it happen. They borrowed cameras from friends and carved out time from their day jobs in public relations and video editing to moonlight as executive producers.
In the spring of 2021, "The Bushwick Bachelor" crew — a volunteer team of friends and friends-of-friends conscripted by Ms. Lagzial and Ms. McGowan — plastered street corners and bars with fliers that pitched Mr. Ashendorf as "an engineer who lives alone and has his very own bed frame."
"We initially thought no one would do it," Ms. Lagzial said. "So when we received 40 to 50 responses, we were blown away." Applications poured in from near (Bushwick and the Queens neighborhood of Ridgewood) and far(ish) (Crown Heights and Downtown Brooklyn). There were tattoo artists and aspiring lawyers, people on the cusp of Gen Z and true millennials.
Maeve Norton, a 29-year-old illustrator who lives in Bushwick, heard about the casting call from friends, who shared the flier in a group chat.
Though Mr. Ashendorf wasn't exactly her type — Ms. Norton said she usually gravitates toward "big tall guys with tattoos" — she leaped at the opportunity to participate in a quirky, in-person dating experience.
"It was a real, weird, authentic experience that isn't just living inside of your phone," she said.
Nine women eventually signed on after the pool was narrowed down by scheduling constraints (contestants had to be available to film episodes throughout summer 2021) and stage fright (some applicants changed their minds after learning their dates would, indeed, be filmed).
"At the end of the day, we didn't say no to people," said Ms. Lagzial. "Whoever wanted to show up, we had them on." During filming for the first episode, a 10th contestant joined after abandoning a different date, wandering onto the set and signing a release form.
Produced last summer, the episodes were filmed during a group date at a brewery, a figure-drawing session and on the Staten Island Ferry, a nod to Mr. Ashendorf's home borough.
Throughout the show, a panel of Mr. Ashendorf's friends weigh in with their impressions of his chemistry with the contestants. The structure mimics "The Bachelor," and the production team asked Mr. Ashendorf to not date anyone besides contestants during the course of filming.
Friends said they noticed an impact on his personality. "This past summer we called him 'Ego Elan,'" Ms. Lagzial said.
At the end of the first episode, half of the participants are eliminated. (Ms. Callaghan earned "immunity" by completing a Lego model of "Elan's heart" and advanced automatically.)
The ABC series has faced criticism for a lack of diversity. "We actually ended up with a pretty diverse group of women," Ms. Lagzial said. "We had a trans contestant, we had all different nationalities and religions."
The ABC show's premise also presents a long-term monogamous partnership as an ideal. But "The Bushwick Bachelor" places less emphasis on the prospect of a wedding.
"The end goal was a meaningful, loving relationship, but I don't think we put any pressure on what we were expecting," said Ms. Lagzial.
Does Mr. Ashendorf find love?
"You'll have to continue to watch," said Adrianna Tricia King, who hosted the series, adding: "I will say I was very happy with the choice."