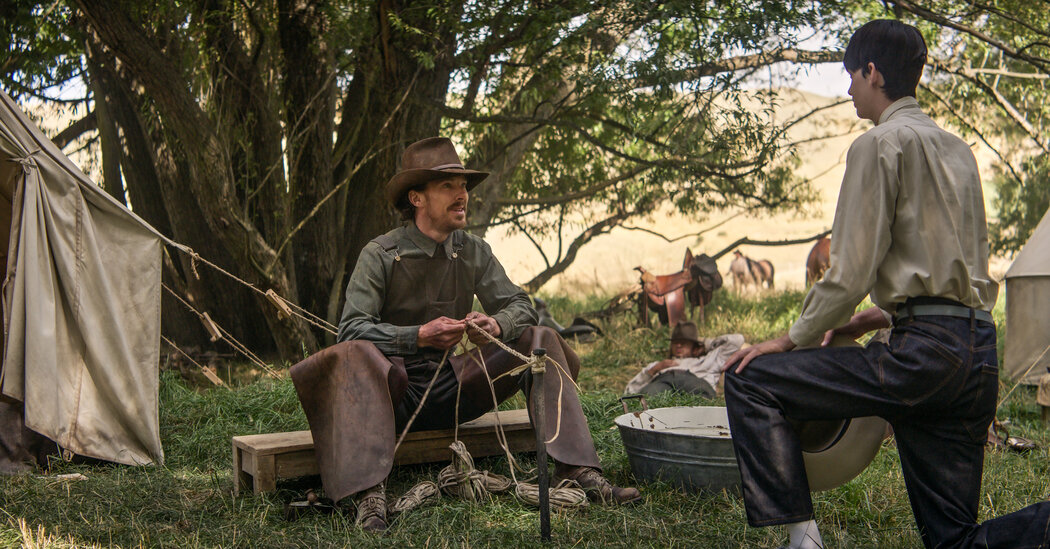 This article contains spoilers for the Netflix feature "The Power of the Dog."
The acclaim for Jane Campion's "The Power of the Dog" has been loud and clear, from its Venice premiere to its release in theaters and on Netflix. But the ending of Campion's simmering Western drama has been anything but loud or clear. The movie's subtle conclusion has a "big reveal" that takes a moment to comprehend — probably not the grand gesture you might expect from the story's battle of wills.
Adapted from Thomas Savage's 1967 novel, the movie begins with two rancher brothers, Phil (Benedict Cumberbatch) and George (Jesse Plemons), and follows what happens when George's new wife, Rose (Kirsten Dunst), and her son, Peter (Kodi Smit-McPhee), move in with them. Larger than life and ornery as hell, Phil immediately starts tormenting both mother and son. Rose numbs herself with alcohol, but Peter proves to be a dark horse. He's awkward but fiercely protective of his mother, and he focuses his watchful intelligence on somehow bringing Phil to justice.
By the end — maybe you know where we're going with this — Phil is dead. But if you blink you might miss how exactly that happens. We hear that Phil dies from anthrax, but it's not stated outright that the source was some contaminated rawhide that Peter gives to Phil. Campion offers the barest of clues: an early mention of anthrax, Peter's discovery of a carcass, Phil's cutup hands and washing of the rawhide.
Campion's adaptation departs from Savage's book, which ends unmistakably with a passage about Peter and anthrax. The beauty of Campion's directorial decision is that there's no revenge with a flourish. Instead, we are left to feel the release of tension and anguish that has built up throughout the film. (Truth is stranger than fiction: Savage's actual step-uncle died of anthrax from a splinter, and was apparently a model for the character of Phil.)
On a storytelling level, the enigmatic ending is partly a matter of point of view: like Phil, we aren't aware that all this is happening. (Peter knows but he's definitely not telling.) Yet the ambiguity of the ending also echoes the unspoken nature of the deep emotion at the movie's heart. Phil is obsessed with a "real man" cowboy from his past named Bronco Henry — an attachment that feels romantically intense. But Campion works in the realm of suggestion, giving the film a mysterious pull.
Campion has long shaped her stories around the desires that drive their characters. As in "The Power of the Dog," she understands that we can be mysteries to ourselves. In her most famous film, "The Piano," Holly Hunter's Ada moves from being stuck in a coercive bargain over her prized possession, to finding sexual release with her captor. "In the Cut" finds Meg Ryan's Frannie drawn to a smoldering police detective while suspecting that he's committed the killings he is supposedly investigating.
The nuanced ending of "The Power of the Dog" isn't the first time a Campion film has challenged audiences. Her Henry James adaptation "The Portrait of a Lady" ended with a haunting, hanging moment as Nicole Kidman's Isabel contemplates a bereft future. With her latest, Campion undertakes a fresh storytelling experiment: sharing in the mystery of its complicated characters without giving away all their secrets.