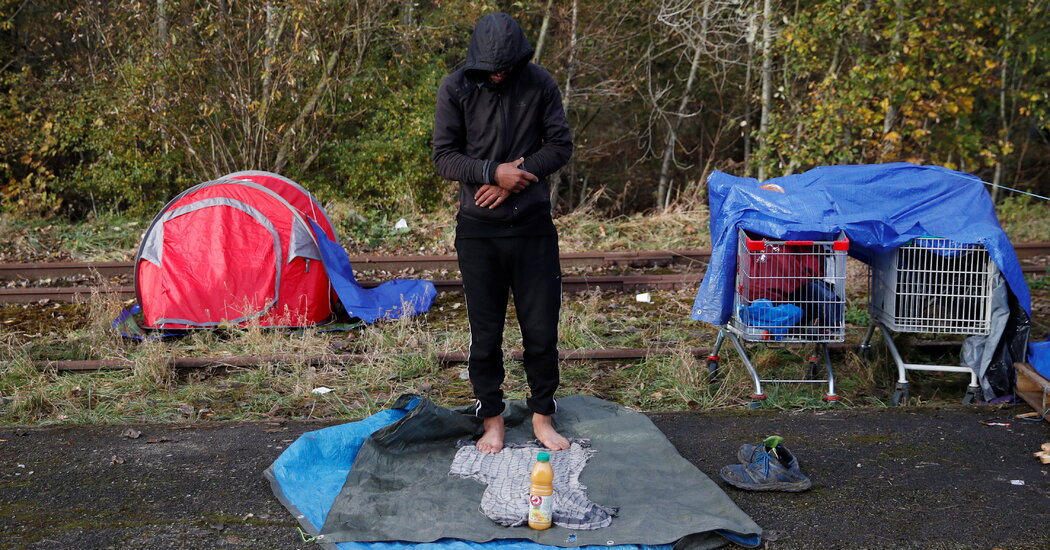 CALAIS, France — The lights on the opposite side of the English Channel were visible on Thursday, emboldening Emanuel Malbah, an asylum seeker who has been living in a makeshift camp on France's northern coastline for the past week, dreaming of making a crossing.
"I don't believe that I'll die," he said. "I believe I'll get to England."
Just a thin waterway separates Mr. Malbah, 16, and other migrants from their goal after long journeys across Europe from homes they fled in the Mideast and Africa. But the narrowness of the passage is deceptive, as was made clear on Wednesday when at least 27 people died in a failed attempt to cross the Channel aboard a flimsy inflatable boat.
Despite the deaths — the disaster was one of the deadliest involving migrants in Europe in recent years — Mr. Malbah and other people were still waiting Thursday for the right time to dash out of the woods with their own boats and make a break for the beach.
In recent months, the number of migrants setting off into the Channel has soared because the authorities have cracked down on other routes to England, especially by truck through the tunnel under the Channel.
"This is a new Mediterranean,'' said Mr. Malbah, 16, who arrived in Calais a week ago, invoking the scene of the migrant crisis of 2015 that shook Europe.
Mr. Malbah himself made the treacherous journey across the Mediterranean to Italy after he left Liberia, in West Africa, more than a year ago. On Thursday, he was speaking in a wooded area near the coast where dozens of other asylum seekers were seeking shelter from the rain under blue tarps and trying to keep warm around a fire.
Prompted by the tragedy at sea a day earlier, French and British leaders vowed to crack down on migrant crossings of the channel that separates their two countries, blaming organized smuggling rings and also each other.
The deaths offered a sobering reminder of how little has changed in the five years since the French authorities dismantled a sprawling migrant camp in Calais. Both countries are still struggling to handle migrants in the area by following a policy that migrant rights groups and immigration experts say puts asylum seekers in unnecessary danger.
On Thursday, French officials confirmed that children and a pregnant woman were among those who had drowned, as crews worked in the cold and wind to recover bodies and to try to identify the dead.
Two survivors, one from Iraq and one from Somalia, were found and were taken to a French hospital, where they were being treated for severe hypothermia.
Gérald Darmanin, France's interior minister, said the authorities believed about 30 people had been crowded onto a vessel that he compared to "a pool you blow up in your garden."
President Emmanuel Macron of France and Prime Minister Boris Johnson of Britain spoke by phone Wednesday and said they had agreed to step up efforts to prevent migrants from making the journey across one of the world's busiest shipping lanes. Britain currently gives France money to help cover the cost of deterring crossings through surveillance and patrols.
Though both nations have long accused each other of doing too little to curb the crossings, many immigration experts and rights groups say that both sides share responsibility: Their approach has consisted of making the situation of asylum seekers as difficult as possible, to discourage them from setting out for Europe.
"France is in a position of subcontractor to Britain in the same way that Turkey is to Europe," said François Héran, an expert on migration at Collège de France in Paris. "Why does France allow British police officers on French soil to help stop immigration? It's because we share the same ideology that these asylum seekers are undesirable.''
At the start of Europe's migration crisis in 2015, the English Channel was regarded as an unbreachable barrier, its shifting currents and volatile weather making any attempt to cross too dangerous.
Many tried instead to get onto trucks entering the tunnel under the Channel. But now the police regularly patrol roadways leading to the channel, and 12-foot-high barbed-wire fences stretch for miles along several routes to the port of Calais. That has sharply reduced the number of migrants hitching rides on cargo trucks.
Pierre Roques, the coordinator of the Auberge des Migrants, a nonprofit group in Calais, said France's northern coastline "had been militarized" over the past few years, adding that "the more security there is, the more the smuggling networks develop, because migrants can't cross by themselves anymore."
Several Sudanese migrants lining up at a food distribution on the outskirts of Calais said that the police often swept through their makeshift camps, sometimes hitting them with electric sticks. A Human Rights Watch Report released in October described the tactic of harassing migrants to make them leave as "enforced misery."
Migrants play a cat-and-mouse game with the authorities.
Mr. Malbah, the teenager from Liberia, described an attempted crossing Tuesday that had to be aborted because the engine on the inflatable boat would not start. The French police appeared soon after and slashed the boat, he said.
Didier Leschi, the director of the French Office of Immigration and Integration, attributed the surge in Channel crossings — at times there are up to 50 per night, he said — to "a kind of mafia professionalism" by smugglers who encourage migrants to go to sea, at prices ranging from $1,100 to $2,800.
To monitor the long coastline from which migrants set off, he said, France would need "tens of thousands of police officers."
Migrant rights groups said that aside from cracking down, the authorities have done little to address the surge in boat crossings.
Alain Ledaguenel, the president of a private organization that conducts sea rescues from Dunkirk, the city from which the migrants who died on Wednesday most likely departed, said that in recent months his team has been engaged in three times more sea rescues.
"We've been sounding the alarm for two years," he said. "Since September, it hasn't stopped."
In a damning report released last month, the National Assembly said that the French government's migrant policy had been a failure and that it had led to violations of migrants' rights. According to the report, of all the money spent by the French and British in 2020 to deal with the migrant population along the French coast, about 85 percent was spent on security, and only 15 percent on health and other assistance.
That was evidence that the authorities were hewing to the policy of making conditions in Calais as harsh as possible to dissuade others from coming, said Sonia Krimi, a co-author of the report and a lawmaker in Mr. Macron's party, La République en Marche.
"It's been 30 years that we've been doing that, and it doesn't work,'' Ms. Krimi said. "Immigration has existed, exists and will always exist.''
But the politically explosive nature of immigration, especially five months before presidential elections in France, makes it difficult to consider new approaches, Ms. Krimi said. Her report — which recommended improving the housing and working conditions of migrants as well as streamlining asylum applications — was criticized, even by members of her own party.
In Calais, migrants hoping to get to Britain are getting increasingly desperate.
Sassd Amian, 25, a migrant from South Sudan, said he was pinning his hopes on the trucks bound for the Channel Tunnel.
A graduate in architecture, Mr. Amian said it was his "dream to get to England," which he described as "a strong country, with good education, and where the English language is spoken."
Mr. Amian said he had fled war in South Sudan four years ago, and had endured the crossing of the Mediterranean to Italy, short of food and water, after stops in Egypt and Libya.
When trucks go through a roundabout on their way to the Channel Tunnel, there is a moment — just a few seconds — when one can try to slip in between the axles and find a hiding spot, Mr. Amian said. Several people have lost legs and some have died trying, migrants say.
But, having made it so far, Mr. Amian said he was unafraid.
"Death,'' he said, "is nothing new in this life.''
Constant Méheut reported from Calais, and Norimitsu Onishi from Paris. Aurelien Breeden and Léontine Gallois contributed reporting from Paris.