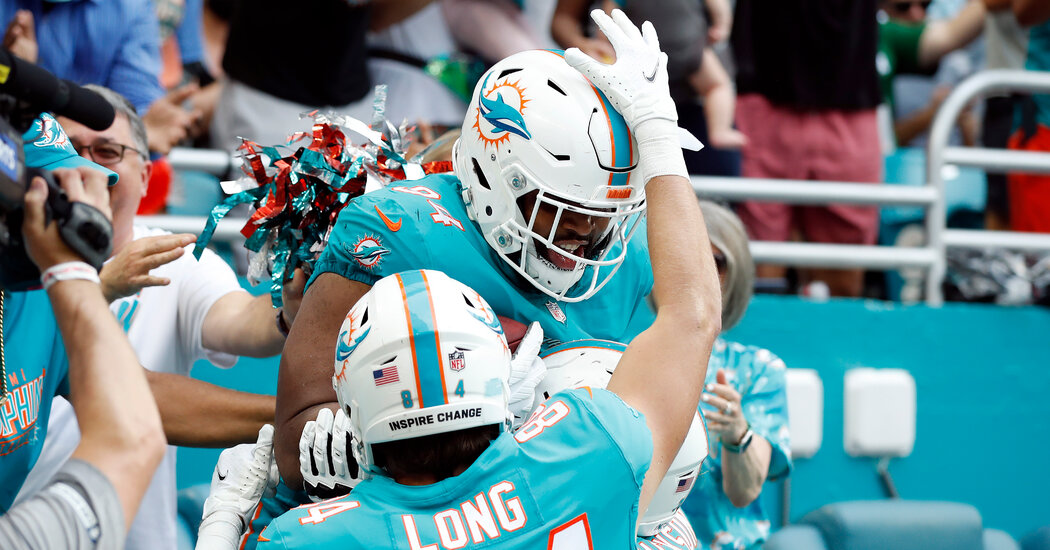 The music on this Titanic was deafening two months ago. When the Miami Dolphins fell to a hopeless, directionless 1-7 record after a Week 8 road loss to the A.F.C. East division-rival Buffalo Bills, staff firings appeared imminent.
Miami had spent much of the past two seasons losing games and amassing draft picks to end up with this roster, with the 2019 fifth overall draft pick, Tua Tagovailoa, under center. But on that October afternoon, the team's odds of making the playoffs were as close to zero as they could be while the season was still active.
With Sunday's 31-24 win over the Jets, their sixth consecutive victory, the Dolphins (7-7) continued the N.F.L.'s most improbable turnaround.
The schedule, their quarterback and a defensive-minded coach have revitalized the Dolphins.
This six-game winning streak has not always been pretty.
Tagovailoa, the Dolphins' quarterback, threw a brutal pick-6 to Jets cornerback Brandin Echols with 7 minutes 45 seconds left that tied the score, 24-24. But as has been the case recently, the Dolphins bounced back, this time with a nine-play, 75-yard drive punctuated by Tagovailoa's third-and-9 touchdown strike to DeVante Parker, which provided the final score.
Finally healthy from the catastrophic hip injury that ended his collegiate career at Alabama and the broken ribs that sidelined him for three games early this season, Tagovailoa is starting to show signs of being a capable starter in Miami.
These Dolphins don't ask him to do too much: just to be efficient and make the big throw when needed. Last weekend, it was a third-and-4 completion to tight end Mike Gesicki on a field-goal drive to ice a win over the Giants.
Coach Brian Flores has made the defense, a weakness early in the season, the strength of this team. Another of the countless branches from Bill Belichick's coaching tree, Flores is having some success replicating the Hoodie's scheming on this win streak. Flores has shown a week-to-week knack for shutting down different types of quarterbacks. Outside of the Giants, who started a backup quarterback against the Dolphins, Miami has halted the Texans' Tyrod Taylor, who threw three picks and finished with a 42.8 passer rating; the Ravens' Lamar Jackson, who gained only 37 rushing yards; and the Panthers' Cam Newton, who had a dreadful 5-of-21 passing outing.
On Sunday, Miami sacked the Jets rookie Zach Wilson six times, holding him to 170 passing yards on 13 of 23 attempts.
Most encouraging for the Dolphins is that big plays on both sides of the ball seem to come from a different player each week. Linebacker Jerome Baker basically bench-pressed Jets running back Michael Carter and skated him into Wilson for one of his two sacks on Sunday. Dolphins running back Duke Johnson, who was born in Miami, rushed for 107 yards on 22 carries with two touchdowns, a standout performance for a former second-round draft pick who has bounced between the team's practice squad and active roster.
2021 N.F.L. Season News and Analysis
Exiting the field, Dolphins fans greeted Johnson with cheers of "Duuuuuke." Defensive tackle Christian Wilkins, who caught a touchdown, engaged in a love fest with the team's mascot and did "the worm" in the end zone. There's an ecstatic energy now for a team that had every reason to quit on the season a month and a half ago.
Tagovailoa noted after Sunday's game that players simply started putting more work in.
At 7-7, and third in the division, Miami is somehow still mathematically alive in the playoff hunt, with a 7 percent chance of playing in the postseason, according to the New York Times playoff predictor. If the Dolphins win their final three games — at New Orleans, at Tennessee and at home against New England — their odds jump to 70 percent.
But Miami does not need that miracle to know its investment in this team has shown dividends.
The Lions may actually be capable of biting some kneecaps.
Coach Dan Campbell promised before the season started that under his direction, the Lions would play with unusual intensity. "When you knock us down, we're going to get up, and on the way up, we're going to bite a kneecap off," he said in his introductory news conference in January.
This collection of players the average fan has never heard of suffered through three months of excruciating losses and an overtime tie against the Pittsburgh Steelers before eking out its first win, over the Minnesota Vikings, to open December.
Sunday, for one day, the Lions (2-11-1) put it all together to provide the stunner of Week 15, a 30-12 demolition of the Arizona Cardinals (10-4). For one day, the Lions resembled the team in Campbell's head.
Jared Goff threw for 216 yards on 21-of-26 passing with three touchdown scores, and the misfit toys around him all stepped up. Craig Reynolds — effectively the team's fifth-string running back — pounded away for 112 yards. Receiver Amon-Ra St. Brown, a fourth-round draft pick this year, led Detroit with eight receptions for 90 yards and a touchdown catch.
The reclamation project that is Charles Harris has emerged as one of the best pass rushers in the N.F.L. The 22nd overall pick in the 2017 draft, he flamed out in Miami, was traded to Atlanta for a seventh-round pick and landed in Detroit this season, where his one and a half sacks against Arizona have brought him to eight and a half for the season. On third-and-3 near midfield in the second quarter, Cardinals quarterback Kyler Murray wasn't able to spin away as Harris corralled him for a solo sack.
It is expected that the Lions will gut their roster in the off-season (and beyond), but Campbell's tenacity is expressed on his lines, where Harris torments on defense and the offense has created lanes for the Lions to rush for their highest yards-per-carry average, 4.6, since 1997.
Arizona is slumping on a two-game skid, but barring disaster, the Cardinals will make the playoffs for the first time since 2015. Without receiver DeAndre Hopkins, who is out for the rest of the regular season with knee and hamstring concerns, their offense has not looked sharp. In the third quarter on Sunday, Murray appeared irked at receiver A.J. Green for failing to come back to the ball on a route where the quarterback was intercepted.
For once, Detroit got to be the team that executed its game plan and cruised to victory.
The Bengals are growing up.
Anyone who has followed the N.F.L. over the past two decades is likely to be hard-wired to believe the Cincinnati Bengals will fall apart at some point in a given season. But this ultra-young, ultra-fun Bengals squad, which has been caught in a two-win, two-loss cycle for weeks, delivered at every critical moment to beat the Denver Broncos, 15-10, on the road.
Facing a 9-3 deficit late in the third quarter, Broncos quarterback Teddy Bridgewater dived for a first down on second-and-5 from the Denver 30-yard line, was hit by defensive tackle B.J. Hill in midair and landed on his head. Bridgewater appeared to lose consciousness and was carted off the field and taken to a hospital for observation.
The backup Drew Lock completed the drive with a 25-yard touchdown strike to Tim Patrick, to put Denver ahead, 10-9. On the second play of Cincinnati's ensuing drive, however, Joe Burrow delivered a 56-yard touchdown to Tyler Boyd. (Ja'Marr Chase had one catch for 3 yards Sunday.) On the touchdown pass, Boyd juked Denver's star safety, Justin Simmons, inside-out after the catch to reach the end zone.
Burrow, phenomenal one week ago, was sharp again in going 15 of 22 for 157 yards with no turnovers, but the better signal for the Bengals was their defense's response when Lock drove the Broncos 64 yards after Boyd's score, only to have Cincinnati defensive end Khalid Kareem rip the ball right out of Lock's hands on second-and-goal early in the fourth quarter.
The Bengals milked the clock, and Denver was unable to do much of anything with its final two offensive possessions before defensive tackle Larry Ogunjobi — one of the many free agents Cincinnati signed last spring to expedite a rebuild — effectively ended the game with his sack of Lock with under a minute remaining.
The Bengals entered Sunday's game having lost four games in their last six, including Week 14's numbing overtime defeat by San Francisco, but with the victory took over the A.F.C. North lead from the Baltimore Ravens, setting up a crucial head-to-head matchup with the Ravens on Sunday.
Around the N.F.L.
Packers 31, Ravens 30: Once again, John Harbaugh opted to go for a 2-point conversion to win after his Ravens scored a touchdown late. Against Aaron Rodgers, it was the right call, but again it went awry. Baltimore's backup quarterback, Tyler Huntley, was unable to connect with tight end Mark Andrews on a rollout, and the Packers were able to kneel out the clock. But what a night this was for Huntley and the depleted Ravens team, which came one play short of winning without the services of injured or ill starters on both sides of the ball.
49ers 31, Falcons 13: Jimmy Garoppolo did not turn the ball over. In related news, the 49ers won with ease. San Francisco's secondary may be a bit of a mess, but the 49ers have a shot to win most any game as long as their quarterback does not commit a backbreaking mistake. Garoppolo was 18 of 23 for 235 yards with a touchdown, and running back Jeff Wilson Jr. (110 yards rushing) kept the offense churning against Atlanta.
Steelers 19, Titans 13: Look beyond the quarterback, and Pittsburgh (7-6-1) is peaking at the right time. This was the Steelers' best defensive effort this season, holding Ryan Tannehill to a meager 4.8 yards per attempt and forcing three fumbles. And on the Titans' final play, a fourth-and-7 pass from the Steelers' 16-yard line with 34 seconds remaining, cornerback Joe Haden supplied the game-winning tackle of Nick Westbrook-Ikhine 1 yard short of the first-down marker.
Cowboys 21, Giants 6: Dallas held Mike Glennon to a 24.8 passer rating and forced three picks, and corralled Saquon Barkley into an average of 3.3 yards per carry to move to a 10-4 record.
Texans 30, Jaguars 16: In their first game without Coach Urban Meyer, the Jaguars continued to Jaguar against the equally hapless Texans. Priority No. 1 for Jacksonville's owner, Shad Khan, must be finding a coach who can reverse the damage to Trevor Lawrence, who struggled again.
Bills 31, Panthers 14: With this win and the Patriots' loss on Saturday night, Buffalo (8-6) can take the A.F.C. East crown for the second straight season by winning out. There wasn't much to be gleaned from the performance of Cam Newton, who missed open receivers all day.