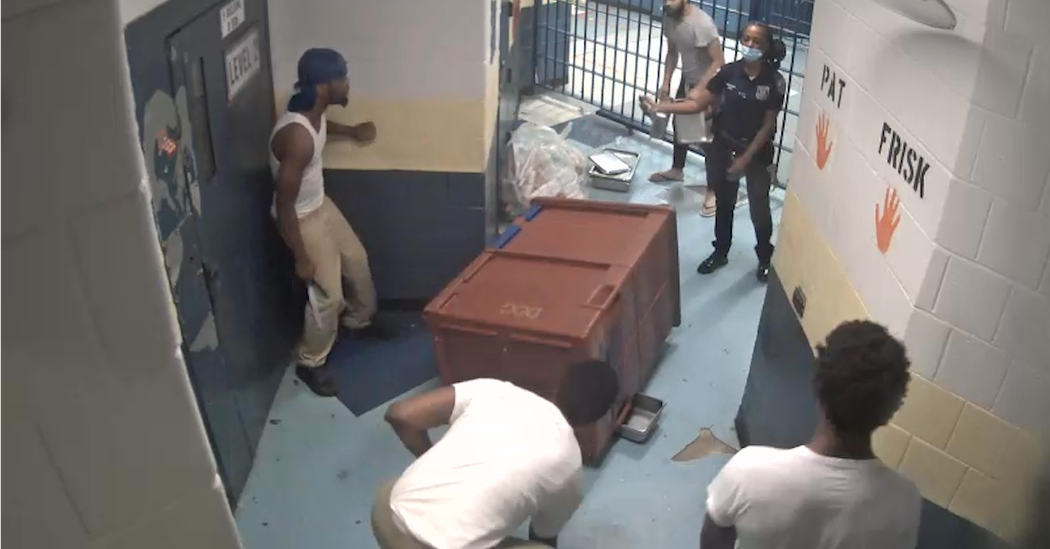 The men had gotten along on Rikers Island, had even been friendly, but now they were face to face inside a jail cell — and a gang leader had just ordered them to fight. Unable to refuse him, the men began to pummel one another while, outside the cell, other detainees jostled and cheered.
When it was over, the winner got a cigarette, according to court records and interviews.
Standing nearby, a correction officer watched without intervening. Neither the fights nor the injuries were recorded in any official report.
In an unusual decision last month, a Manhattan Supreme Court judge ordered the release of one of the men who had been forced to participate in the "fight night" because, she said, the Department of Correction had failed to protect him. The department's inability to manage the jail system as the man awaited trial on robbery charges, Justice April Newbauer said, "was tantamount to deliberate indifference."
The ruling served as an extraordinary rebuke of the Correction Department's leadership, underscoring the dangers faced by detainees and guards alike in a jail system in which slashings and stabbings have surged, and some detainees have been left to fend for themselves. It also could offer a blueprint for others seeking pretrial release amid the disorder that has gripped Rikers Island since the pandemic began in 2020.
A Correction Department spokeswoman said the agency was investigating the events described in the court filings. "We take any claims of unsafe conditions in our facilities very seriously," she said. "We remain fully committed to creating a safer and more humane environment in our jails."
The New York Times obtained jail surveillance camera footage that was gathered by New York County Defender Services as part of its client's petition to go free. Depicting the fight night and an attempted stabbing, the videos, along with court records and interviews, offer vivid glimpses of the lawlessness that has taken hold on Rikers Island, where violence has soared to levels not seen since the jails overflowed during the crack epidemic in the 1990s.
"People marched for George Floyd — I think there needs to be a similar movement for the people on Rikers Island," said Eric M. Burse, a trial lawyer at New York County Defender Services who represented the man who was released. "Those people over there don't have much of a voice. They are locked up. It is incumbent upon regular ordinary citizens to sound the alarm just like my client did."
Fight night in cell 15
On Oct. 19, inside cell 15 at the George R. Vierno Center, an 850-bed jail on Rikers Island, fight night was underway. It was organized by a leader of the Trinitarios — a predominantly Dominican gang that jail managers had concentrated in one housing area — who occasionally made men square off for his own entertainment.
In an interview and sworn testimony, the man, identified in court records as Relator G., described being one of those combatants. He said correction officers had effectively handed control of the unit to a gang leader known as Bacalao, the Spanish word for salted codfish. Bacalao, Relator G. said, determined who could live there, when they would go outside and who could eat or use the phones.
Relator G.'s testimony about harrowing encounters with gang members — elicited by criminal defense lawyers who argued that dangerous and inhumane conditions on Rikers were grounds for his release — swayed a judge to rule in his favor. In an interview after he was freed, he amplified on his sworn statements, speaking on condition that he be identified the way he was in court filings that shielded his identity, for fear of reprisals from gang members.
Understand the Crisis at Rikers Island
Amid the pandemic and a staffing emergency, New York City's main jail complex has been embroiled in a continuing crisis.
Recounting the moment when the gang leader tapped him to enter the fight, Relator G. said, "I felt stupid." He recognized the detainee across from him as someone he had associated with. "This guy has nothing against me," he said.
It lasted maybe two minutes. As they grappled, Relator G. hit his head on a metal toilet and bed frame and suffered bruises to his neck and back. Tired, his opponent refused to continue. The next day, members of the gang ran into the opponent's cell and attacked him, forcing officers to remove him from the unit.
The gang was able to run the housing area thanks to a practice that began under the administration of the former mayor, Bill de Blasio. Although department rules required mixing members of different gangs together in the same houses, jail managers, under pressure to keep violent incidents down, began grouping members of the same gang in housing areas, reasoning that the practice would cut down on brawls among rivals. Rates of violence continued to rise, and the practice led to the creation of settings where gangs could use violence against other detainees to exert control.
On the day of the fight in cell 15, 1,467 uniform staff were out sick, and 31 correction officers just failed to show up, according to court records. In 73 instances, housing units were not sufficiently staffed.
At least two days a week, Bacalao's unit would go unguarded. But at least two officers were present during the orchestrated fights: one in a control room overseeing the housing area and another walking the floor. Neither halted the violence, Relator G. said.
Instead, the floor officer told the gang leader to "calm it down" or wait until later because "they are making it too obvious," he testified in court.
At another point, the lights in the housing area flicked on and off, a warning, he said, for the detainees watching or taking part in the fights.
Representing the jail system at a hearing on whether to release Relator G., a Correction Department lawyer, Benjamin Lee, said that no one was seriously injured in the fights and blamed him for not reporting them. Mr. Lee said Relator G. should not be freed based on that experience alone.
"Believe it or not, sometimes in correctional facilities, there is bullying going on," Mr. Lee told the court, according to a transcript of the hearing. "It happens."
An attempted stabbing
Arrested in June on first-degree robbery charges, Relator G. was sent to Rikers at a time when violent incidents were increasing and hundreds of officers were failing to show up for work each day.
This account of the months he spent in Rikers last year is drawn from his court testimony and jail surveillance footage as well as a lengthy interview he gave to The Times. He said he was moved among different housing units, always after groups of detainees had tried to attack him. In court testimony he described being beaten one day on an unguarded floor. He said an officer in a control room opened a secure door, allowing him to escape into a vestibule area until a captain could get him.
A former member of the Crips gang, Relator G. was placed into a housing unit in August with dozens of members of that group, even as he warned officers that the housing assignment could put him at risk because he had left the gang.
For a while, he got by because another detainee in the unit knew him from his neighborhood and vouched for him, he said. But when that person left, Relator G. became a target.
On Aug. 10, detainees smeared the lens of a surveillance camera with butter in an attempt to prevent it from recording what they were about to do, Relator G. said and the video showed.
Relator G. saw a group of the gang members putting their sneakers on and recognized it as a sign that someone was about to be attacked. He said he decided to stay close to the only correction officer on the floor — a petite woman near an exit — in case he was the target.
Within seconds, three men lunged at him, including one brandishing a sharp metal object. They chased him into a small area outside the housing unit where he was hemmed in by a cell gate. Between the men stood the lone officer.
The attackers tried to reach past her, throwing metal food pans, until she blasted them with pepper spray.
After about two minutes, an officer in a control room opened the gate and released the officer and Relator G. to safety.
Bacalao takes control
From that housing area, Relator G. was placed into the Trinitarios unit, according to court testimony, videos and interviews.
As soon as he walked in, six men swarmed and jabbed him with sharp objects, shouting in Spanish. The three officers who had escorted him there did not react. A voice from the rear of the unit told the men that Relator G. was "good," and the group backed off.
It was Bacalao. A tall, imposing man, he summoned Relator G. to what he called his office, a cell unlike any Relator G. had seen. Bacalao had numerous pairs of expensive, brand-name sneakers — Yeezys, Jordans, Adidas and Balenciaga — despite a rule forbidding detainees from having such items.
Relator G. also counted eight bins full of food, spices, clothing and other items, far more than the one bin permitted to other detainees. Bacalao had seven of the thin, jail-issued mattresses stacked atop one another to make a more comfortable bed, six more than anyone else had. A knife fashioned from a metal pan lay close at hand.
Bacalao explained to Relator G. the rules of "his house": Keep your cell clean. Take a shower. When a new person arrives in the unit, attack them. Never use the phone without permission.
Bacalao then escorted the man to a cell, handed him cigarettes and soup and said, "Enjoy yourself," Relator G. recalled.
The guards, the man said, often deferred to Bacalao.
One day, when a group of correction officers arrived at the unit to take the detainees outside — many had not had recreation in months — the leader objected, telling the officers to come back another time. The officers left.
"He didn't want to go out at the time," Relator G. recalled. "It was too early for him. He told the officers that."
Out past 9 p.m.
Bacalao displayed power in other ways as well, Relator G. said in court testimony and the interview.
At 9 p.m., Rikers detainees are supposed to be confined to their cells in a nightly ritual known as "locking in." The gang leader and his lieutenants ignored that rule, Relator G. said. Of the 50 people in the unit, Relator G. estimated that 30 were not members of the gang.
"One of them would scream out: 'If you're not Trini, go into your cell,'" Relator G. recalled.
From a window in his cell, Relator G. said he could see the gang roaming the unit, watching television or playing dominoes in full view of an officer in the control room.
As time went on, Relator G. said, the leader tried to recruit him into the gang, but he tried to shrug it off as a joke. He added, though, that he might have joined as a means of survival if he had not been released.
Looking back at his most recent stay on Rikers, Relator G., who has been arrested five times over the years, compared it with other instances in which he had been housed on the island. He said conditions are far worse now.
"I don't think there's no fixing jail," he said. "It's going to keep getting worse because it has been going on for so long."
Video editing by Dmitriy Khavin.