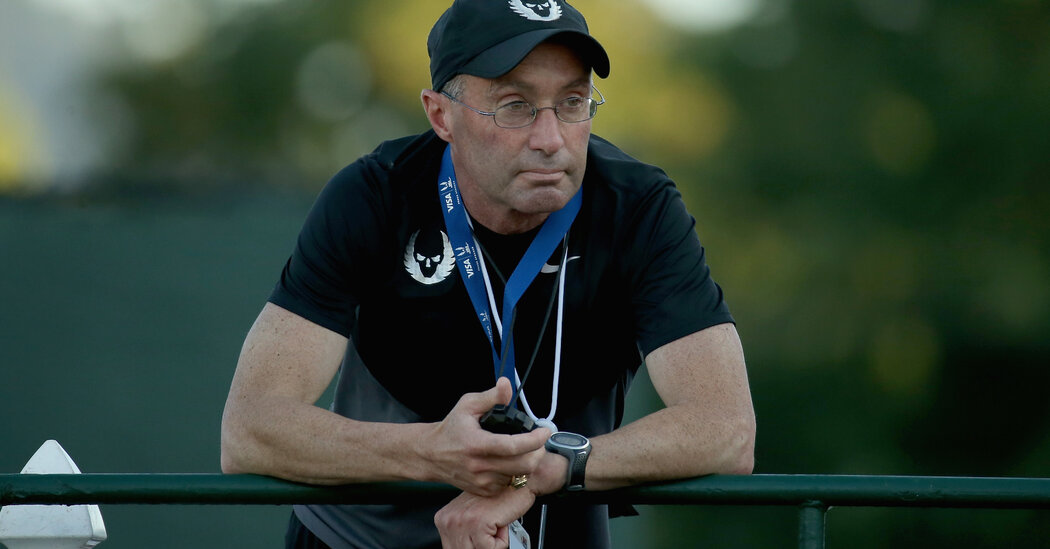 The famed running coach Alberto Salazar, who helped top Americans be more competitive in track and field before he was suspended for doping violations, was barred from the sport for life last month after an arbitrator found that he more likely than not had sexually assaulted an athlete on two different occasions, according to a summary of the ruling reviewed by The New York Times.
The case against Salazar was pursued by the United States Center for SafeSport, an organization that investigates reports of abuse within Olympic sports. SafeSport ruled Salazar permanently ineligible in July 2021, finding that he had committed four violations, which included two instances of penetrating a runner with a finger while giving an athletic massage.
Salazar asked for an arbitration hearing, where he denied the accusations and said he did not speak with or see the runner on the days in question. The arbitrator did not find Salazar's explanation credible, and accepted his accuser's version of events.
The details of the ruling, which have not been reported until now, shed new light on why Salazar, a powerful figure within elite running, was specifically barred from his sport. A number of runners have publicly accused him of bullying and behavior that was verbally and emotionally abusive, but the accusations of physical assault had not been publicly revealed. Salazar has never been criminally charged in connection with these allegations.
The ruling also has implications for SafeSport, which has been heavily criticized since its creation six years ago, and for its mission to discourage abuse in sports.
The document summarizing the arbitrator's reasoning, which was prepared for U.S.A. Track & Field and the United States Olympic & Paralympic Committee so they could impose the lifetime ban, does not name Salazar's accuser. It does provide enough details to identify the person, by describing the athlete's relationship to Salazar and giving details about the alleged incidents. The Times, which generally does not identify people who may be victims of sexual assault, is declining to publish those and other identifying details.
Salazar's accuser did not respond to messages seeking comment for this article.
In an email, Salazar said he had "never engaged in any sort of inappropriate sexual contact or sexual misconduct."
"Sexual misconduct is completely at odds with who I am as a person," he wrote. "As a devoted husband, father and a human being, I consider any kind of sexual misconduct toward another person to be personally repugnant and to go against everything I believe. My heart goes out to victims of sexual misconduct, but in this case, I never committed any such misconduct."
Salazar wrote that the SafeSport process was unfair and "lacked due process protections," and if there was a "full and fair trial" there would have been a different result. He also said he would like to provide more facts about the "falsity of the allegations against me" but was constrained by SafeSport's confidentiality rules.
Participants in SafeSport cases are generally allowed to talk about their experience, but are limited when it comes to revealing specifics about their case.
For nearly two decades until 2019, Salazar, 63, was the most high-profile coach of the Nike Oregon Project, a running group funded by the sneaker and apparel giant and based out of Nike's headquarters in Beaverton, Ore. Some of the best American and international distance runners trained under Salazar at the Oregon Project.
Before that, Salazar was a Nike marketing executive and one of the world's best marathoners. He won the New York City Marathon three times and the Boston Marathon once in the early 1980s, though his career stalled when he was in his mid-20s.
Salazar's coaching career collapsed in 2019 when he was barred from track and field for four years for doping violations that involved using prescription drugs for something other than their intended use and tampering with the doping control process. Salazar twice appealed his case, and after a lengthy delay caused by the coronavirus pandemic, the Court of Arbitration for Sport upheld the ban in September.
Shortly after Salazar was barred, some runners whom he had coached publicly described their negative experiences with him. Mary Cain said Salazar shamed her for her weight in front of other Oregon Project team members, and Amy Yoder Begley said Salazar told her he was kicking her off the team because she had "the biggest butt on the starting line."
Salazar said no runners suffered abuse or gender discrimination under his coaching, but he acknowledged that he might have "made comments that were callous or insensitive."
Nike — which stood behind Salazar when he was accused of doping and even funded his expensive legal fees for that case — soon dropped its support. Nike employees marched at the company's headquarters to protest its support of Salazar, and the Oregon Project was shuttered. Last year, Nike renamed a building on its campus that had been named for Salazar.
Nike did not respond to questions about whether allegations of inappropriate behavior by Salazar were ever reported to the company or if the company ever investigated his behavior. In a statement, Nike said that Salazar was no longer a contracted coach and that SafeSport's ruling made it "appropriate" to take his name off the building.
As Nike's relationship with Salazar was being re-examined, SafeSport was investigating claims made against him.
SafeSport has been responsible for investigating abuse within amateur and Olympic sports after it was created by the U.S.O.P.C. in 2016 and codified by Congress the next year, in the wake of the abuse of hundreds of gymnasts by Lawrence G. Nassar and the failure by U.S.A. Gymnastics to properly investigate the accusations.
The Salazar case is arguably the most high-profile matter SafeSport has pursued. The affirmation of its ruling could help establish its credibility and signal its willingness to take on powerful figures, much in the way the profile of the United States Anti-Doping Agency rose after its investigation of the cyclist Lance Armstrong a decade ago. But SafeSport publishes few details about its decisions or the evidence it gathers, which in Salazar's case has led to some observers believing he had been barred for life because of verbal comments.
SafeSport has been heavily criticized for its mission and process. Victims of abuse and their advocates have said that SafeSport investigates cases far too slowly and leaves them in the dark, and that it is not truly independent and attempts to shift blame away from national governing bodies and the U.S.O.P.C. Some of those who have been accused of abuse have complained that SafeSport investigations lack due process and that it can be cost prohibitive to mount a robust defense.
SafeSport declined to comment specifically on its case against Salazar. But in response to questions about the organization, Ju'Riese Colón, its chief executive, wrote in an email that "due process is woven into every aspect of our response & resolution system." Colón added that there was room for improvement in investigating matters fast, but added that there is "no good way to rush the traumatic and highly complex matters."
Salazar was first put on SafeSport's temporarily barred list in January 2020. He was permanently suspended in July 2021, with the listed reasons being both emotional and sexual misconduct.
He asked for an arbitration hearing, which was heard by video conference over three days at the beginning of December by an arbitrator from JAMS, a dispute resolution company. Both Salazar and SafeSport were allowed to present evidence and witnesses, and cross-examine each other's witnesses. The standard of evidence used in SafeSport hearings is preponderance of evidence, similar to civil cases in the United States and a lower threshold than the standard used in U.S. criminal cases, in which guilt is established if the evidence goes beyond a reasonable doubt.
SafeSport issued a notice of findings that included four violations of the SafeSport code, three of which were sustained by the arbitrator and one which was not, resulting in Salazar's permanent ineligibility.
The three violations that were sustained included the two accusations of physical assault, as well as sexually inappropriate comments and actions by Salazar toward the runner.
The fourth violation found by SafeSport, that Salazar made inappropriate comments about another runner's weight and body shape, was not sustained by the arbitrator. The arbitrator criticized Salazar's comments but said they had not been made with the "intent to be disrespectful or demeaning," and therefore his comments did not violate U.S.A. Track & Field's code of conduct.