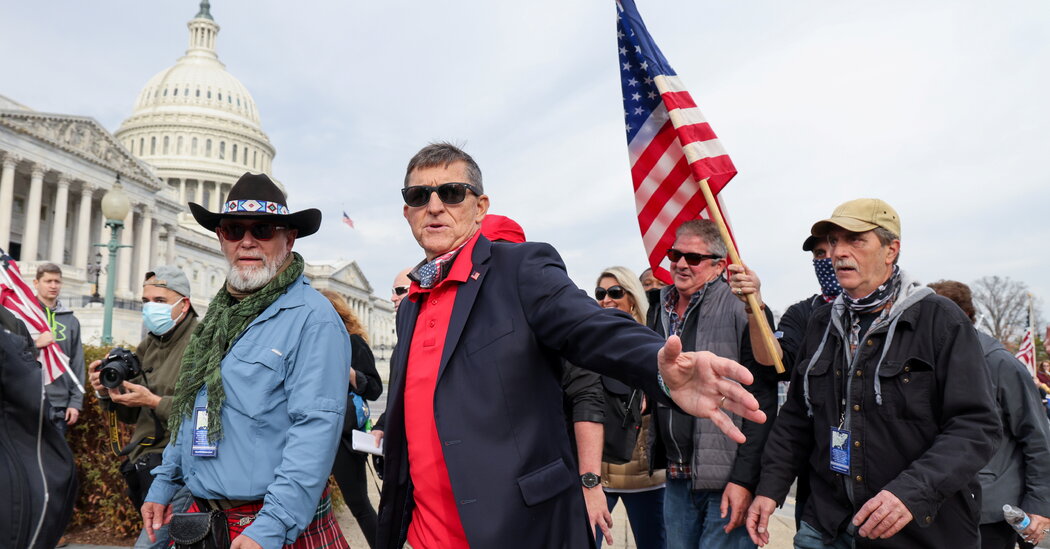 Around the same time, 1AP became involved in another project connected to challenging the election. Members of the group, as Mr. Lewis put it in his video in December, began to scour the internet for "OSINT" — or open source intelligence — about allegations of election fraud. Whatever evidence they found, he said, they sent to Sidney Powell, a Dallas-based lawyer who filed four federal lawsuits in late 2020 contesting the results of the presidential vote.
The lawsuits, which ultimately failed and resulted in a federal judge imposing sanctions on Ms. Powell, described without any credible evidence a plot by a cabal of international powers to hack U.S. voting machines and flip the count away from Mr. Trump.
Key Figures in the Jan. 6 Inquiry
---
By mid-December 2020, 1AP took a job protecting one of Ms. Powell's former clients, Mr. Flynn, at a second large pro-Trump rally in Washington. The rally was put together, public permits say, by Cindy Chafian, an organizer for the pro-Trump group Women for America First, which arranged for caravans of the president's supporters to rally across the country after the election. (Ms. Chafian has also been subpoenaed by the House select committee.)
This rally — on Dec. 12, 2020 — helped to solidify 1AP's relationship with Mr. Flynn and Ms. Chafian. It also brought the group into contact with the Oath Keepers, who joined their protective detail, according to a television interview that the militia's leader, Mr. Rhodes, gave that day.
In the interview, Mr. Rhodes described how the two groups worked together at the rally. He then urged Mr. Trump to "wage war" against "traitors" at home by imposing martial law. That was the same message that Ms. Powell, Mr. Flynn and others in their orbit were advising at the time.
Mr. Lewis says he played his own small part in the effort to persuade Mr. Trump to declare martial law. On Dec. 18, he said on a podcast last year, he drove Ms. Powell and Mr. Flynn to the White House to meet with Mr. Trump. It is not clear whether Mr. Lewis attended the meeting, where Ms. Powell and Mr. Flynn urged the president to declare a national emergency and demand a recount of key swing states on live TV, according to the business executive Patrick M. Byrne, who was also there.
It was not long after the White House meeting that Mr. Lewis, like others, turned his attention toward Jan. 6, which was widely seen as the final opportunity for Mr. Trump and his allies to stop the certification of the presidential vote.