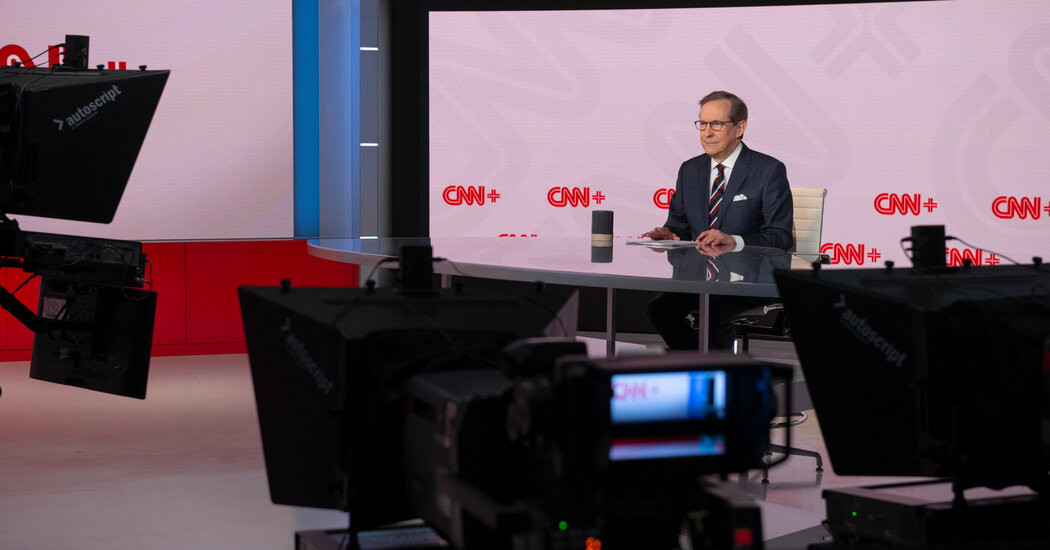 A couple of months ago, CNN's forthcoming streaming channel was perceived as little more than a curiosity in the television news business: just another cable dinosaur trying to make the uneasy transition into the digital future.
In fact, the plan to start CNN+, which is expected to go live by late March, amounted to a late arrival to the subscription-based streaming party, more than three years after Fox News launched Fox Nation.
Then the hirings began.
In December, Chris Wallace, Fox News's most decorated news anchor, said he was leaving his network home of 18 years for CNN+. Next came Audie Cornish, the popular co-host of "All Things Considered" on NPR, who said in January that she was leaving public radio to host a weekly streaming show.
Alison Roman, the Instagram star and author of a popular cooking newsletter, will get her own cooking show. Eva Longoria will head to Mexico for a culinary travelogue documentary series. Rex Chapman, the sports podcaster and former basketball player with more than a million Twitter followers, signed on, too.
The prominent names represent a tier of talent that had previously been hesitant to commit to a news channel's streaming service, especially an untested one. Agents and producers have taken notice, as much for the big salaries on offer as for the prospect of a news-based streamer with a range of nonfiction programming, relying on more than the usual political talking heads.
"We do want a service that has a wider aperture and is broader than just today's bleak news," CNN's president, Jeff Zucker, said in an interview.
Recent Developments at Fox News
He is gambling that CNN+ can entice new viewers — and bring back some old ones. CNN's traditional broadcast viewership has dropped significantly from a year ago, thanks to a post-Trump slump and waning audience interest, and the network recently fired its top-rated anchor, Chris Cuomo, amid an ethics scandal.
Mr. Zucker is turning to a strategy honed during his days as the executive producer of NBC's "Today" show in the 1990s, mixing hard news with a heavy dose of lifestyle coverage and tips on how to bake a pear cobbler. In marketing materials, CNN+ has urged viewers to "grab a coffee" while flipping on shows promoted as "never finicky" and "the silver lining beyond today's toughest headlines."
It remains an open question if CNN+ can actually draw the interest — and monthly payments — of viewers already overwhelmed with streaming options. Heavyweight services like Netflix and Hulu have struggled to find success with shows that riff on current events. One Netflix executive conceded in 2019 that topical programming was "a challenge" when it came to on-demand, watch-at-your-own-pace streamers.
CNN and Fox News are the two major news networks betting that viewers will pay an extra monthly fee for their digital content.
Fox News introduced Fox Nation, a subscription-only streaming service, in November 2018. Like CNN+, it features a mix of shows hosted by familiar hosts ("Tucker Carlson Today" and Brian Kilmeade's history program, "What Made America Great") along with programming from outside the parent network, including a revival of the police show "Cops" and a new program hosted by Piers Morgan.
Still, paid services like Fox Nation ($6 a month) and CNN+ (which has not revealed its pricing) carry a higher barrier of entry for TV news content, which is available free of charge elsewhere. Fox Nation has not disclosed its number of subscribers, making its success hard to gauge, though Lachlan Murdoch, the executive chairman of the Fox Corporation, has touted the service to investors.
NBC, ABC and CBS are pursuing a different strategy: free streaming news platforms supported by paid advertising. Their digital options predominantly focus on news, not lifestyle programming, and the networks have only recently taken more aggressive steps to expand the programming on offer.
On Monday, CBS rebranded its platform as the CBS News Streaming Network and announced new shows inspired by the network's history, including a program hosted by the anchor Norah O'Donnell with "a 2022 take on the classic Edward R. Murrow interview series."
The Choice From MSNBC, a channel on NBC's Peacock streaming app, debuted in 2020. Its hosts include Mehdi Hasan, Zerlina Maxwell and, starting later this year, Symone D. Sanders, a former adviser to President Biden. (NBC News also has separate digital offerings for hard news and lifestyle coverage.)
For news executives, finding a winning formula in the streaming game is now an urgent priority.
Streaming has supplanted cable as the main home delivery system for entertainment, often on the strength of addictive series like "Squid Game." For a while, though, old-fashioned cable news clung on, with CNN, MSNBC and Fox News attracting record audiences in recent years. In case of emergency — a pandemic, civil unrest, a presidential election, a Capitol riot — viewers still tuned in en masse.
After former President Donald J. Trump left office, news ratings nose-dived and cable subscriptions continued to plummet — an estimated four million households dropped their paid TV subscriptions last year, according to the research firm MoffettNathanson.
Fox Nation and CNN+ both rely on a business model dependent on paid subscriptions, hence the efforts by both to generate a wide variety of programming.
"A subscriber every month only has to find one thing that they want," Mr. Zucker said in the interview. "We don't need the subscriber to be interested in everything we're offering, but they need to be interested in something."
Mr. Zucker said CNN+ was aiming at three buckets of potential subscribers. He is seeking to entice loyal CNN viewers into paying for streaming programs featuring hosts familiar from the cable channel: Anderson Cooper will have two, including one on parenting; Fareed Zakaria is helming a show examining historical events; and Jake Tapper will host "Jake Tapper's Book Club," in which he interviews authors.
The other would-be subscribers, Mr. Zucker said, are news and documentary fans who want more nonfiction television, as well as younger people who don't pay for cable.
CNN, though, is not ignoring the needs of its flagship cable network, which ranked third last year behind Fox News and MSNBC in total audience.
Mr. Zucker recently reached out to representatives for Gayle King, the star CBS News anchor, about the prospect of her taking over the weekday 9 p.m. hour on CNN, said two people with knowledge of the approach. CNN has not named a permanent anchor for the prime-time slot since Mr. Cuomo was fired in December after revelations that he assisted with the efforts of his brother, former Gov. Andrew M. Cuomo of New York, to fend off sexual harassment allegations.
CNN+ is also expected to include the breaking news and political coverage that CNN viewers are accustomed to — a feature that could pose difficulties for the network down the road. CNN commands a high price from cable distributors, who may cry foul if CNN+ includes too much news programming that potentially competes with the cable offering. For instance, Wolf Blitzer, the host of "The Situation Room" on CNN at 6 p.m., will also appear on CNN+ to anchor a "traditional evening news show with a sleek, modern twist."
CNN's parent company, WarnerMedia, which is on the verge of a megamerger with Discovery Inc., appears willing to take the risk. The company is placing a significant financial bet on CNN+, budgeting for 500 additional employees, including producers, reporters, engineers and programmers, said Andrew Morse, CNN's chief digital officer. The company is also renting an additional floor of its headquarters in Midtown Manhattan to accommodate the hires.
"What we're building at CNN+ is not a side hustle," Mr. Morse said.