By Ethan K.W
I stumbled upon something brewing in the Midwest, always on the lookout for the latest scoop on upcoming trends in the art scene. For a little over a decade, Chicago-based non-profit art and theatre group has been at the forefront of innovation in combining digital arts, drama, and other artistic mediums. This is 'Cock and Bull', a grant recipient of The Foundation of Contemporary Arts, The Driehaus Foundation, and members of the National Network of Ensemble Theatres. Founded by Artistic Director Chris Garcia Peak, this art group has produced several plays, often exploring psychology and sexuality in fantastical and surreal settings. This Chicago based experimental arts organization presents the world premiere of a choose-your-own-adventure digital story, The Octopus. The Octopus is virtual theatre combining gameformance and storytelling into a hybrid digital platform.
Influenced by the rise in online conspiracy theories, the company wanted to tell a story differently in a virtual space. The Octopus is a dark comedy examining how someone gets trapped in the world of conspiracy theories searching for a better existence. "Just when you think your life is awful, The Octopus reminds you it can get a lot worse. The Octopus is part guru, part mind-controlling beast, and she wants what's best for you…really," says Artistic Director and founder Chris Garcia Peak. "We utilized technology to tell a story in a new way. We are still experimenting with telling stories and performing outside of the traditions of the theatrical space". Since 2009, Cock and Bull has focused more on process than performance, creating devised work, producing original plays, and venturing into narrative podcasts series and digital performance.
Lately, particularly in the last decade, the emphasis on art in games has truly become dramatically more intense. In the past, the appearance of the game was second fiddle to more important aspects like gameplay and story. Often this was the case because the capability of technology was limited arts organizations like Cock and Bull are now capable of creating virtual stories that allow for interaction and immersion.
I decided the best course of action was to reach out to the art geniuses at 'Cock and Bull' and ask for an interview. I sat down with Chris Garcia Peak, Cock and Bull's Founder and Artistic Director.
–
I know I might be jumping the gun a bit, but I cannot contain my excitement about The Octopus. What can you tell us about it?
Chris: The Octopus is a choose your own adventure interactive digital story featuring a mix of actors from Chicago, Los Angeles, London, Germany, China. It's really about conspiracy theories or how you can easily get trapped in the world of conspiracy theories. It's a funny look at how this can happen to someone and the crazy people you meet along the way.
Can you tell us who is The Octopus? I noticed on the website that the tagline is 'The Octopus is waiting to change your life,' which I find very intriguing. I've been really curious about whether this is about a person or based on anyone in particular?
Chris: The Octopus is a real Octopus who wants world domination and power and has coaxed someone into questioning their life choices.
Circling back to something you said earlier, can you give us some clarification about what you meant by The Octopus being about conspiracy theories? How have conspiracy theories influenced the creative process?
Chris: During the election, I started reading a lot about people lost in the world of various conspiracy theories. They all had similarities, the main one was how unhappy everyone was in their daily life. People who were and are stuck hate their work life, their home life, they want something more, and just like with any cult, they find the answers. Ours is a much lighter version of this, we aren't taking ourselves too seriously, but it's a fun adventure.
What can you tell us about your creative process? To what degree did the actors and other members of the team collaborate in the early steps taken in the design direction? How did you come to the decision that you were going to make a 'choose-your-own-adventure'?
Chris: I created a basic story or outline, very rough that was like two pages, and sent my company members a writing assignment. It was almost like Mad-libs, which was a much more significant influence on me than I ever thought. Their content formed the story and created all of the characters in the piece. I was trying to find a way to share everyone's responses and ran across Typeform (form building app/bot). I just started playing around with it and seeing its ability and thought this would be super cool to do a designed choose your own adventure story, so it is all created by Cock and Bull company members
You mentioned earlier that you have team members from around the world living in the US, UK, Germany, and China. I assume that requires a lot of scheduling and coordination to make progress on the project. What can you tell us about the process of working with actors virtually?
Chris: We started working with actors and then had to re-think our whole process. Matt Reich, our sound designer, co-director, and I observed via Zoom actors self-taping in front of green screens. We tried to utilize actors' ability to self-tape, which they really had to sharpen during the Pandemic.
We gave actors certain moments or things they had to mention, but it was all improv. At times I would interview them; each actor was a bit different. It was also a new way to work with actors from Chicago, Los Angeles, UK, Germany and even China.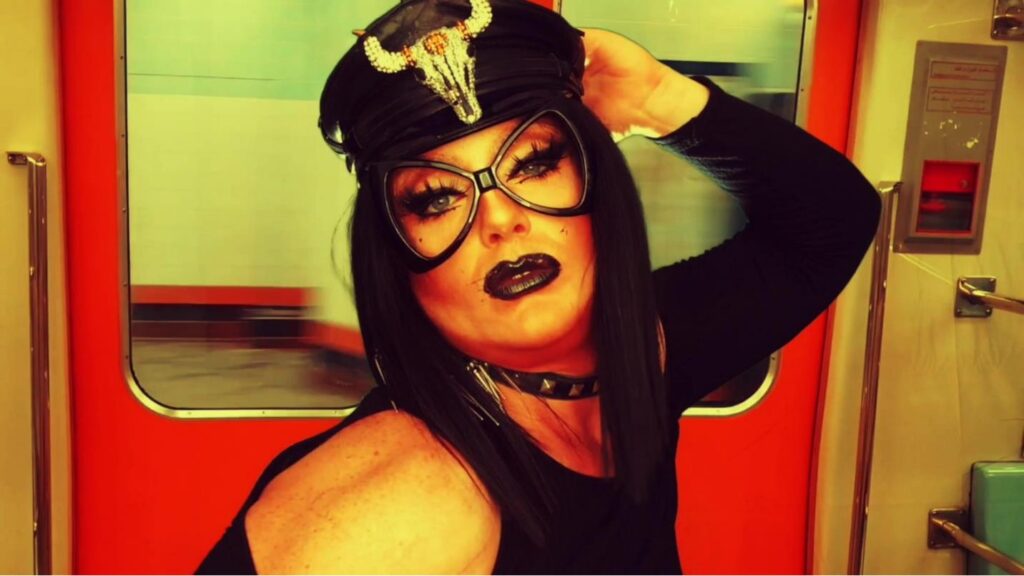 Readers can find out more about Cock and Bull by visiting their website. Again, a hot thanks to Chris Garcia Peak for sharing details about this exciting new digital art project.
The Octopus launches FRIDAY MARCH 11th Ages 18+ www.cockandbullarts.org
Instagram: @cockandbul
Twitter: @cockandbullthea