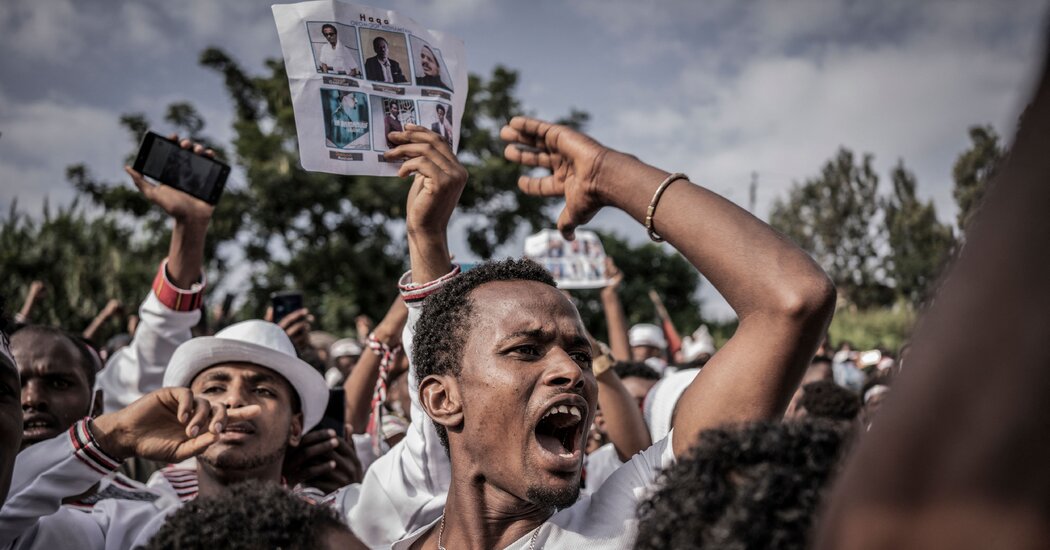 NAIROBI, Kenya —Ethiopia's government said Friday it would release several prominent political prisoners, including members of the rebel Tigray People's Liberation Front, as a step toward peacefully resolving the country's civil war, now in its fifteenth month.
Those to be released included Jawar Mohammed, a prominent critic of Prime Minister Abiy Ahmed, who was arrested in July 2020 during popular protests in which hundreds of demonstrators were killed.
The announcement, which coincided with Orthodox Christmas, comes weeks after Mr. Abiy's forces scored a string of battlefield victories against rebels from the country's northern region of Tigray, and stoked rare hopes that some form of conciliation might be possible.
In a statement, Mr. Abiy's government said it would release the prisoners "to pave the way for a lasting solution to Ethiopia's problems in a peaceful, non-violent way" through a "national dialogue."
But there was no mention of peace talks with his main enemy, the Tigray People's Liberation Front, or T.P.L.F. which was forced to retreat to its stronghold in northern Ethiopia last month.
The group has said it is ready to stop fighting if Mr. Abiy meets certain conditions. Mr. Abiy has previously ruled out any negotiation with them.
"I think this is purely a political maneuver by Abiy," said Awol Allo, a senior lecturer in law at Keele University, England. "A national dialogue to solve our political problems is not the same as peace talks to end the war."
Since Mr. Abiy, the Nobel Peace Prize winner in 2019, launched a military action in Tigray in November 2020, the conflict has been marked by accusations of widespread human rights abuses, ethnic cleansing and a humanitarian crisis that has pushed at least 400,000 people into famine-like conditions.
In its statement on Friday, the government said that "the key to lasting unity is dialogue." But it also struck a triumphalist note, saying that "one of the moral obligations of a victor is mercy." However, fighting continues in Tigray, where Mr. Abiy's forces suffered a series of humiliating defeats last summer.
Analysts and foreign diplomats say Mr. Abiy's stunning military comeback in recent months was largely made possible by armed drones supplied by foreign allies, including the United Arab Emirates and Turkey, that turned the tide on the battlefield.
For months, diplomats from the United States, Europe and neighboring African nations have urged Mr. Abiy, privately and in public, to stop fighting and open peace talks with the Tigrayans and other armed opposition groups.
Last month, the Tigrayans said they were ready to enter talks if the government released political prisoners — including thousands of ethnic Tigrayans detained by the Ethiopian security forces in recent months — and ended a punishing seven-month siege of Tigray that has cut off vital supplies of food and medicine. But the government has not taken either of those steps.
Understand the Conflict in Ethiopia
---
The list of prisoners to be released includes Sebhat Nega, an octogenarian founding member of the T.P.L.F. who was captured by Ethiopian soldiers in the early weeks of the war.
But the most significant announcement was doubtless that of Mr. Jawar, a leader of the ethnic Oromo group that makes up over one-third of Ethiopia's 110 million people, and one of Mr. Abiy's most formidable political opponents.
Mr. Abiy, then a leader of an Oromo political party, came to power in 2018 following massive street protests by Oromo youth that were led by Mr. Jawar, the founder of an influential media group and a one-time resident of the United States.
But the two men later fell out, with Mr. Jawar accusing Mr. Abiy of abandoning the Oromo cause. Mr. Abiy jailed Mr. Jawar in July 2020 during the tumultuous protests that erupted following the unexplained killing of a popular Oromo singer, Hachalu Hundessa.
In recent weeks, Mr. Abiy has been in quiet talks with Mr. Jawar about his possible release, two foreign diplomats said. It was unclear whether any conditions were attached to the release announced on Friday.