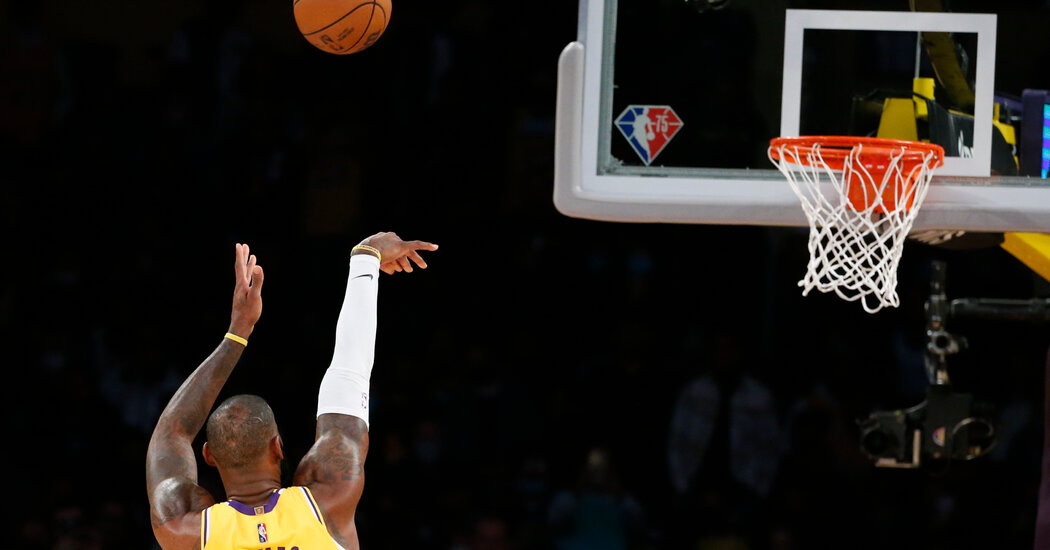 Before the start of the N.B.A. season, LeBron James acknowledged one of the hard realities facing the Los Angeles Lakers. The team had once again rebuilt its roster in pursuit of a championship, and James said he knew that forming chemistry would be a process, that nothing would come easily — at least not right away. James illustrated his point by making an analogy.
"I don't think it's going to be like peanut butter and jelly to start the season," he said in September.
James seemed to be carefully managing expectations rather than hyping them up after the Lakers acquired Russell Westbrook, Carmelo Anthony and several other aging stars. The Lakers had the potential for boom or bust as one of the league's most curious experiments.
Sure enough, a quarter of the way through the season, they are not exactly making sandwiches.
The latest obstacle for the Lakers surfaced on Tuesday when the team said that James had entered the N.B.A.'s coronavirus health and safety protocols, which apply to players who have tested positive or potentially been exposed to someone who has. The Lakers declined to comment when asked whether James had tested positive for the virus, but after the team defeated the Sacramento Kings on Tuesday night without James, the Lakers' Anthony Davis made comments that could suggest that he had.
"Scary situation," Davis told reporters. "He's said he's good. I think he's asymptomatic, which is a good sign. We want to make sure that he gets back. Health is most important. It's bigger than basketball."
James, 36, who said before the season that he had been vaccinated against Covid-19, could be forced to sit out for at least 10 days unless he is able to return two negative tests 24 hours apart, according to league guidelines. The Lakers have a relatively light schedule over the next week and a half, which means that James could miss a total of four games if he is absent for the full 10 days.
Typically, players who are vaccinated face less stringent requirements than unvaccinated players. After Thanksgiving, though, the N.B.A. implemented enhanced testing requirements even for vaccinated players, according to documents sent by league officials to each of the 30 teams. They did so with the expectation that the holiday would increase players' potential exposure to the virus.
The league, which has said that 97 percent of its players have been vaccinated, has also been urging eligible players to get booster shots as breakthrough cases create disruptions and additional health concerns.
On Tuesday, Lakers Coach Frank Vogel said James's health was the top priority.
"We just want the best for him right now," Vogel said. "That's where our thoughts are. We have a next man up mind-set. It's an 82-game season. You got to deal with guys being in and out of the lineup. We've been without him some already this season."
It has not been a seamless season for James, who, largely because of injuries, has missed more than half of the team's games, or for Los Angeles, which improved its middle-of-the-pack record to 12-11 with Tuesday's 117-92 win over Sacramento.
One of the big questions for the Lakers entering the season was their durability, and it was unavoidable because the Lakers are, by average age, the oldest team in the league.
At the center of it all is James, who will turn 37 on Dec. 30. For so many years, he operated as a seemingly indestructible force. Seldom injured, he almost never missed games — until he joined the Lakers in 2018. He has since labored with injuries, and a sprained ankle hindered him as the Phoenix Suns bounced the Lakers from the first round of last season's playoffs.
This season, James has been sidelined for 10 games because of ankle and abdominal injuries, and he also missed a game because of a suspension. When active, he has been solid and occasionally brilliant, averaging 25.8 points while shooting 48.4 percent from the field, numbers that are not far off his career averages. His production is remarkable considering he is the fourth-oldest player in the league.
The Coronavirus Pandemic: Key Things to Know
---
There is the mileage, too: all those career minutes, all those deep playoff runs. Now, he is absent again as the new-look Lakers continue to search for their footing in a competitive conference.
Davis has not played his best. And Vogel has rarely had a full roster at his disposal. The Lakers' lopsided victory over the Kings was their first double-digit win since Halloween. But there is some cause for optimism. After a brutal start to his first season with the Lakers, Westbrook has been more consistent.
"I feel like we're further along with our cohesiveness now than we were the first time he went out with his ab strain," Vogel said, referring to James's extended absence last month.
For his part, James has long viewed the regular season in increments, as a slow build toward the playoffs. He has said that he considers the first measuring stick of a team's progress to come around Christmas Day, and that he likes to guard against getting too high or too low, especially when a team has so many new pieces.
Without him for now, the Lakers have more immediate tests against the Clippers on Friday and the Boston Celtics on Tuesday — another pair of opportunities for the rest of the roster to come together. The Lakers, with all their experience, are built for the postseason. But first, they need to get there in one piece.