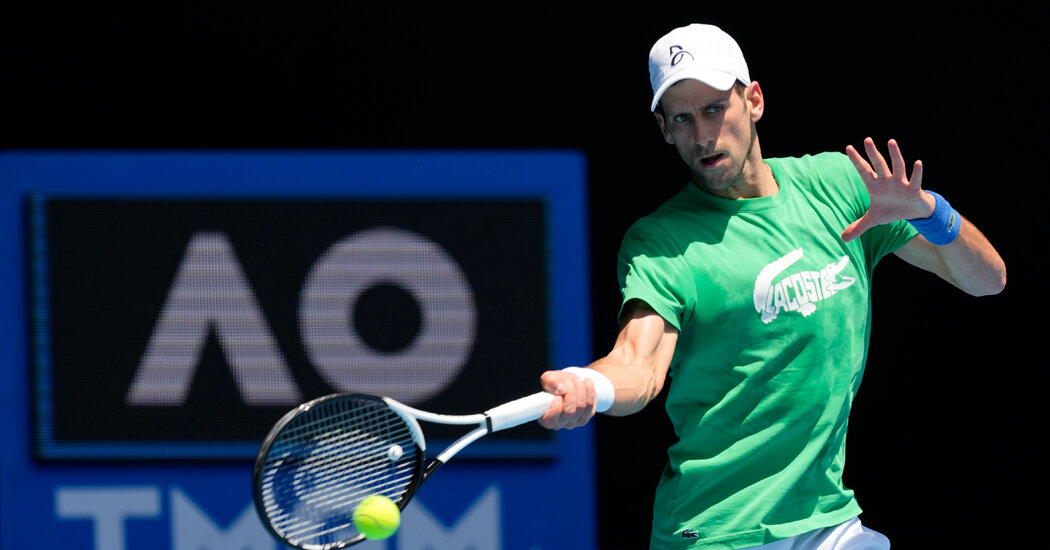 For hours on Sunday, lawyers representing Novak Djokovic and the Australian government argued over the considerations that the country's immigration minister did or didn't take into account when he canceled Djokovic's visa last week, declaring that the unvaccinated tennis star could pose a threat to public health in Australia.
The arguments, before a panel of three judges, represented Djokovic's final effort to play in the Australian Open and the federal government's last attempt to prevent him from staying in the country. The judges' decision will be final.
In the afternoon, the hearing was adjourned, and the judges retreated to deliberate. They were expected to issue a ruling later Sunday on whether the immigration minister, Alex Hawke, was within his rights to revoke Djokovic's visa on the grounds that his presence in Australia could stoke anti-vaccination sentiment and lead to "civil unrest."
It was the second time Djokovic had taken the Australian government to court for canceling his visa in a twist-filled saga that escalated soon after Djokovic's plane touched down in Melbourne on Jan. 5. Australia requires all foreign visitors to be vaccinated, but grants exemptions in limited cases. Djokovic's visa was canceled by immigration officials after an airport interview about his medical exemption, but it was reinstated by a judge on procedural grounds before the latest move by Hawke to keep Djokovic from staying. Again, Djokovic challenged.
Hawke said when he canceled Djokovic's visa that allowing him to stay in Australia could encourage Australians to refuse vaccines or disregard pandemic restrictions, given that he was a high-profile figure who was not vaccinated against the coronavirus and had previously expressed anti-vaccination sentiments.
Djokovic's lawyer, Nicholas Wood, argued on Sunday that Hawke, in making that decision, did not consider what effect deporting Djokovic could have, and had therefore failed in his obligation to make a rational and logical decision.
If Djokovic had his visa canceled despite Hawke recognizing he was a man of good standing, and was "expelled from the country, precluded from playing in the tournament and impaired in his career, it's quite obvious that in itself might act to generate anti-vaccination sentiment," Wood said.
He said it was not enough for Hawke to show that he was merely "aware" of the impact that canceling Djokovic's visa could have on such sentiment, but that he had "considered" it.
Hawke's lawyer, Stephen Lloyd, countered that while Hawke had not explicitly stated in his reasoning that he'd considered the effects of canceling Djokovic's visa, he had indeed weighed the potential reactions.
"The minister was well aware of anti-vaccination groups, he was aware they idolized the applicant for his stance on vaccination, he was aware of the prospect of discord," Lloyd said.
He said that even if Hawke had not considered the effect of a deportation, as Djokovic's lawyers asserted, he would not have changed his decision to cancel the visa, because that was "an incremental drop of thought of what was already a very substantial pool of thinking."
Lloyd said that Djokovic's legal team needed to prove — but could not possibly prove — that Hawke had failed to consider the consequences of canceling Djokovic's visa. Lloyd said the immigration minister did not have the burden of proving the opposite.
Djokovic's legal team also contended that Hawke did not have enough evidence to assert that Djokovic had expressed anti-vaccination sentiments, saying he had relied on quotes cited in a news article that Djokovic had made before coronavirus vaccinations were available.
Hawke also could not prove that Djokovic's mere presence in Australia could cause unrest, Wood argued. Anti-vaccination sentiment and activism had been triggered by the government's vaccination mandates and by its decision to cancel Djokovic's visa, he said, "not simply by letting Mr. Djokovic play tennis."
If Djokovic's presence on the tennis court could stoke anti-vaccination sentiment, Wood added, there would have been anti-vaccination protests at previous tournaments where Djokovic played.
Lloyd said it was reasonable for Hawke to assume that Djokovic was opposed to coronavirus vaccinations because, with vaccines having been available for more than a year, "someone who had by this time not been vaccinated was doing so by choice."
Rallies against vaccination mandates and pandemic restrictions in Australia have increased in recent months, sometimes turning violent, though nearly 80 percent of Australia's population is fully vaccinated.
Ahead of the Sunday hearing, photographers crowded around a car transporting Djokovic from a hotel where he had been detained to his lawyer's office.
The decision to hold the hearing before three judges was made by Justice David O'Callaghan on Saturday at the request of Djokovic's lawyers, and in spite of opposition by a lawyer for Hawke. Because a full panel of judges will make the ruling, it cannot be appealed.
Chief Justice James Allsop reiterated that ground rule at the start of the hearing Sunday. He said the decision was made to hear the matter before a full panel of judges because of the significance of the matter — to Djokovic personally, and because Hawke had said in his decision that it went to the heart of the "very preservations of life and health of many members of the community and to the maintenance of the health system of Australia."
The dispute is running up against the start of the Australian Open, a Grand Slam championship event that is one of the biggest tournaments of the year in tennis along with the French Open, Wimbledon and the U.S. Open. Djokovic, the top seed in the men's singles tournament, drew a first-round match for Monday against a fellow Serbian player, Miomir Kecmanovic, but the match schedule has not been finalized with Djokovic's status in doubt.
In addition to chasing his 10th Australian Open men's singles title, Djokovic is hoping to break a tie with Rafael Nadal and Roger Federer for the most Grand Slam championships. They each have 20.
Correction:
An earlier version of this article misidentified a lawyer for Novak Djokovic who was speaking at the hearing. It was Nicholas Wood, not Paul Holdenson.