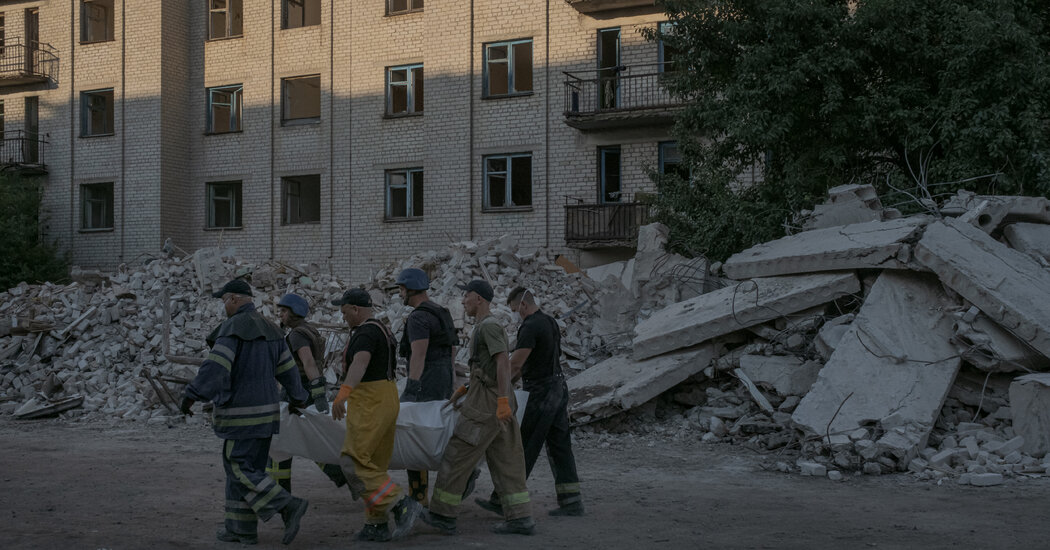 BORODIANKA, Ukraine — On a main road into this Kyiv commuter town, a destroyed, blackened apartment building embodies the dilemma facing Ukrainians hoping to rebuild after Russian attacks.
"Remove the rubble. Rebuild our flats," read banners draped across its balconies in the blue and yellow of the Ukrainian flag, in English — a message to Western aid organizations and governments.
Foreign countries have pledged to support a massive reconstruction effort that the Ukrainian government estimates will cost $750 billion, with President Volodymyr Zelensky describing it as a "colossal" task. At this point, major rebuilding in Borodianka won't be happening any time soon.
Officials are facing a difficult question as President Vladimir V. Putin of Russia warns that its military campaign in Ukraine has barely begun: How much should they invest in rebuilding anything but essential infrastructure while the threat of renewed fighting still hangs over even areas liberated from Russian forces?
Borodianka, a gateway to Kyiv, the capital, was one of the first places attacked by Russia after it invaded at the end of February, but its forces pulled out of the area after meeting stiff resistance.
The devastated town stands as an example of Russian shelling that has indiscriminately targeted civilians. Streets are lined with apartment buildings reduced to rubble or gutted by artillery. In one building, a huge hole punched through the brick exterior is evidence of a direct hit.
The mayor's office says at least 176 of the roughly 1,500 civilians who stayed after the invasion were killed. Not all the bodies have been recovered yet from the rubble.
Almost 500 homes were destroyed and nearly 2,000 more buildings were damaged. Schools, police stations and hospitals were among 69 government buildings that were damaged, 11 of them completely destroyed, said Anatoly Rudnichenko, adviser to the mayor.
There are no plans to rebuild the 11 multistory buildings that he said were destroyed in Russian attacks and subsequent fighting. Instead, the Ukrainian government plans to relocate residents to a new district it will build, called New Borodianka, with modern apartment buildings flanked by wide streets and parks.
In Borodianka and other Kyiv suburbs that experienced the worst destruction, Mr. Rudnichenko said, "they are not talking about reconstruction. First you need to demolish the old buildings."
He said the project could take years.
Sitting in a school classroom temporarily turned into town administration offices, Mr. Rudnichenko said about half the population of 14,000 had returned but others still feared threats from neighboring Belarus, a Russian ally. Ukrainian officials and Western observers believe it is unlikely that the former Soviet republic will directly join the war now, but military drills in the border area close to Kyiv have contributed to a feeling of unease.
Mr. Rudnichenko said the town's biggest need was construction materials. The town administration had begun taking applications from residents who needed doors, windows and roofs but none had been distributed yet, he said.
Outside, a line of older women lined up on the school steps waiting to receive plastic bags of food. Others emerged from the repurposed school carrying gray plastic sheets to cover holes in their roofs.
Alina Fedorenko, 63, said she had huddled in a cellar for days with her daughter, son and 6-year-old grandson while artillery thudded around them. Her daughter shielded the boy with her body.
"We didn't know what to do," she said. Distraught and seemingly still traumatized by the attacks, she said she hoped someone would give them firewood to keep warm.