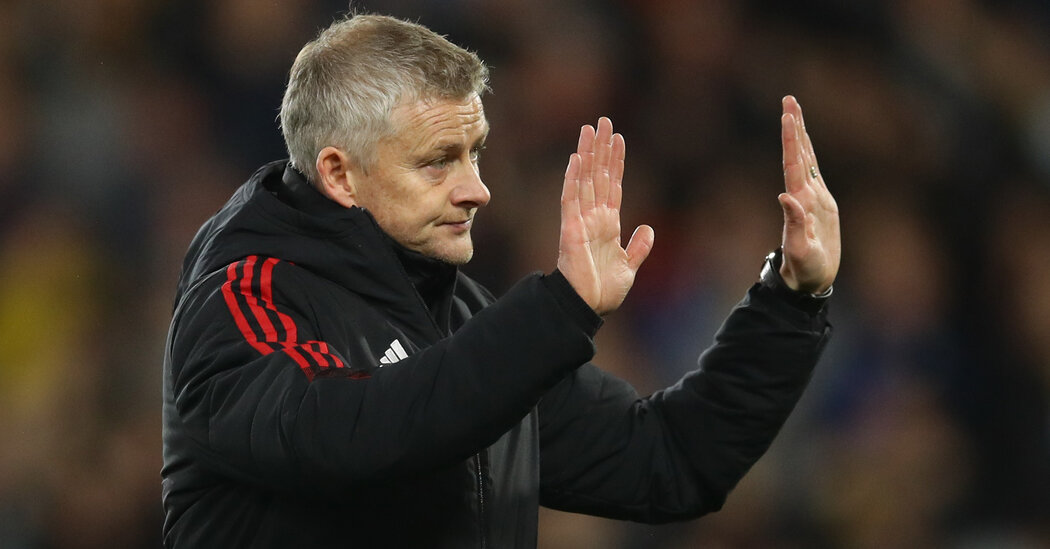 Manchester United had not done it after a humiliation by Liverpool. And the club's executives had managed to tolerate the sight of Manchester City's cruising to victory at Old Trafford while barely breaking a sweat. After each defeat, Ole Gunnar Solskjaer, the manager who had overseen both calamities, somehow remained in his post.
He could not, though, survive a third. Solskjaer had promised, two weeks on since that defeat against Manchester City, that his team would react, that it would use the embarrassment as fuel for the rest of the season. Instead, his squad, one of the most expensively assembled in soccer's long and lavish history, went to Watford — struggling at the foot of the Premier League, the sort of team United used to swat aside, unthinking — and contrived to lose on Saturday, 4-1.
That was the end. A board meeting was called. A decision was made. Solskjaer, a favorite son finally out of rope, was out.
"Ole will always be a legend at Manchester United and it is with regret that we have reached this difficult decision," the club said on Sunday in a statement that seemed to take pains to avoid saying Solskjaer had been fired. "While the past few weeks have been disappointing, they should not obscure all the work he has done over the past three years to rebuild the foundations for long-term success."
The decision to remove him, though, did little to resolve the uncertainty around United's future. United said Michael Carrick, Solskjaer's assistant and another former United player, would take over on an interim basis "while the club looks to appoint an interim manager to the end of the season." That decision — naming a placeholder for a to-be-announced interim manager — raised new questions about the direction of the club, the most decorated team in English soccer but one that has not won the league since 2013.
Saturday's defeat had seemed to spark a sudden shift in the players' attitudes. United's squad had, for the most part, remained staunchly behind Solskjaer: He is, and has been, well-liked by his charges. After the loss at Watford, though, United's long-serving goalkeeper David De Gea acknowledged that it appeared his team did not "know how to defend." He bemoaned his colleagues' tendency to give up a host of "easy chances, easy goals."
For the first time, that view appeared to be shared by United's hierarchy, too. Solskjaer's managers convened a meeting on Saturday evening to discuss the best course of action. The conclave's very existence was message enough: From that point on, Solskjaer's departure was a matter of when, rather than if.
He could not have been surprised. Solskjaer returned to Old Trafford almost exactly three years ago, answering his former team's distress signal after the firing of José Mourinho. His reign has been variable in the extreme: mercurial, in a kind light, and violently erratic, in a harsher one.
He restored morale to a team heavily exposed to late-stage Mourinho. He masterminded several surging, emotional runs of good form, and he put together a record-breaking streak on the road. He sent out a team that eliminated Paris St.-Germain from the Champions League. He reached a Europa League final. He finished (a distant) second to Manchester City in the Premier League.
But he also failed to harness all of the richly talented players at his disposal into something approaching a coherent unit. He lost home games to the lesser lights of the Premier League at an alarming clip. He lost that Europa League final. He did not win a trophy. After the 5-0 defeat to Liverpool last month, he was subjected not just to anger and pity but also to ridicule. He became, to his team's rivals, a laughingstock.
Particularly in the early days of his tenure, Solskjaer made a habit of evoking Manchester United's glorious past, the history in which he had played such a stirring role. He would joke about the club's tendency to score late goals or to mount comebacks or to make things dramatic. The leitmotif might have chafed after a while, but Solskjaer was nothing if not sincere.
He cherished United's history. He felt, keenly, that it was his job to make sure that this iteration of the team lived up to the standards set by its predecessors. He can have few complaints, then, that his time in charge has come to an end after a month in which it has become abundantly, painfully clear quite how far from that level it has fallen.
In a way, his departure is vindication of his belief in the importance of United's history. To tolerate three humiliations, Liverpool and Manchester City and Watford, would have been to betray how Manchester United sees itself; how Solskjaer sees it. To be true to what the club is, United had no choice but to part ways with the man who saw it as his job to maintain that standard.