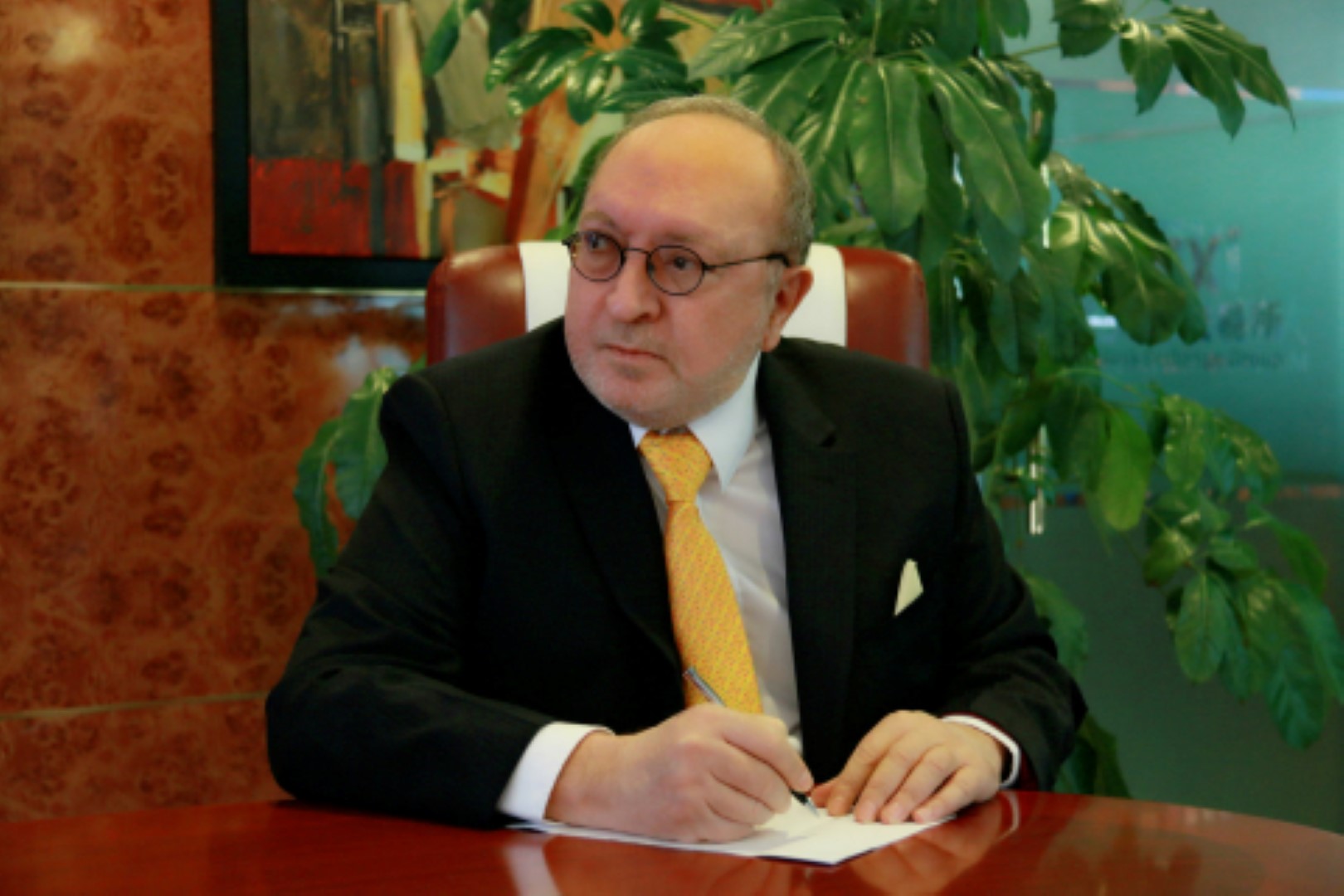 Naser Taher has achieved significant success establishing the MultiBank Group.
MultiBank is leading global forex & CFD financial institution founded in 2005. Now, the company boasts an annual turnover in excess of $5 trillion in financial derivatives. But this man is not yet done. He says he is "on a mission to improve himself and the world around him."
---
Naser Taher has lived a life more dynamic than most.
Upon his graduation from the University of Sheffield where he earned a Bachelor's degree in Mechanical Engineering in 1976 and a subsequent Master's degree in "77, Naser returned to Jordan to help manage his family business. As Vice Chairman of that company, his speciality revolved around investment, electronics, and foodstuff trading. By the time Naser would leave the company in 1985, the family business was already recording an annual turnover of US$65 million. But he was made for even bigger challenges.
In 1987, he started Master Meat Packers in Ireland, assuming the role of CEO of the company. Master Meat Packers specialized in commodity trading and at the peak of its success was netting an annual turnover of circa US$170 million as the 7th largest company in Ireland. Naser shifted his focus to a range of interests that spanned finance, foreign exchange trading, investment, aircraft purchases, commodity trading, and shipping when he founded the Taher Group (Ireland) Limited, in Dublin, Ireland. As CEO of that company Naser navigated the group to success recording an annual turnover well above $600 million.
Success followed Naser everywhere he went.
Under Naser's leadership, Taher Group had the largest syndicate in Irish history as of 1989. He became Chairman of Obair Group in Ireland in 1990. And again in 1996, Naser assumed the role of CEO & Chairman of Josaco PLC in Jordan, a specialized commodity trading firm he helped achieve over $400 million in annual turnover. Since 2005, Naser's focus has been on the MultiBank Group, a global forex & CFD financial institution he founded in 2005. For a man whose pedigree and antecedents reveal wide-ranging growth and success, Naser did something incredible with the MultiBank Group than he's ever done despite his enviable leadership and managerial record.
Exploring Naser Taher's MultiBank
Naser founded MultiBank Group in 2005.
The new company has interests that range from finance to marketing with subsidiaries like the Mex Group Worldwide, among others. Naser Taher has not only helped make MultiBank one of the world's leading names for forex and CFD. Under his management and leadership, MultiBank also became one of the largest online financial derivatives providers worldwide. As of today, MultiBank serves over 320,000 customers from across 90 different countries. The company boasts a daily turnover of about $7.1 billion. In 2020, it hit the $5 trillion mark for annual turnover.
Naser's work and success with MultiBank and many of his other ventures have earned him accolades and recognition from different quarters. In 2004, just one year before the launch of MultiBank, Mr. Naser was appointed as a Senior Counselor to the Board of Tradition Group of Companies. This was the third-largest trading house in the world as of 2004. In 2006, they made him Head of the Irish Stock Exchange Development Project (Asia). In 2008, Naser became the Vice President of the Chinese Banking and Entrepreneur Association. The Chinese government appointed him an honorary Chief Financial Advisor in 2012. He won the prestigious Le Fonti as the CEO of the Year for the Financial Services sector in both Europe & Asia. and most recently in 2021, the Research Team by Smart Vision named him one of the 50 Most Influential Figures In The Global Financial Markets. All of these did not come cheap. Naser paid a price in the form of exceptional hard work and an undying passion and determination for success.
Being Naser Taher – Success Is Never Enough
"I never settle because – trust me, there's always room for improvement."
The above were the words of Naser Taher recently when he was asked how he had managed to replicate success in almost everything he does. Naser makes success seem easy in a fiercely competitive financial industry. But behind the calm and inviting face lies a strategic financial and commercial expert with close to four decades of higher-level experience.
Over time, he has worked with or partnered with some of the biggest names in the financial sector from BNP Paribas to Barclays, UBS, Merrill Lynch, and Credit Suisse, among others. His expertise and interests have revolved around e-commerce, foreign exchange, electronic banking systems, and raising finance. Key among his most notable accomplishments aside from the success of the MultiBank Group include raising over $20 billion for the establishment of Eastern Europe's first airline company.
"Almost everything I learned, I got from growing up watching my father," Naser says. "He was my very first inspiration, a very hard worker himself who was always engrossed in our family operations." "It was never my plan to be like him. But I was well on my way to being a hard worker myself – inspiring others to success."
Today, Naser Taher is seen in many quarters as an alchemist who turns everything he touches into gold. Speaking on this, however, Naser was recently quoted to have said "there's no magic in what we are doing at MultiBank. We're only pushing our people as hard as we are committed to the thousands of clients we cater to." That balance of dedication and commitment is paying off well for MultiBank in the same way he has achieved success in his other ventures. MultiBank currently offers over 20,000 products for clients to trade from forex to metals, shares, indices, commodities, and cryptocurrencies.
Despite the growing success, Naser wants to "keep attracting people and clients who want to be part of something bigger than themselves." "We want to continue expanding our sphere of influence, leveraging our expertise and resources to keep delivering for our clients in line with our philosophy of always prioritizing the clients' interests above all else." For any company with a similar philosophy, success is almost always going to be with reach.