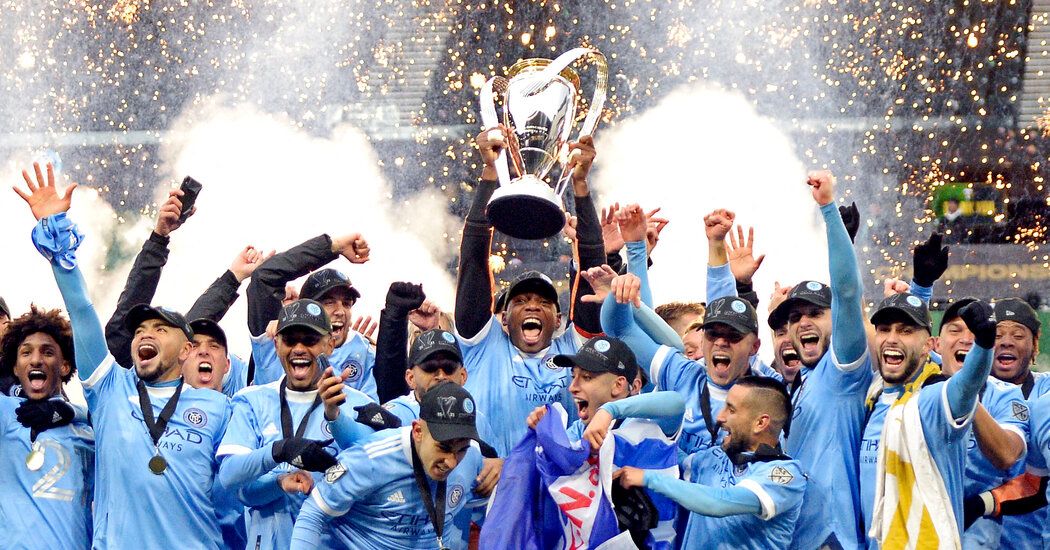 PORTLAND, Ore. — The road, New York City Football Club executives had said from their team's earliest days, was always supposed to lead here, to big moments, to finals, to trophies. It perhaps did not need to have so much drama, they knew, but this was always the plan.
Victory arrived soaked in tension and in a cold rain on Saturday, when N.Y.C.F.C. outlasted the host Portland Timbers, 4-2, in a penalty-kick shootout after the teams played a 1-1 tie to win its first Major League Soccer championship. The shootout capped a day in which New York City F.C. appeared to have the M.L.S. Cup title sealed in regular time, only to surrender a last-second goal that forced extra time and, at least briefly, made it feel as if the team's moment had slipped from its grasp.
Steadying themselves in the two extra periods, though, N.Y.C.F.C. ensured that its joy would only be delayed, not denied. Three successful penalty attempts in four shots to open the shootout, and then two saves by goalkeeper Sean Johnson, set the stage for defender Alex Callens to complete the job.
"No one said it would be easy," said Johnson, who was named the game's most valuable player. "It's been difficult, but that's how it should be to win a championship."
N.Y.C.F.C. Coach Ronny Deila noted the number of young players on his team and praised them for bouncing back after a tough late-season stretch in which they had just one win in 10 matches.
"We knew that when we get things right, we are very hard to play against," he said.
Those who haven't paid close attention to New York City F.C.'s roster evolution the past few years might not have seen the team's plan quite so clearly before now, and so they might have been surprised to scan the Manchester City-backed team's roster ahead of the M.L.S. Cup final. There are no longer any Andrea Pirlos, no Frank Lampards, no David Villas in N.Y.C.F.C.'s squad — the kind of boldfaced European imports that once gave the team a flash of star power in its early years of existence.
Instead, the team's run to its first title was led by two comparatively unheralded Argentine players: Maxi Moralez, a 34-year-old midfielder who once won a youth World Cup alongside brighter lights like Sergio Agüero and Ángel Di María, and forward Valentín Castellanos, the leading scorer in M.L.S. this season.
They combined to produce the first goal in the final, a curling free kick from Moralez dropped precisely onto the forehead of an open Castellanos at the back post in the 41st minute.
Four minutes into injury time, and with the final whistle beckoning, that goal seemed as if it would be enough to deliver N.Y.C.F.C.'s title.
But a late cross, a goal mouth scramble, a blocked shot and then a rebound produced a lifeline for Portland in the form of a Felipe Mora goal that rejuvenated the Timbers and the sold-out crowd of 25,218.
New York City F.C.'s journey, its players realized, would have to go the extra mile. But Johnson stopped the first two Portland penalty kicks, and that proved to be enough.
That this year's version of N.Y.C.F.C. reached the final represented less a long-awaited breakthrough for the team's ownership group and more of an expected step on a long, well-plotted path.
The shift in roster strategy since the team's inaugural season in 2015 — an overhaul that parallels the league's own recent transformation toward developing young talents instead of importing established stars — was not the result of sudden enlightenment, however.
It was, a top team executive said on Friday, the plan all along.
"We are here for the long term," said Ferran Soriano, the chief executive of City Football Group, whose growing network of soccer clubs around the world includes not only Manchester City of the Premier League and N.Y.C.F.C. but also nine other teams in 11 countries. "And the long term is not five years. It's not 10. It's 50."
"We're very happy to be in the final — very happy," Soriano had added on the eve of the final. "It's a symbol to what we have achieved. But in reality, the work has been steady year after year."
That was not always apparent in the results. Despite making the playoffs in five of its first six seasons, N.Y.C.F.C. won only a single playoff round in those trips. It won twice as many postseason matches in 2021 (four) than it did in its first six seasons combined (two).
Soriano acknowledged that the early N.Y.C.F.C. teams were hampered on the field by their top-heavy constructions, which saw cheaper players fill out the rosters alongside multimillion-dollar stars like Villa, Lampard and Pirlo. That led to regular disappointments, as regular-season successes were frequently followed by quick postseason exits.
Soon, though, team executives worked within M.L.S.'s thicket of roster and salary rules to make smart signings like Moralez and to bring City Football Group's resources to bear in more positive, productive ways.
The 23-year-old Castellanos, for example, joined as a teenager in 2018 on loan from the Uruguayan club Torque, which is also owned by City Football Group, and later signed a permanent deal to stay in New York. For Castellanos, the move represented a step up the C.F.G. ladder — an actual ranking of leagues that the group created using data and analytics. (The Premier League is at the top, Soriano said, with M.L.S. somewhere in the middle, "a bit higher than Japan.")
The system of linked clubs is not without conflict. Castellanos's manager at Torque resisted the transfer, Soriano said, and the Uruguayan team struggled after his departure — a fate that could come to N.Y.C.F.C., too, if and when ownership decides it is time for their newest star to move on.
But the system also requires patience from a fan base that has not always understood the need for popular, and vital, players like Jack Harrison, now at Leeds United; Yangel Herrera, who left New York for La Liga in Spain; and others to move on to a higher level of development than M.L.S.
"This is a long game for the City Football Group," M.L.S. Commissioner Don Garber said. "They're thinking about their investment in Major League Soccer over a generational time frame."
At the beginning, that meant spending for star power that might attract attention to the newest City-owned club. But it also meant investments in an academy that helped groom stars like Gio Reyna and Joe Scally, and in the belief that a constant churn of talents will yield a more talented roster year after year.
"The way we measure the work that we do every day is what we do in the regular season," Soriano said. "That's a good measure of what we do. Then we go to the playoffs and maybe you can be lucky. But if you go to the playoffs regularly, one day you will win."