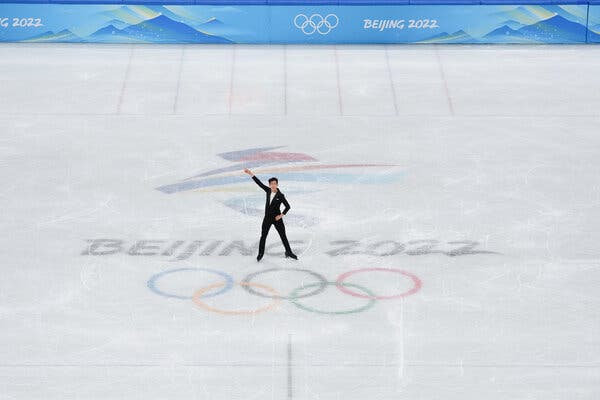 With seamless footwork and high-flying quadruple jumps, Nathan Chen, the gold medal favorite in figure skating's men's singles event, easily finished first on Friday in the men's short program of the team event, giving the U.S. team an edge to win an early medal at the Beijing Games.
More than that, though, Chen took a huge step in redeeming himself after a disappointing showing at the 2018 Games, where falls and mistakes in the short programs of both the team and the singles events fell cavernously short of his expectations. After a spectacular performance in the long program in Pyeongchang, he finished fifth in singles.
Performing in a black tuxedo and a white T-shirt to a version of "La Bohème" on Friday, Chen landed two quadruple jumps, including one quadruple-Lutz/triple-toe-loop combination, that helped him score 111.71 points, his season's best.
But with the men's singles event scheduled for next week, he is not celebrating just yet.
"There will be a time and place for that," said Chen, a three-time world champion with only one loss since the 2018 worlds. "I still have a lot more to do ahead of me. Of course, I'm very, very happy. I might not be the most emotive person, but deep down I'm genuinely very happy."
Chen's effort, along with a second first-place finish by Madison Hubbell and Zachary Donohue in rhythm dance and a strong performance in pairs by Alexa Knierim and Brandon Frazier, gave the United States team 28 points from the first three events. (The competition resumes Sunday with the women's short program.)
The United States hopes to win yet another medal in the event after winning bronze in the competition at the last two Olympics. This time, the skaters are feeling better than ever about their chances, especially after standout performances in the first round.
"I watched Nathan Chen kill it, and if anything, it gave me a bit of excitement and calmness, because I felt like our country collectively is ready," Knierim said.
The Russian Olympic Committee's team was second, with 26 points, after Mark Kondratiuk's third-place finish in men's singles and a shaky second-place effort by the ice dance world champions Victoria Sinitsina and Nikita Katsalapov.
China was a surprising third, with 21 points, after a record score in the pairs short program by Sui Wenjing and Han Cong.
The team skating event is a hybrid competition in which 10 nations send out skaters in all four disciplines. (Well, not all of the teams in all of the disciplines, it turns out: Positive coronavirus tests have wrecked the scoring chances — and thus the medal hopes — of the teams from Germany and Ukraine.)
The format makes the event like a mini-Olympics all in one. Each nation enters a man, a woman, a pairs team and a set of ice dancers, and each performs two routines, just as they do in their main competitions. Points are awarded based on the order of finish (10 for first, 9 for second, 8 for third, and on and on). The five best-scoring countries after the first round advance to a free skate on Monday, and the team with the most points after all the events are complete wins.
The team event is not only a medal event in its own right, though. It is also a chance for savvy skating fans to mine for clues about who seems to be in good form for the big events still to come. Countries typically send out their top skaters, but can swap out up to two skaters or teams between programs. Four years ago, for example, Chen skated the short program for the Americans, and Adam Rippon took the free skate.