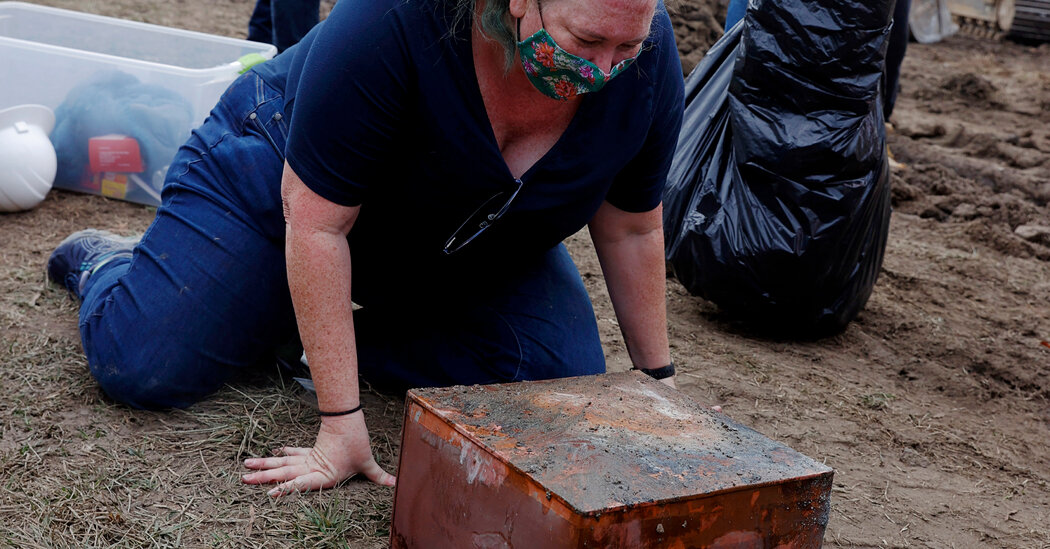 Crews removing the pedestal of a Robert E. Lee statue in Richmond, Va., on Monday found what appeared to be an elusive time capsule that may contain rare Confederate memorabilia, including a photo of Abraham Lincoln in his coffin.
The discovery stoked excitement among historians and officials, including Gov. Ralph Northam, who declared on Twitter: "They found it! This is likely the time capsule everyone was looking for."
Many people had been searching for the artifact. Last week, a separate time capsule was found near the base of the same statue and opened. The items inside that one, however, puzzled conservators, who theorized that that one might have been left behind by the workers who built the statue. Inside was an 1875 almanac, a waterlogged book of fiction, a British coin, a catalog, one letter and a photograph of James Netherwood, a master stonemason who worked on the Robert E. Lee pedestal.
But officials were optimistic that the time capsule found on Monday is the one they had sought. The journalist and author Dale M. Brumfield, writing in Richmond magazine in December 2017, described finding references to the Richmond time capsule in historical records, including suggestions that it could contain dozens of Confederate artifacts, like weapons used during the Civil War and a square piece of wood cut from a tree that grew near the grave of Stonewall Jackson, the Confederate general.
Devon Henry, the owner of Team Henry Enterprises, oversees the company assigned to remove the statue — a symbol of white power that the governor ordered removed in September after a long legal battle. Mr. Henry said on Monday that after months of tedious excavation, sledgehammering and confusion over where the time capsule was, he finally felt "vindicated" in his crew's efforts.
"A lot of folks were like, 'Yo, you guys thought you had the time capsule and it's not it — you've been bamboozled,'" Mr. Henry said.
He and his crew had searched for the time capsule in September, digging 15 feet below the northeast corner of the statue, where it was reportedly placed in 1887. They found nothing.
Then last week, they found the time capsule with random items such as an almanac and a British coin. But where, people asked him, was the one potentially holding a rare photo of Lincoln?
In response, they pulled out the big tools on Monday: a sledgehammer and a large excavator.
Mr. Henry told two spotters to notify the crew when they saw something noteworthy in the hole.
As they dug deeper, the granite appeared to look "more defined in shape," he said.
"Take a little bit more off," Mr. Henry said he told his crew.
As soon as they did, he blurted, "Stop!"
There it was, 20 feet under the pedestal: a granite capstone protecting a box made of copper.
If they had dug about five feet deeper in September, they probably would have found it, Mr. Henry said.
"I knew it was there," Mr. Henry said. "I knew we were going to find it."
Mr. Henry said he called the governor's office, and then the Virginia Department of Historic Resources.
Mr. Northam showed up at the site about 20 minutes after the discovery, beating some of the conservators to the scene, he said.
"He wants to see this through," Mr. Henry said.
Conservators plan to open the box on Tuesday at 1 p.m., and the mystery of its contents may at last be settled.