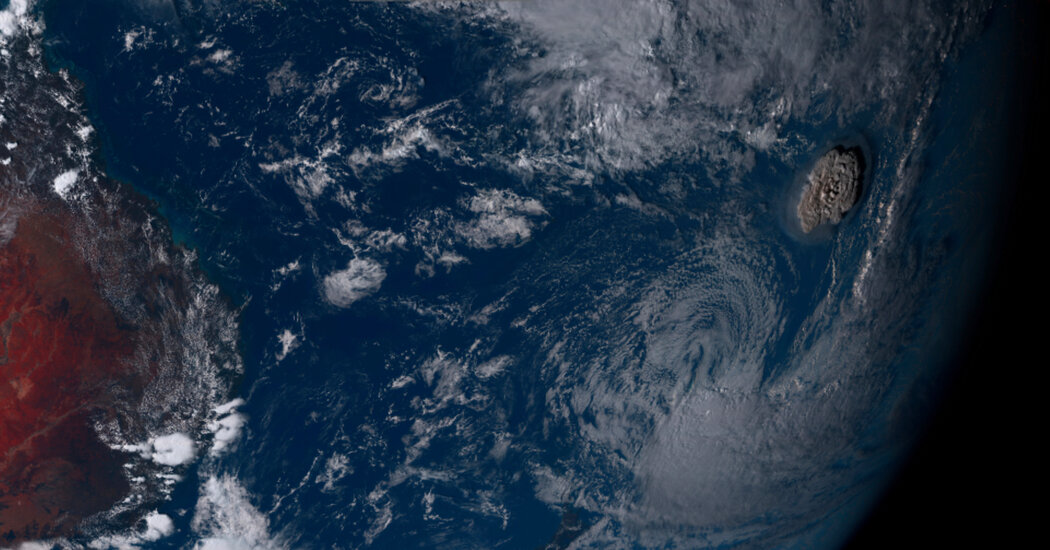 The authorities closed several beaches in Peru on Sunday and warned about abnormal wave activity.
The deaths in Peru were reminiscent of the aftermath of the powerful tsunami set off by an undersea earthquake off Indonesia in December 2004 which killed more than 250,000 people. A dozen of the dead then were hit by waves on the eastern coast of Africa, in Kenya and Tanzania.
In Tonga on Sunday, many residents lost not only communication ties but power. Up to 80,000 people there could be affected, the International Federation of Red Cross and Red Crescent Societies told the BBC.
One immediate need was clear: potable water.
"The ash cloud has, as you can imagine, caused contamination," said Ms. Ardern, the New Zealand prime minister. "That's on top of already a challenging environment, in terms of water supply."
New Zealand and other nations in the region pledged to give Tonga aid to recover. So did the United States. But with heavy concentrations of airborne ash making flights impossible, it was difficult even to know what was needed.
Ms. Ardern said flights over Tonga were planned for Monday or Tuesday, depending on ash conditions. New Zealand's navy was also preparing a backup plan, should the ash remain heavy, she said.
In a post on Twitter, Antony J. Blinken, the American secretary of state, offered his condolences: "Deeply concerned for the people of Tonga as they recover from the aftermath of a volcanic eruption and tsunami. The United States stands prepared to provide support to our Pacific neighbors."
Tonga has experienced a succession of natural disasters in recent years. In 2018, more than 170 homes were destroyed and two people killed by Cyclone Gita, a Category 5 tropical storm. In 2020, Cyclone Harold caused about $111 million in damage, including extensive flooding.