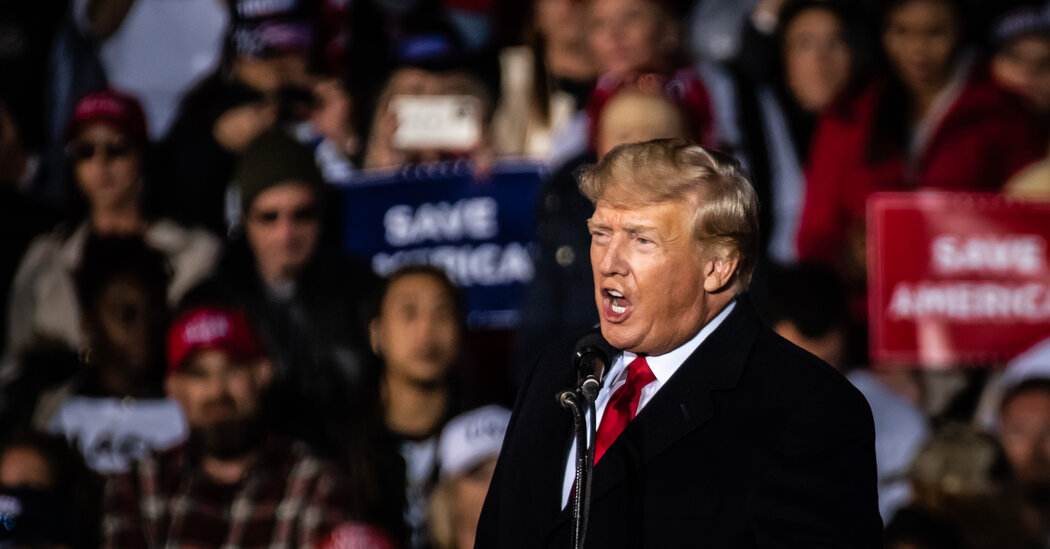 Donald J. Trump's political operation raised more than $51 million in the second half of 2021 as the former president continued to dominate the Republican fund-raising landscape in his first year out of the White House, according to new federal filings.
Mr. Trump's overall war chest entering 2022 stood at $122 million — more than double the cash on hand of the Republican National Committee itself — as he continued to solicit his online supporters with the same pace and intensity of the heat of the campaign.
The huge sum gives Mr. Trump an invaluable head start should he run for the White House again, as he has repeatedly suggested is his intention. Mr. Trump remains, by far, the most popular figure in his party among Republican voters, but his lead against hypothetical challengers in 2024, in particular Gov. Ron DeSantis of Florida, has narrowed in recent months as he faces fresh challenges to his role as the party's undisputed leader.
While his $122 million are stored in federal accounts that legally cannot be spent on a presidential run, loose rules allow him to fully fund his political operation for now, including paying for rallies, television ads and even direct money to his own businesses.
Federal records show that Mr. Trump spent nearly $1.5 million from his main political account, the Save America PAC, with the company that stages his rallies. Another $1.3 million was spent on Facebook ads. Though Facebook banned Mr. Trump in early 2021, it continues to allow his political operation to pay to advertise.
How Donald J. Trump Still Looms
The Save America PAC spent another $517,000 on payroll costs as well as more than $100,000 on the Trump Hotel Collection, for lodging, meals and facility rental fees, records show.
Mr. Trump's fund-raising pace did slow compared to the first half of 2021, when he raised $56 million online. Mr. Trump raised less in the last six months of the year, even though he did not actively raise money for most of January and February of 2021. He had paused sending out requests for cash after the riot at the Capitol.
Mr. Trump's team announced it processed more than 1.6 million donations in the last six months of 2021, with an average contribution of $31.
Ahead of the 2022 midterm elections, Mr. Trump has already endorsed roughly 100 candidates nationwide, from those making runs for seats ranging from state legislators to secretaries of state to United States senators. He also gave away some of his funds, cutting checks to candidates he has endorsed. Those checks have often come with letters that candidates often proudly post to social media.
All told, his team said he had made $1.35 million in contributions to candidates whom he has endorsed and to "like-minded causes." The biggest was a $1 million donation to the Conservative Partnership Institute, where Mr. Trump's former chief of staff, Mark Meadows, serves as a senior partner.
Taylor Budowich, a spokesman for Mr. Trump, said the fund-raising haul would not just affect the midterms but also the election of 2024, when Mr. Trump has suggested he may again run for president.
"President Trump is incredibly well positioned to look beyond November as the need for his leadership has never been more important," Mr. Budowich said in a statement.
In addition to his own political committees, Mr. Trump has raised funds for an allied super PAC called Make America Great Again, Again! Inc. In December, he held a small dinner for super PAC donors at his private Florida club, Mar-a-Lago. Seats were set at $125,000 per person, or $250,000 for a couple.
Donors who gave $250,000 to the Trump super PAC included Jose Fanjul, the sugar businessman; Saul Fox, a private equity investor; and Dianne Hendricks, who became a billionaire selling housing material.
The super PAC ended 2021 with $9.5 million in the bank. It reported spending $1,438.40 at Mar-a-Lago in December, plus $10,105.09 at Mr. Trump's Palm Beach golf club.
Rachel Shorey contributed reporting.