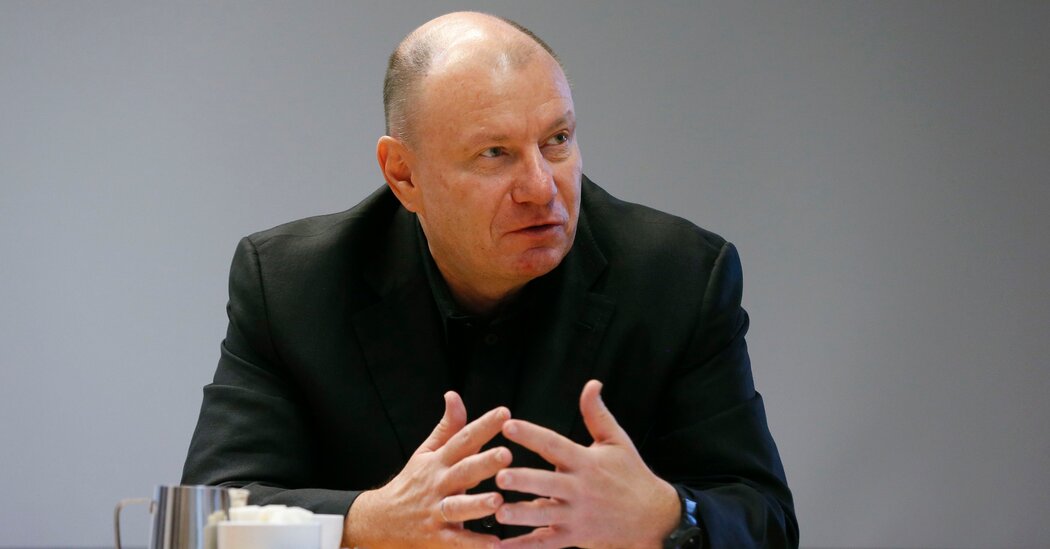 For 20 years, Vladimir O. Potanin, one of Russia's richest men, has been a key supporter of the Guggenheim Museum, serving as a trustee and major benefactor while his foundation sponsored exhibitions, including the current show in New York about the Russian artist Wassily Kandinsky.
But the museum said on Wednesday that Mr. Potanin was stepping down as one of its trustees, a position he has held since 2002. It gave no reason for the decision, but the museum's statement referenced the war in Ukraine, and Mr. Potanin has been closely associated with President Vladimir V. Putin of Russia.
"Vladimir Potanin has advised the Board of Trustees of his decision to step down as Trustee effective immediately," the Guggenheim said in a statement. "The Guggenheim accepts this decision and thanks Mr. Potanin for his service to the Museum and his support of exhibition, conservation and educational programs. The Guggenheim strongly condemns the Russian invasion and unprovoked war against the government and people of Ukraine."
Mr. Potanin is the latest in a line of Russian artists and donors whose stances on the war and positions in the cultural world have been challenged as outrage over the Russian invasion grows.
On Tuesday, Petr Aven, another prominent Russian businessman, stepped down as a trustee at the Royal Academy of Arts in London, which said it was returning his donation toward a current exhibition, "Francis Bacon: Man and Beast." Mr. Aven had recently come under sanctions from the European Union, which described him as "one of Vladimir Putin's closest oligarchs."
Valery Gergiev, the Russian maestro and a prominent supporter of Mr. Putin, was removed this week from his post as chief conductor of the Munich Philharmonic after he refused to denounce Mr. Putin's invasion of Ukraine.
In London, the Tate has faced questions about its connections to another prominent Russian oligarch, Viktor F. Vekselberg, who is listed as an honorary member of the Tate Foundation in recognition of donations he made from 2013 to 2015. He and his company have been under U.S. sanctions since 2018.
Leaders of artistic organizations, many of whom have embraced the generosity of Russian donors and the artistry of its performers, have had to grapple in recent days with the question of how to react to the spectrum of its cultural figures. Some have been vocal supporters of Mr. Putin. Others have thrived in his midst, and been silent on the question of the war in Ukraine.
"It's complicated," said John MacIntosh, managing partner of SeaChange Capital Partners, an organization that supports nonprofits. He said nonprofits could not be expected to always fully vet "from square one everybody that they take donations from. But they have to recognize that it does create a connection and that they are providing implicitly at least some kind of imprimatur on the donor."
He recalled that similar questions had arisen over money given to cultural institutions by the Sackler family, whose donations, once welcomed, were later met with growing unease in the art world as the family's pharmaceutical interests became linked to the opioid crisis.
"There are times when we have to reflect on the connections that we have and sometimes part company with people who have been supportive," Mr. MacIntosh said.
George Suttles, the executive director of Commonfund Institute, the research and education arm of Commonfund, which manages the assets of about 50 cultural institutions nationwide, said he was struck by how quickly some cultural institutions had cut ties with Russian artists and donors. Arts organizations need to have systems in place that can provide a "uniform way of understanding and gauging the cost-benefit analysis of cutting ties" with an associate, he said.
"Part of what we're seeing is that cultural institutions don't have that keen analysis or investigative infrastructure set up," he added. "They were rattled."
Mr. Potanin, a billionaire who made his fortune in banking and natural resources, including a major stake in one of the world's largest nickel producers, has never had sanctions imposed against him. But as with many of the rich men who have made their fortunes during the past few decades and kept them as Mr. Putin has ruled Russia, he is closely associated with the Russian president. He was among a group of leading oligarchs who met with Mr. Putin in the Kremlin last week, days after the Russian invasion of Ukraine. He has not commented on Russia's actions in Ukraine.
A representative of Mr. Potanin's foundation did not immediately return a request for comment.
Mr. Potanin has also given millions of dollars to the Kennedy Center in Washington, where his name is inscribed on a wall. The center used some of the money Mr. Potanin donated to install a meeting space known as the "Russian Lounge," which was created and designed by notable Russian artists and featured artworks from Valery Koshlyakov.
"This is a complicated issue, and we are actively assessing the best way to address it in the short and long terms," Brendan Padgett, a spokesman for the Kennedy Center, said of its association with Mr. Potanin.
At the Guggenheim, Mr. Potanin had also endowed a named conservation fellowship in 2019. The museum said it now "no longer has a named Potanin Conservation Fellowship," without elaborating.
Mr. Potanin's relationship with the museum took on a high profile in 2005 when his foundation helped finance an 800-year survey of Russian art, from icons to 19th-century paintings, called simply "Russia!" at the Guggenheim. Mr. Putin spoke at the opening in New York.
In the past two decades, Russian money has provided a large boost to arts organizations in the West, where Russian philanthropists have often used art to promote a positive image of their homeland.
In his support for the Kennedy Center, Mr. Potanin's foundation has given $450,000 to underwrite Russian programming, with the last donation coming in 2016, the center said. His company Interros gave $6.45 million in 2011, including $1.45 million for the Russian Lounge.
Russia-Ukraine War: Key Things to Know
---
Card 1 of 4
A city is captured. Russian troops gained control of Kherson, the first Ukrainian city to be overcome during the war. The overtaking of Kherson is significant as it allows the Russians to control more of Ukraine's southern coastline and to push west toward the city of Odessa.
Alina Polyakova, of the Center for European Policy Analysis in Washington and an adjunct professor of European studies at Johns Hopkins University's School of Advanced International Studies, said accepting money from individuals or companies close to Mr. Putin posed an increased reputational risk for museums and other institutions as more entities associated with the Russian government likely come in for greater criticism or are added to sanctions lists.
While Mr. Putins 's intentions may not have been clear a decade or so ago when many organizations began to take money from the oligarchs, now, she said, they "are crystal clear."
In New York, there has been fallout for Russian artists as well. Last week, Carnegie Hall and the Vienna Philharmonic dropped Mr. Gergiev and the Russian pianist Denis Matsuev from a series of planned concerts because of the two men's ties to Mr. Putin.
Over the weekend, Peter Gelb, the Metropolitan Opera's general manager, said that the institution would not engage with performers or other institutions that have voiced support for Mr. Putin until the fighting in Ukraine ends and peace is restored.
The superstar soprano Anna Netrebko, who has ties to Mr. Putin, is scheduled to appear at the Met in Puccini's "Turandot" beginning on April 30. Ms. Netrebko has tried to distance herself from the invasion, posting a statement on social media saying she was "opposed to this war."
The Metropolitan Opera has not made any announcement regarding Ms. Netrebko's scheduled appearances this spring, but Mr. Gelb said in an interview on Tuesday that the Met "stands by its position that artists who support Putin are not going to be allowed to perform at the Met."
Asked about Ms. Netrebko's statement opposing the war, Mr. Gelb said, "In the case of somebody who is so closely associated with Putin, denouncing the war is not enough."
Javier C. Hernández contributed reporting.