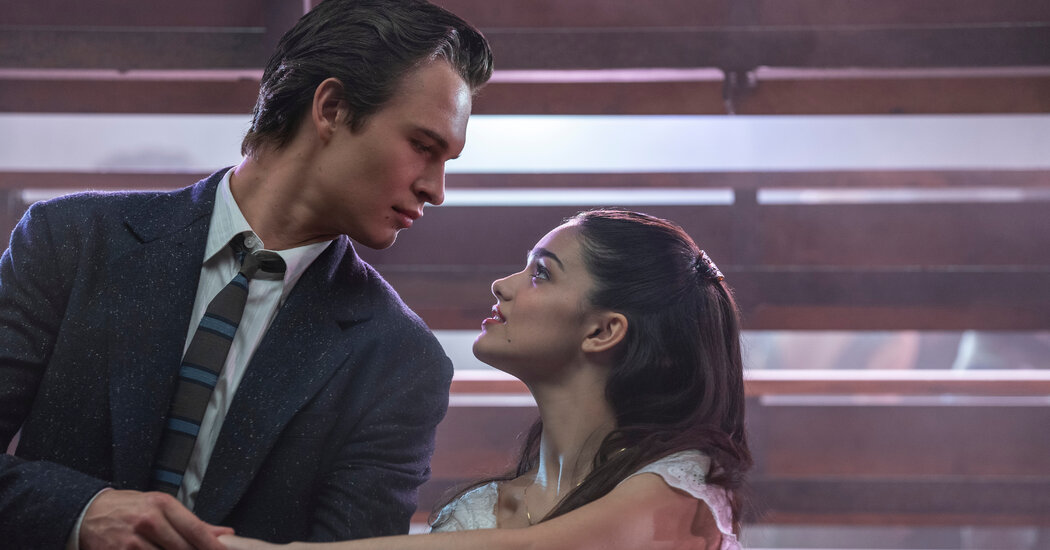 The Jets and the Sharks, a white teenage gang and their Puerto Rican antagonists, aren't mirror images of each other. Ostensibly contending for control over a few battered blocks in the West 60s, they collide like taxis speeding toward each other on a one-way street.
The Sharks are children of an upwardly striving, migrant working class, a generation (or less) removed from mostly rural poverty in the Caribbean and determined to find a foothold in the imperial metropolis, where they are greeted with prejudice and suspicion. Bernardo (David Alvarez), their leader, is a boxer. His girlfriend, Anita (Ariana DeBose), works as a seamstress, while his younger sister, Maria (Rachel Zegler), toils on the night shift as a cleaner at Gimbels department store. Chino (Josh Andrés Rivera), who Bernardo and Anita believe would be a good match for Maria, is a bespectacled future accountant. (But of course Maria falls for Tony, a reluctant Jet played by the heartthrobby Ansel Elgort.) All of them have plans, aspirations, dreams. The violence of the streets is, for Bernardo, a necessary and temporary evil, something to be overcome through hard work and communal cohesion on the way to something better.
The Jets, by contrast, are the bitter remnant of an immigrant cohort that has, for the most part, moved on — to the Long Island suburbs and the bungalows of Queens, to a share of postwar prosperity. As the policemen Officer Krupke (Brian D'Arcy James) and Lieutenant Schrank (Corey Stoll) are on hand to explain — and as the Jets themselves testify — these kids are the product of family dysfunction and societal neglect. Without aspirations for the future, they are held together by clannish loyalty and racist resentment — an empty sense of white entitlement and a perpetually expanding catalog of grievances. Their nihilism is embodied by Riff (the rangy Mike Faist), the kind of brawler who would rather fight than win.
As the song says: "Life can be bright in America/If you can fight in America." But what lingers after this "West Side Story" is a darkness that seems to belong more to our own angry, tribal moment than to the (relatively) optimistic '50s or early '60s. The heartbreak lands so heavily because the eruptions of joy are so heady. The big comic and romantic numbers — "Tonight," "America" and, yes, "I Feel Pretty" — burst with color and feeling, and the silliness of "Officer Krupke" cuts like an internal satire of some of the show's avowed liberal pieties.